AUTOOL BT280 Electric System Tester Analyzer
The AUTOOL BT280 Electric System Tester is the newest generation intelligent Electrical System Circuit Tester with 2.4-inch large-size LCD screen display. It is dedicated to testing all 9V-30V vehicle electrical systems. BT280 is Convenient, Fast, and Intelligent!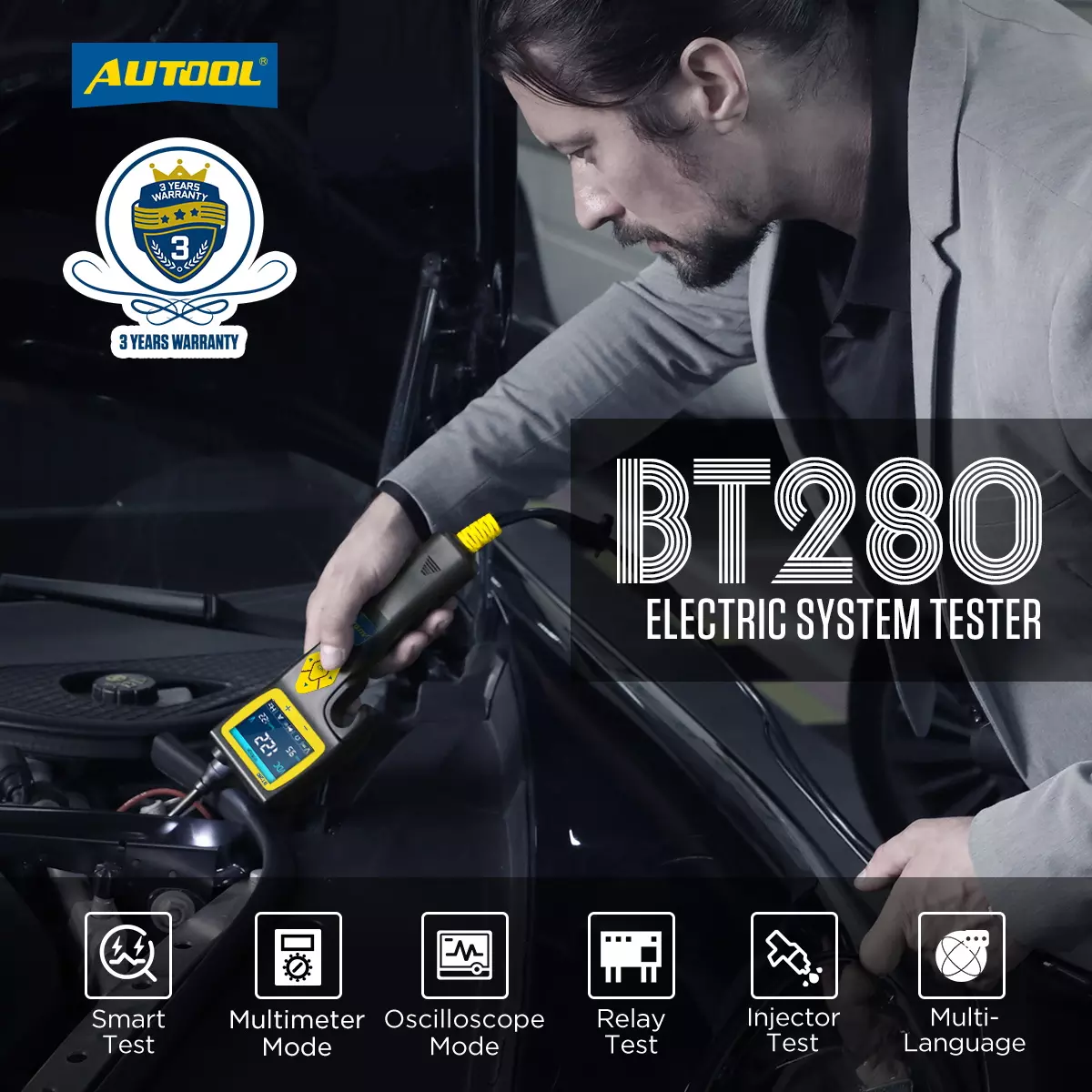 AUTOOL BT280 Car Electric Circuit Tester Features :
[Multimeter Mode&Smart Test]: AUTOOL BT280 Electric System Tester is covered with comprehensive parameters of Multimeter, it can quickly test and automatically identified the Voltage, resistance, Positive and Negative poles of the tested component, which brings the user a lot of conveniences.
[Oscilloscope Mode&Relay Test]: AUTOOL BT280 is not only able to display the parameter curve diagram of the tested component, such as voltage, frequency, time, etc, but also can test the common automotive relay, like 5-terminal relays, and 4-terminal relays.
[Component Activation&Injector Mode]: It can generate "Active" signals for components, such as lights, motors, and other on-board electronic devices. Also different pulse signals can be output to the injector, which provides 4 pulse modes to better detect the condition of the injector.
[0-5V Power Supply&Voltage Alarm]: Capable of setting 0-5V output voltage, used to verify the wiring condition of the tested component. Equipped with voltage setting alarm. If a short circuit or fault causes the voltage to be greater than or less than the set value, the device will alarm.
[Multi-language Feature]: 14 languages supported, English, Spanish, German, Russian, Italian, Polish, Portuguese, French, Vietnamese, Malaysian, Filipino, Indonesian, Arabic.
[Three Years Warranty, Lifetime Maintenance]: For damage caused by non-human factors, AUTOOL promises to resend parts for free within 3 years. For any needs, you are warmly welcomed to contact us and we will get back to you ASAP within 24 hours.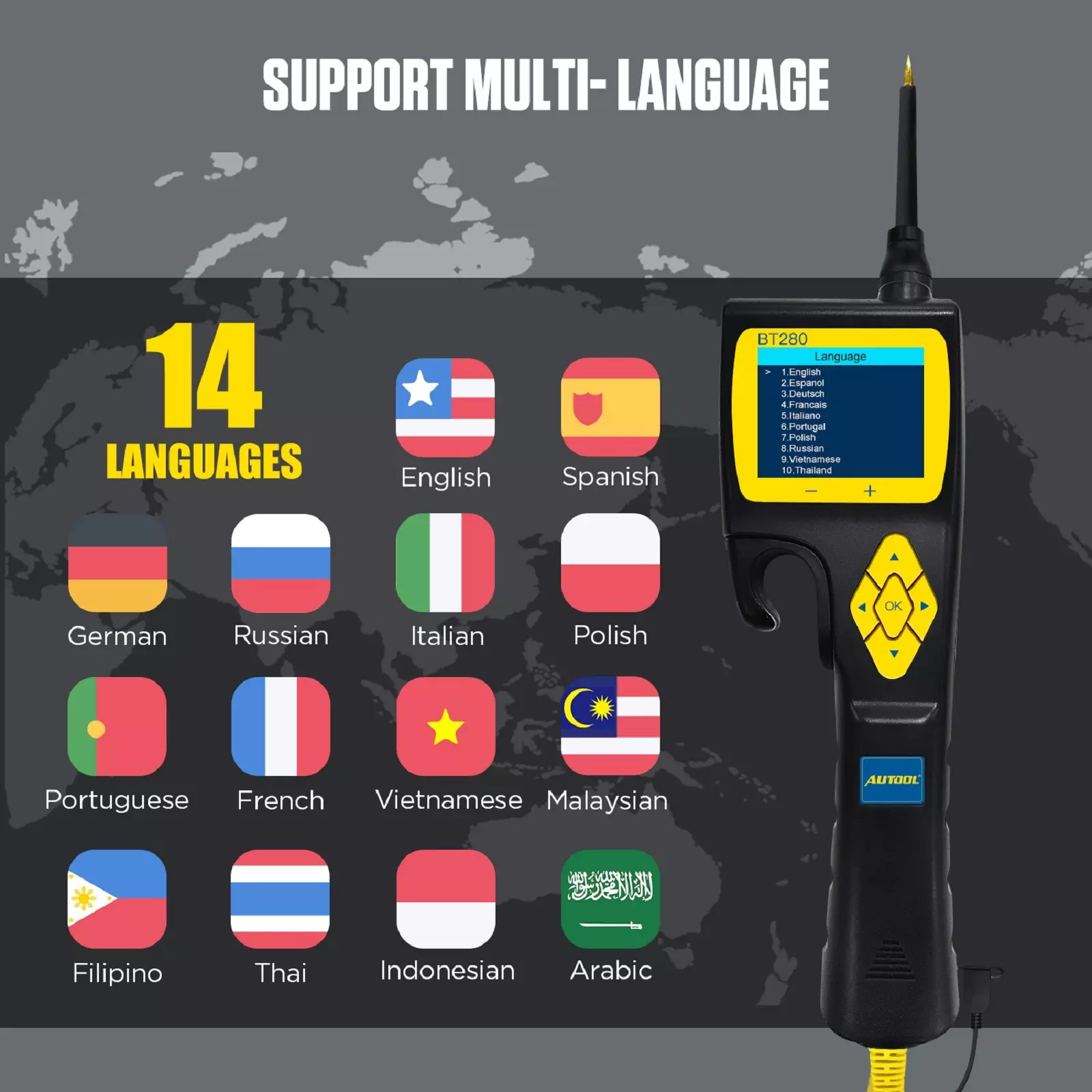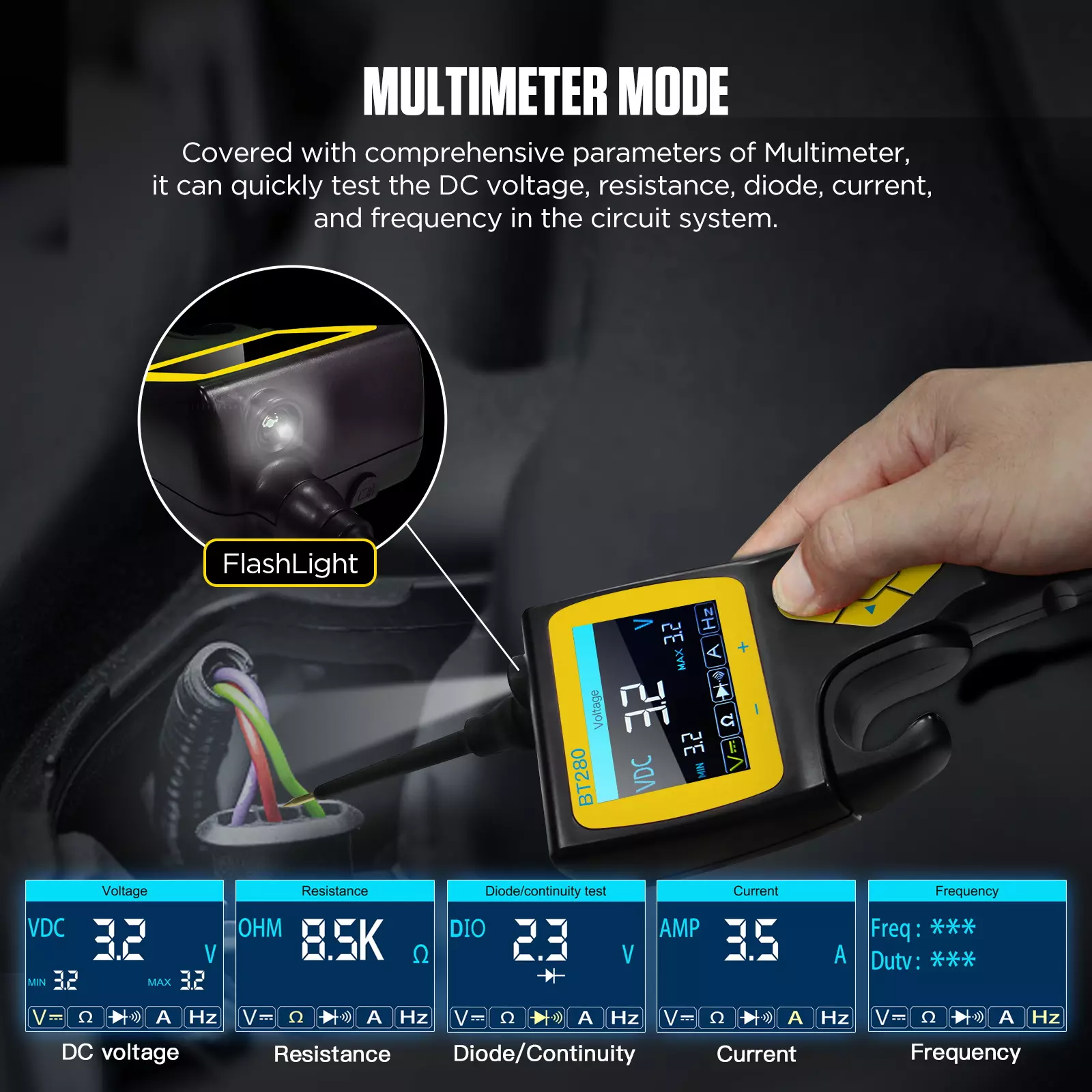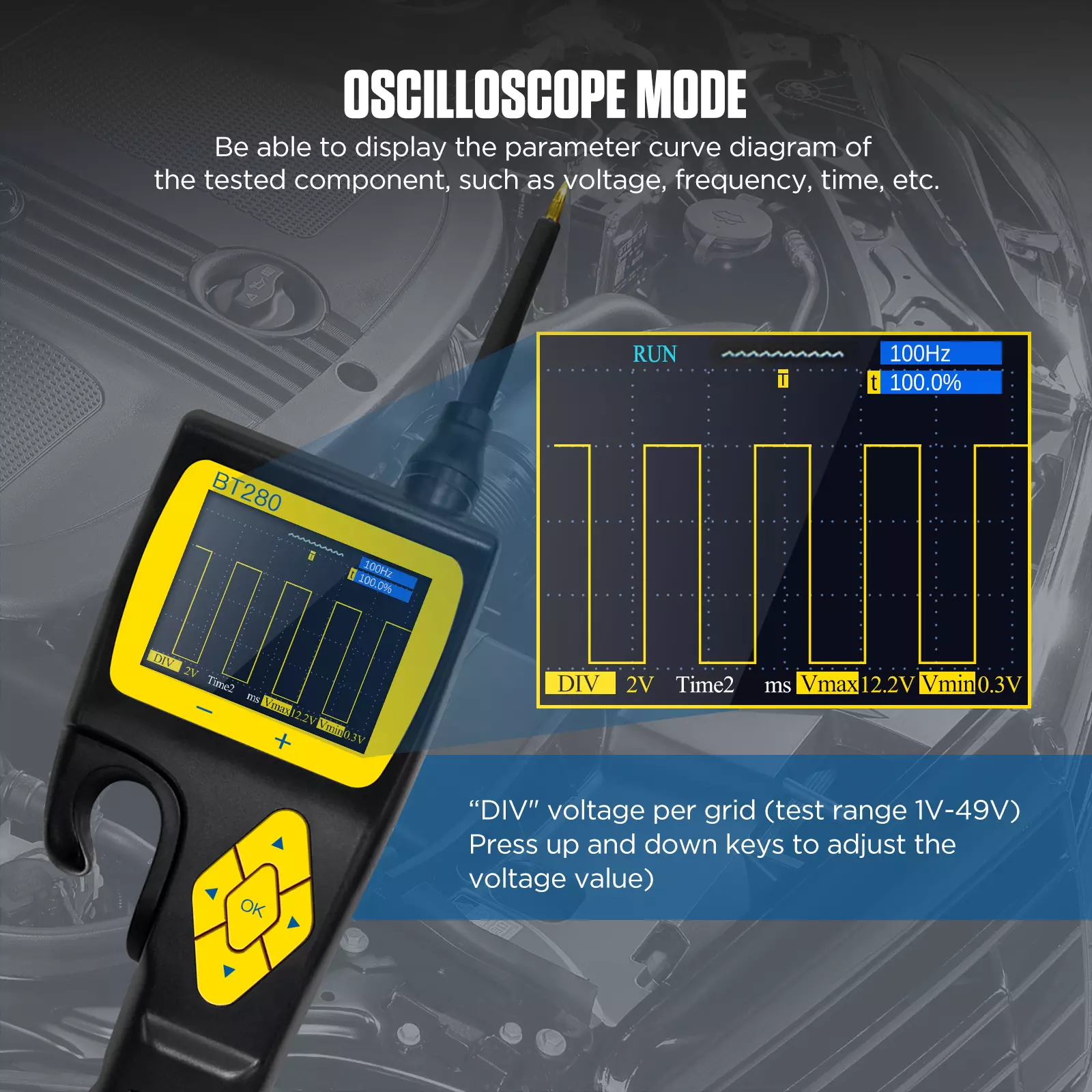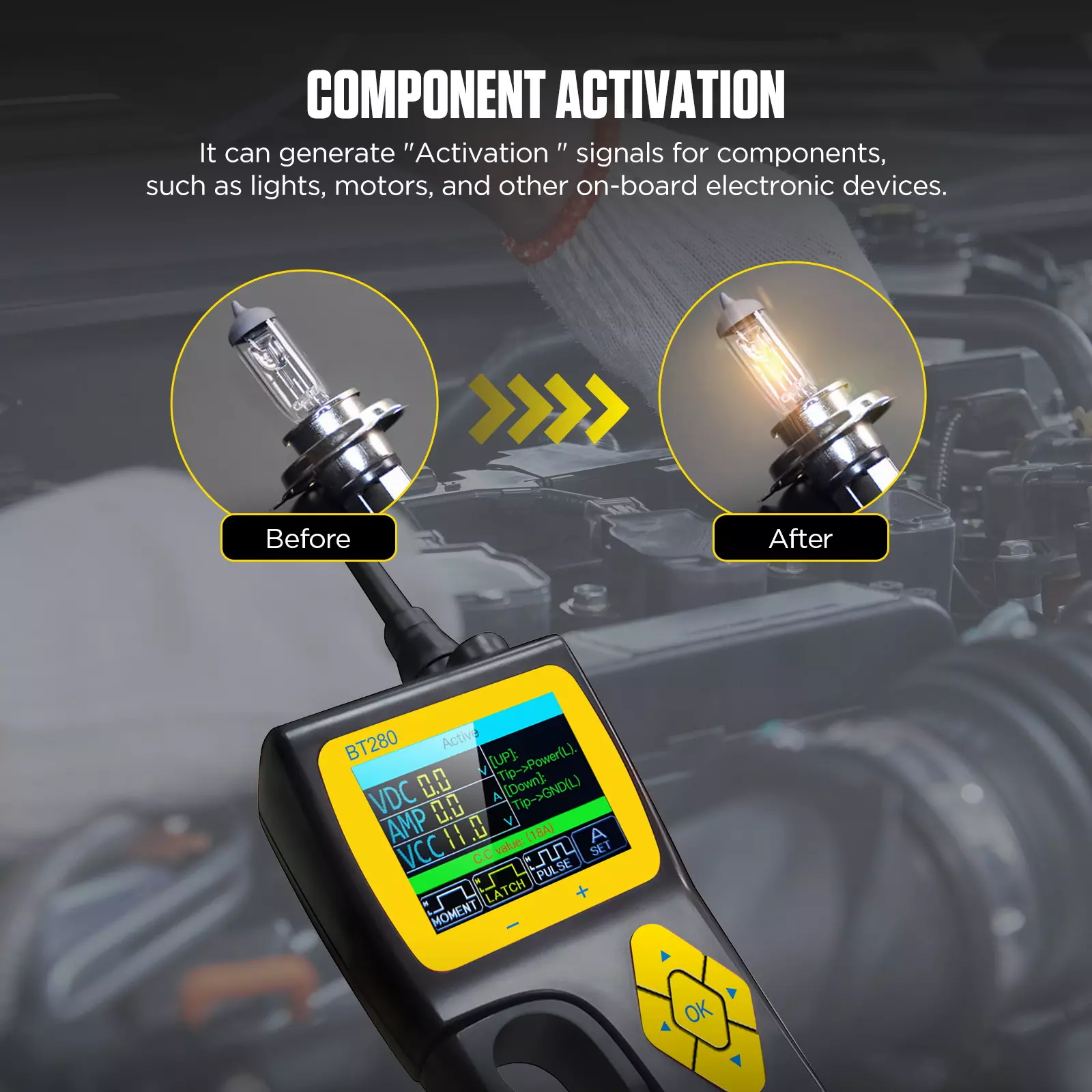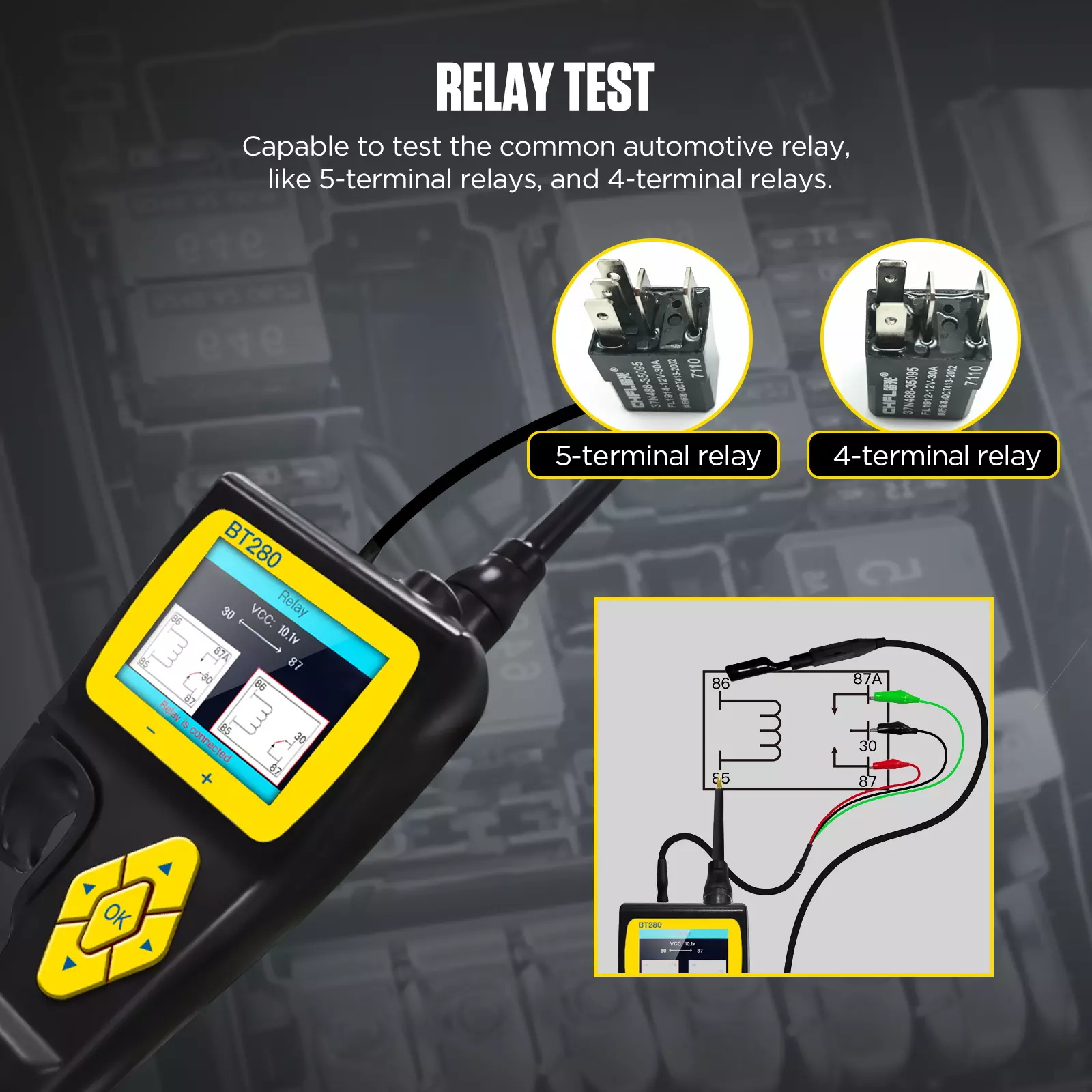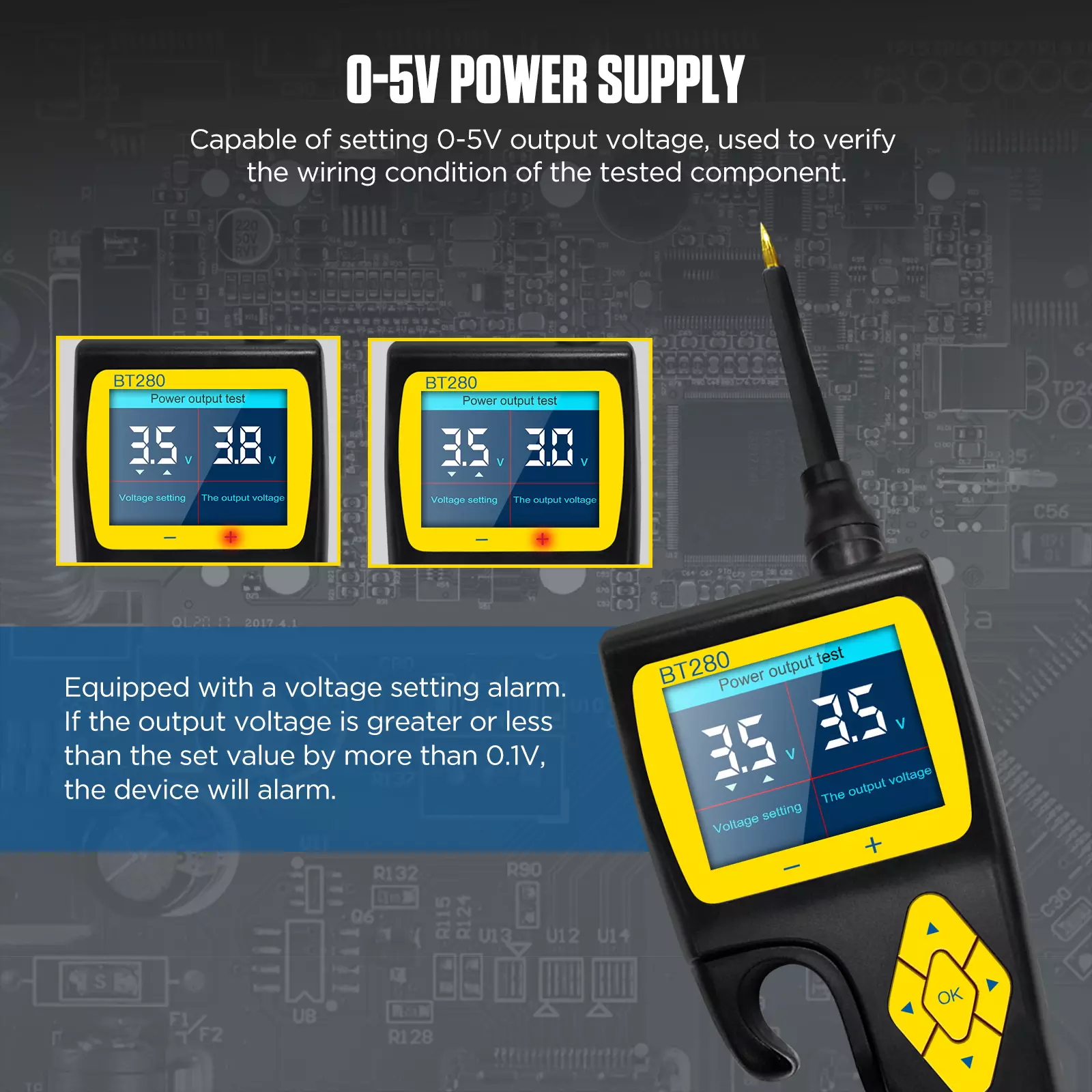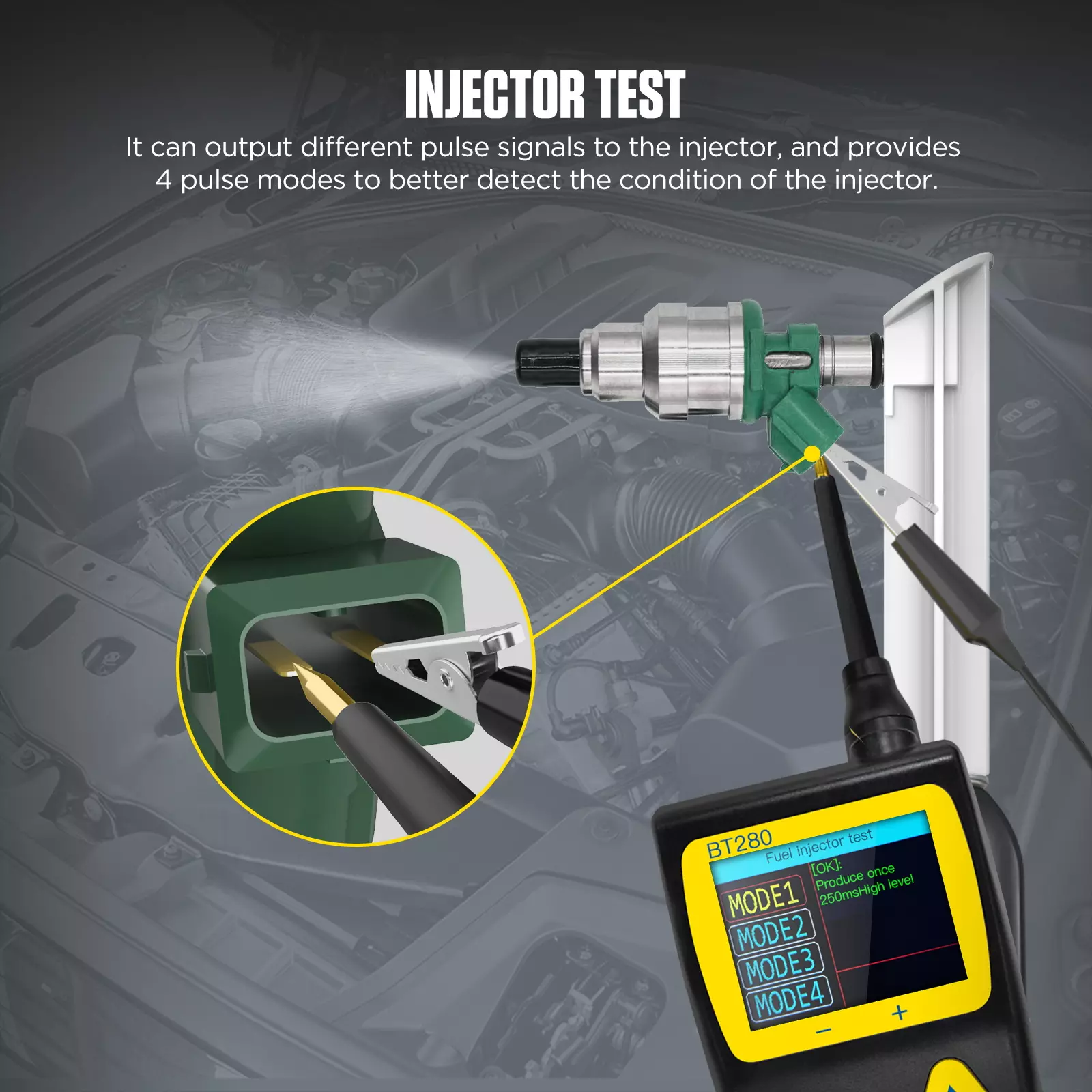 Q & A:
WILL THERE BE TARIFFS?
The tariff policy varies from country to country, and some countries do not have tariffs while others do. We can help you fill in a lower declaration value, resulting in fewer customs duties, if you want. You can contact us by email shop@autooltech.com or note the declared value you would like us to fill in when purchasing.
HOW MUCH DOES SHIPPING COST?
AUTOOL BT280 is shipped free of charge to all countries globally from China, so there are no shipping costs.
IS IT TRUE THAT THERE IS A THREE-YEAR WARRANTY? HOW DO YOU DO IT?
All AUTOOL products are guaranteed for three years. Within three years, if there is a problem with the quality of the product, AUTOOL can replace the damaged parts for free.
HOW LONG DOES IT TAKE TO RECEIVE THE PRODUCT?
You can receive the package of AUTOOL BT280 in about 2 weeks.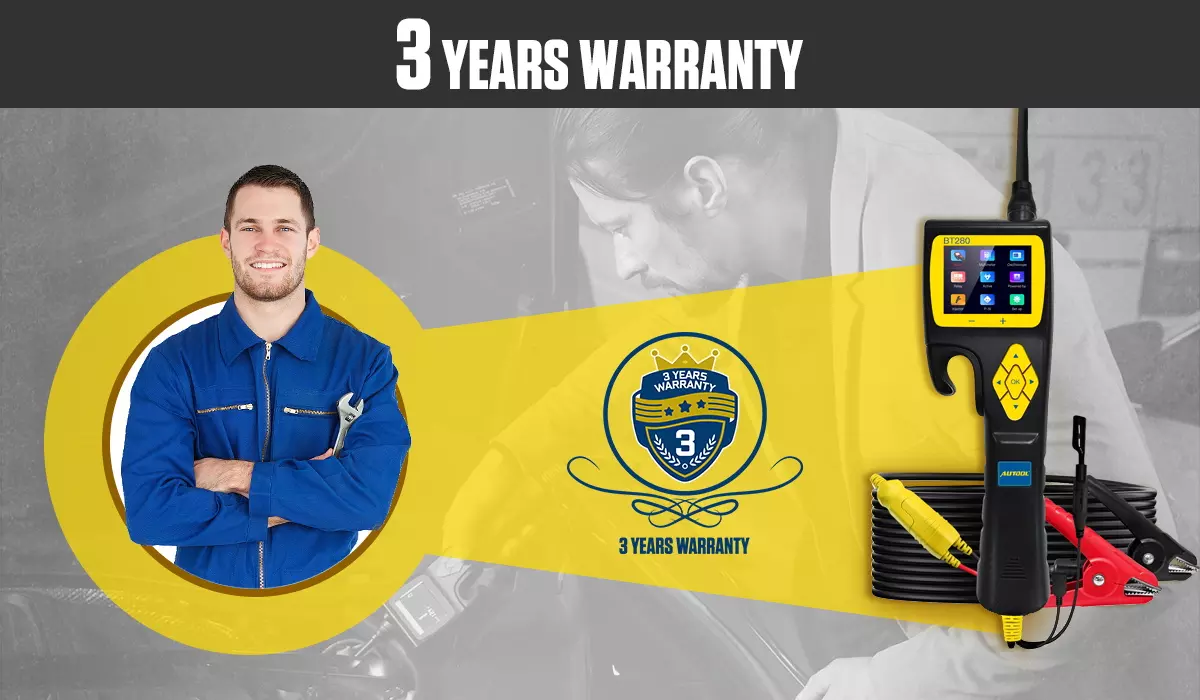 Specifications and Parameters:
① LCD: (320*240 DPI) TFT color display
② Working temperature: 0-60°C (32-140 F°)
③ Storage temperature: 40-70°C (-40-185 F°)
④ External power supply: 12V or 24V Powered by battery
⑤ Minimum working voltage: 9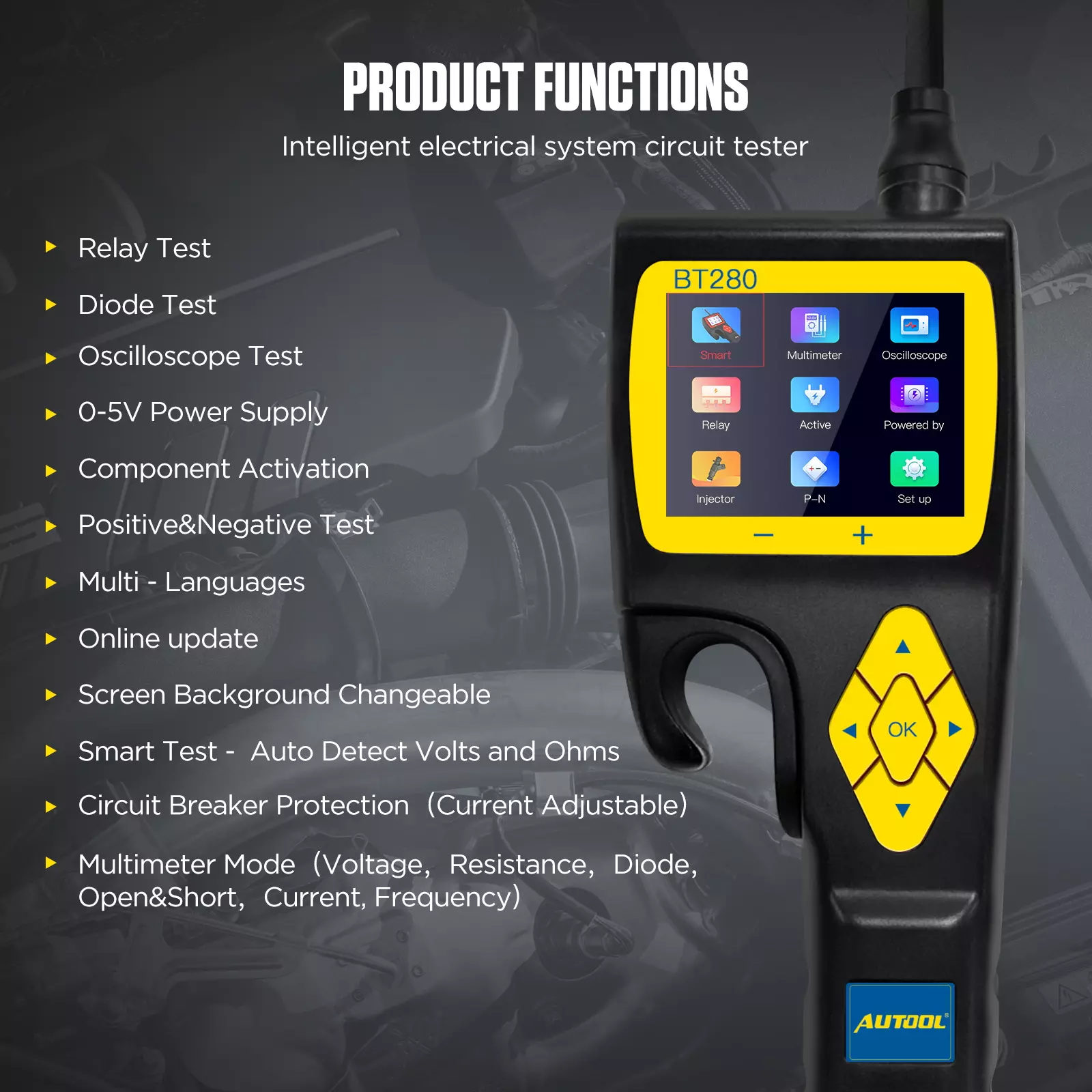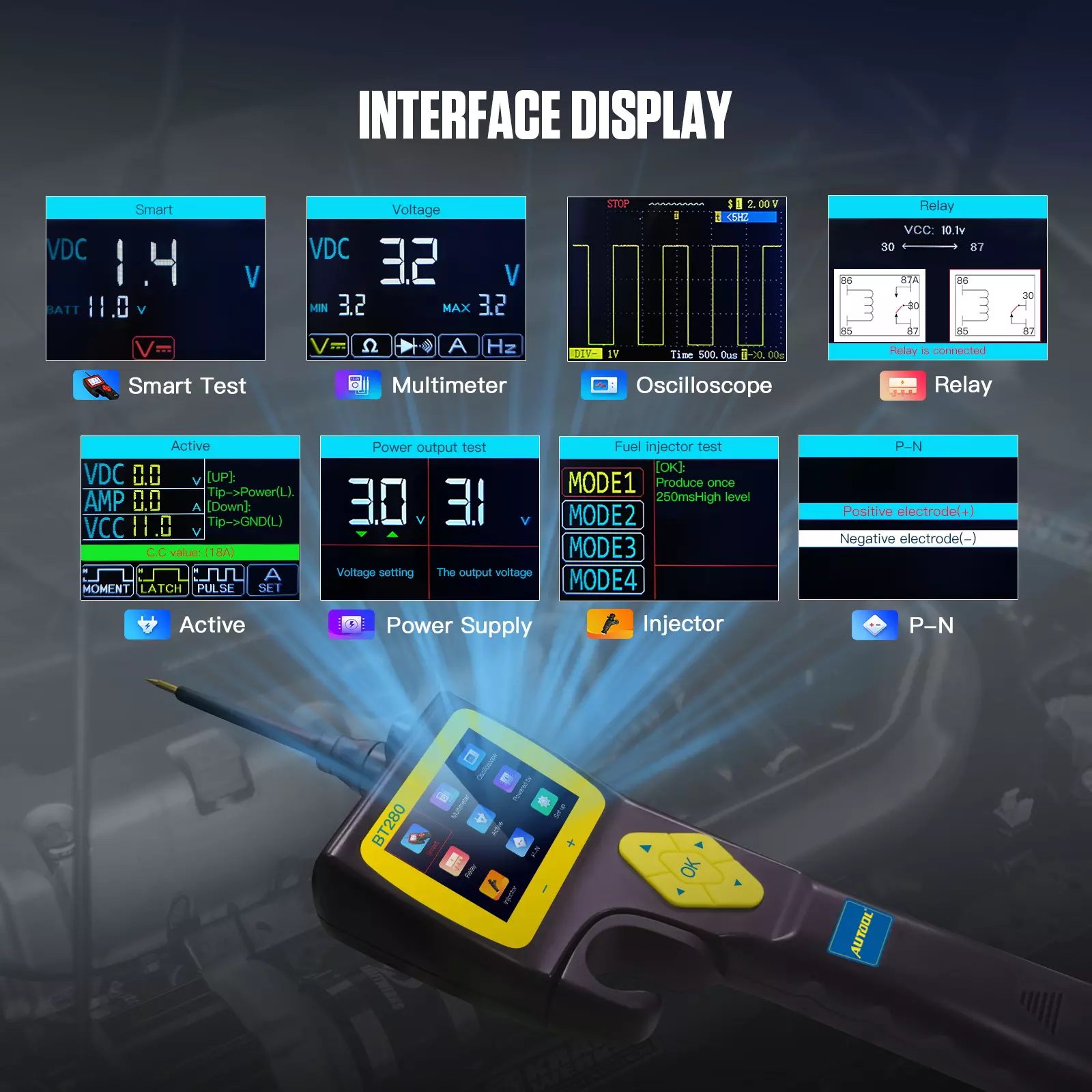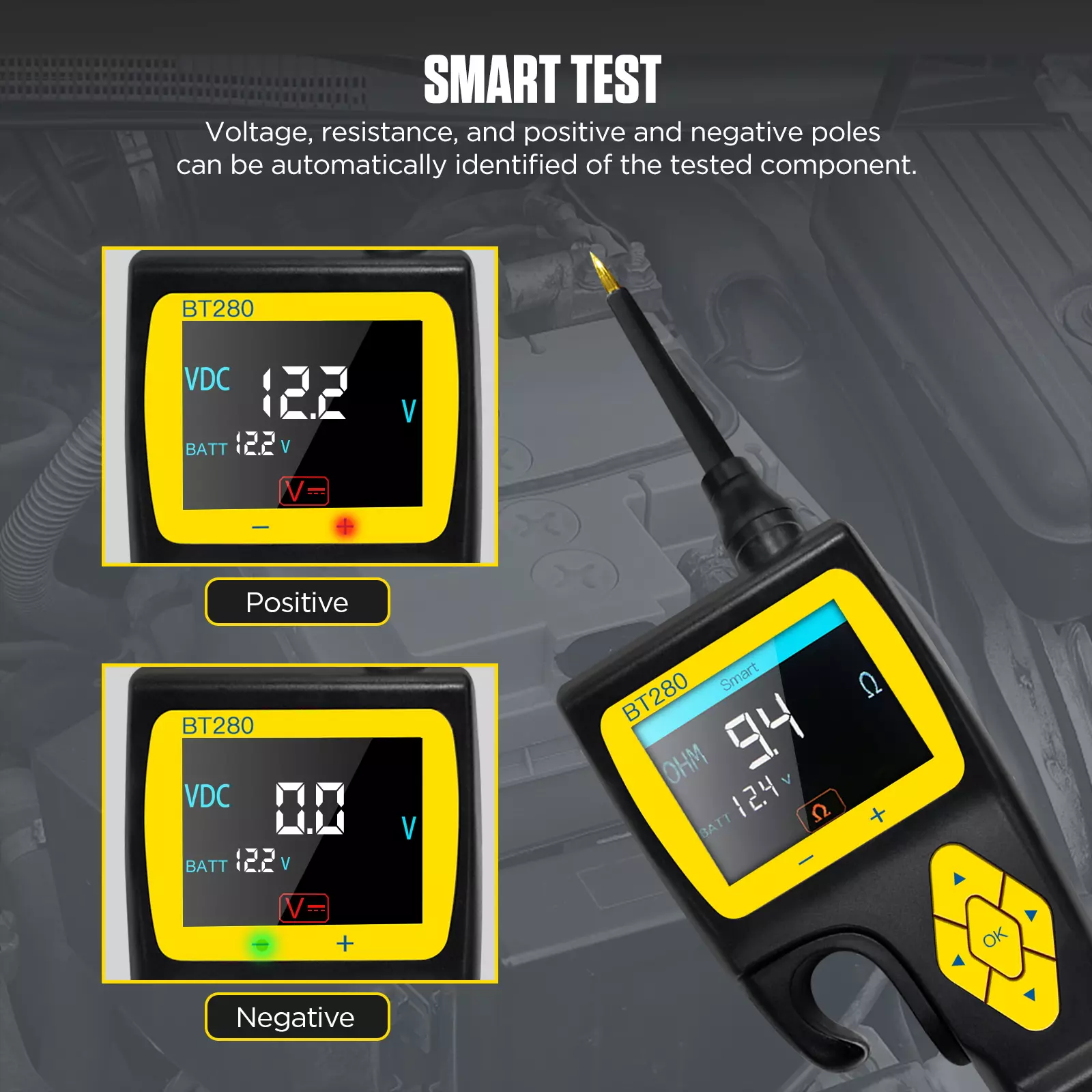 Package Included:
– 1pc AUTOOL BT280 Electric System Tester main unit
– 1pc Solid copper test probe tip
– 1pc Extension connection line
– 1pc Battery clamp
– 1pc Relay test line
– 1pc Probe adapter