AUTOOL HTS708 Dry Ice Blasting Cleaning Machine
AUTOOL HTS708 dry ice Blasting machine is capable of cleaning various equipment. With this cleaning technique, on the one hand, it can avoid production interruptions due to downtime, and on the other hand, disassembly and damage to the equipment can be reduced, which essentially protects the equipment and increases productivity.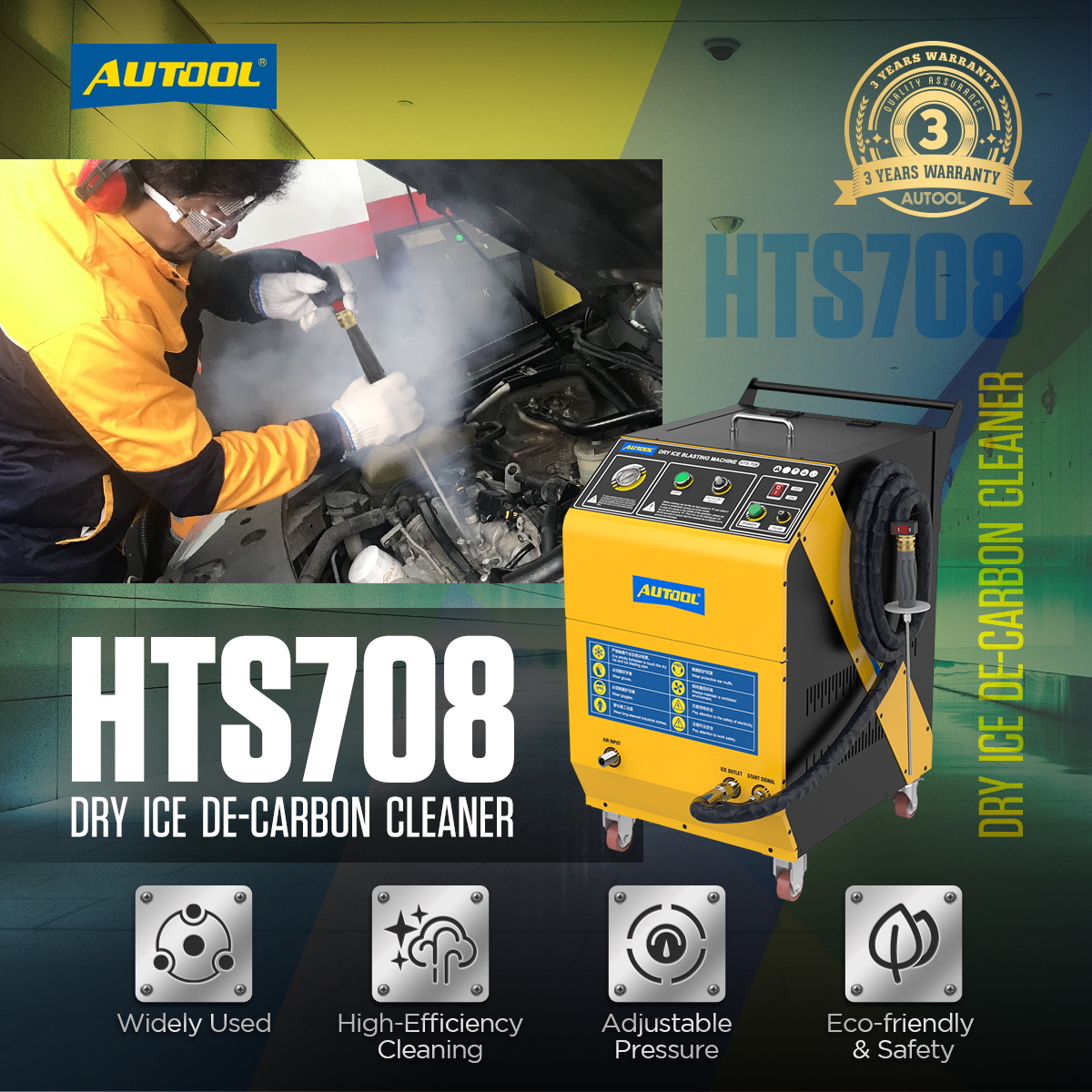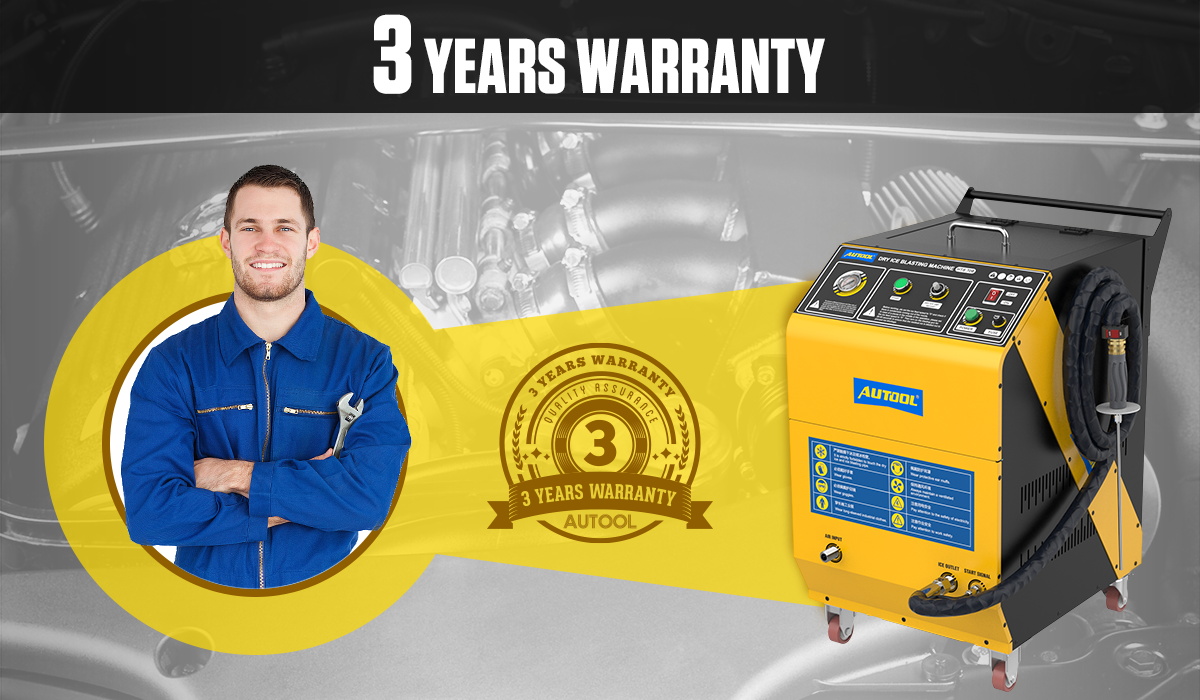 AUTOOL Carbon Deposition Engine Cleaner Quick Search
AUTOOL HTS708 Dry Ice Blasting Cleaning Machine Features:
The most economical dry ice blasting cleaning machine: Thanks to China's lower labor costs and relatively good industrial system, AUTOOL can produce a dry ice cleaning machine at a lower cost while maintaining the high-quality of dry ice cleaning machine. So AUTOOL can offer customers a high-quality dry ice cleaning machine.
Good helper for automotive technicians:

A dry ice cleaning machine can fully clean the carbon deposits in all parts(such as throttle valve,intake valve,engine component, cylinder combustion chamber, wheel hub, etc.) of the car without disassembling the cleaning parts. This effectively reduces the cleaning time and greatly improves efficiency.

Avoid injury to personnel from hazardous materials:

By cleaning with dry ice instead of toxic chemicals, we can prevent harmful substances from adhering to the equipment for a long time, which can affect the overall operation and cause harm to people.

Quickly removes a variety of stubborn dirty deposits:

With the dry ice cleaning machine, the adhered dirty deposit can be thoroughly removed, and also has good protection for the equipment, so as to avoid affecting the operation and use of the equipment while being cleaned.

Wide Application Range:

AUTOOL HTS708 dry ice cleaning machines are widely used in fields such as rubber, casting, automobiles, ships, electric power, chemicals, printing, plastics, food, pharmaceuticals, and aviation.

Control Panel:

AUTOOL HTS708 dry ice cleaning machine built with an Intelligent microcomputer can precisely control the pressure, which can freely adjust the pressure and speed.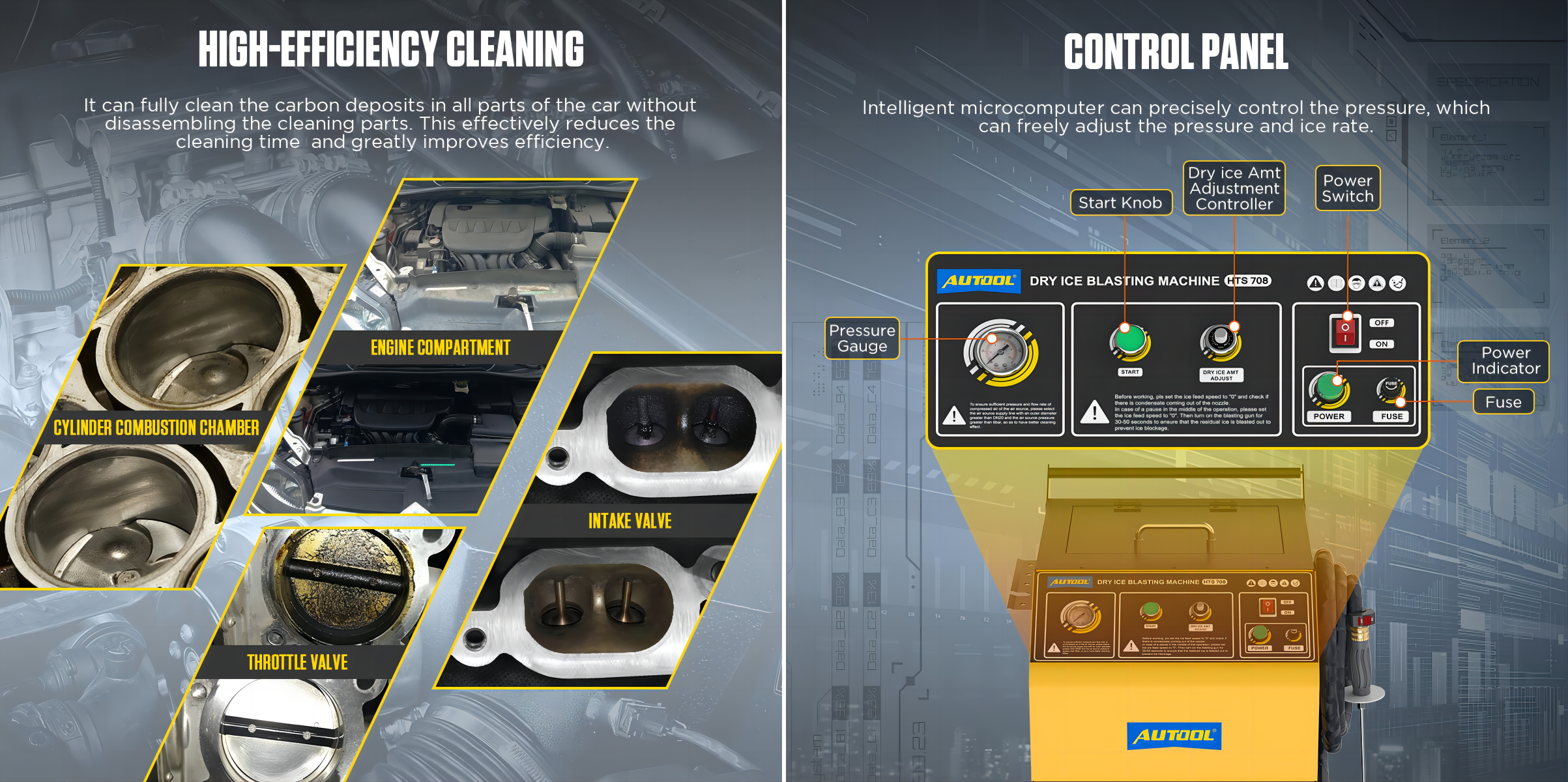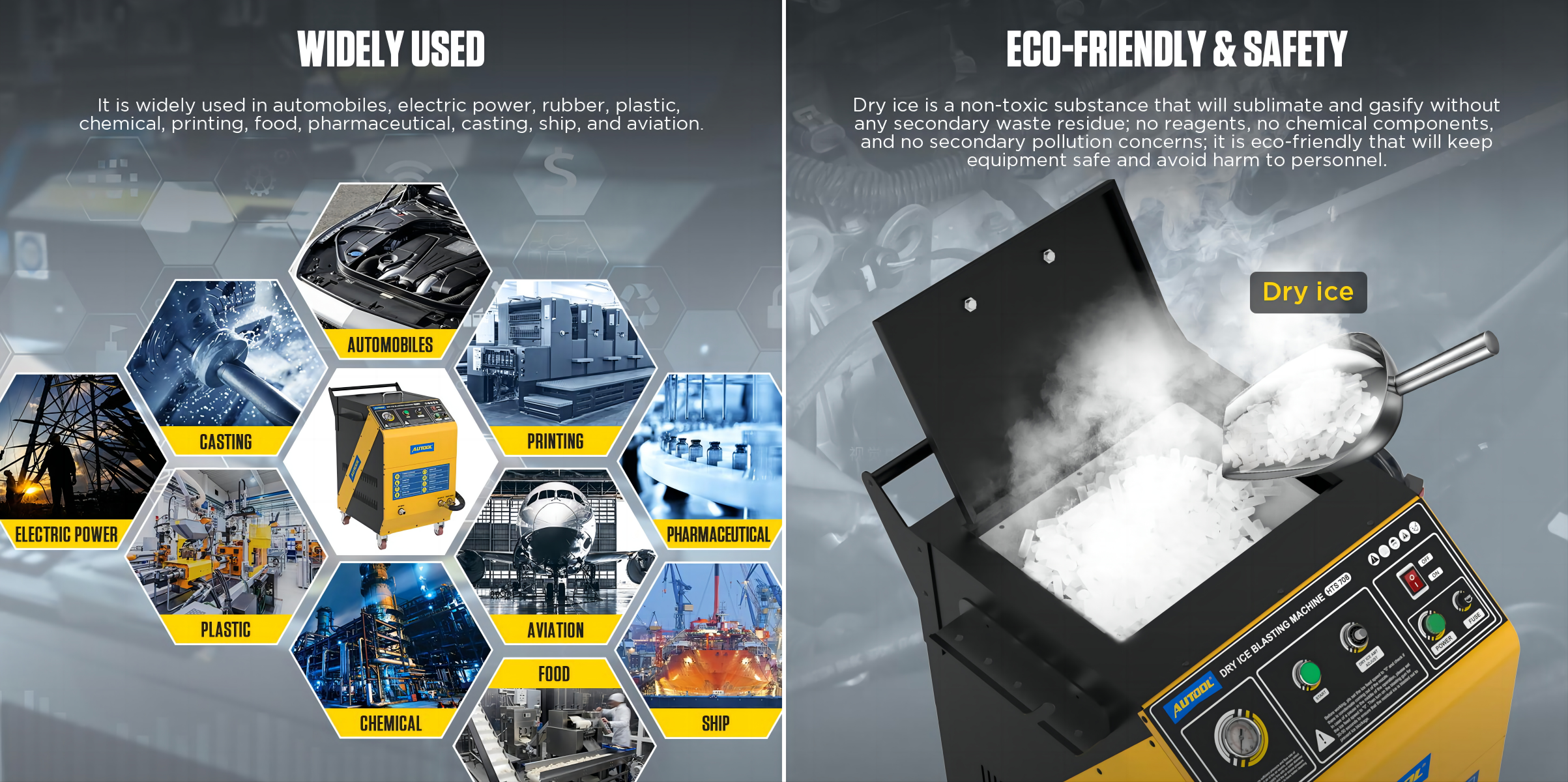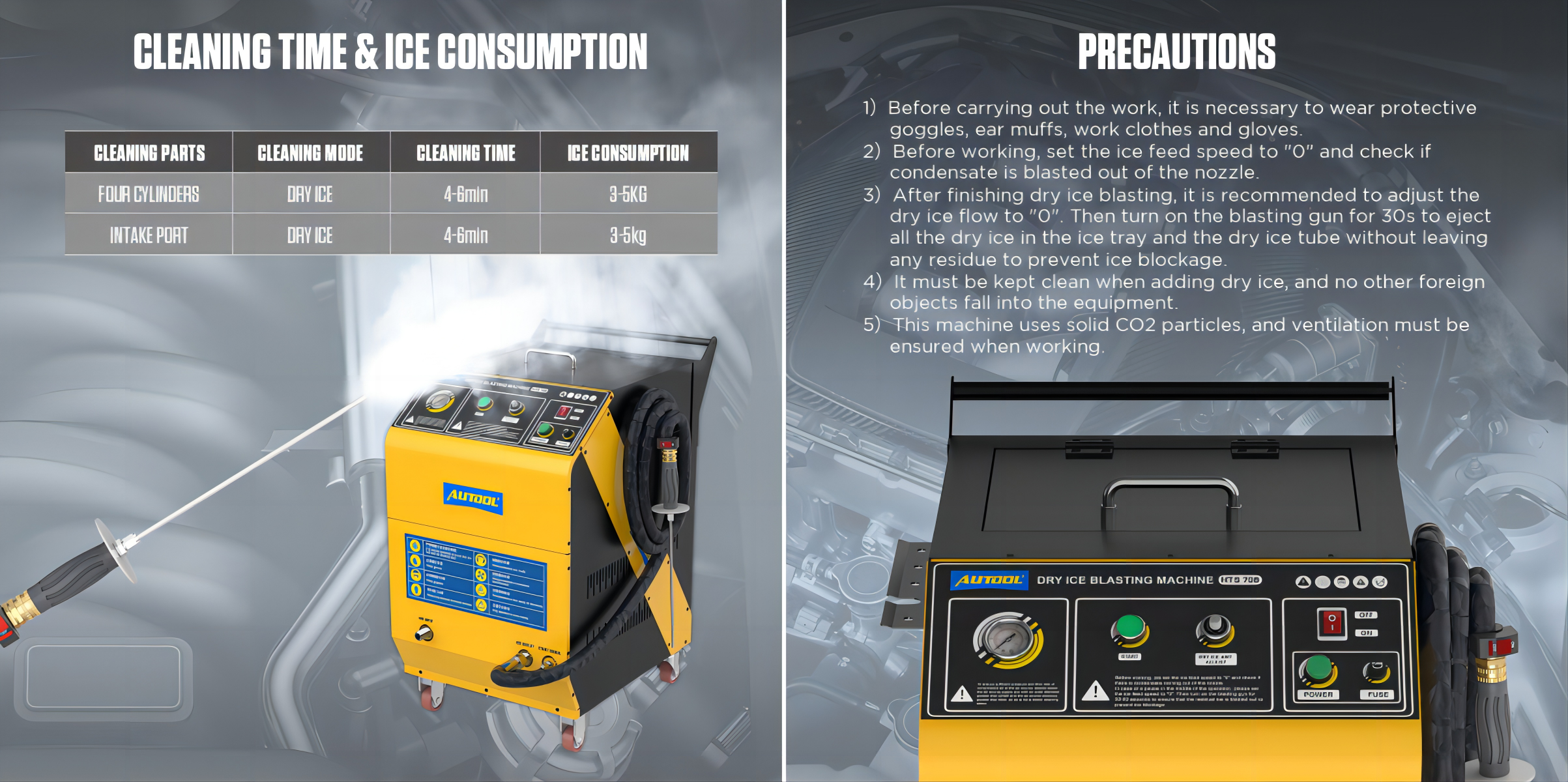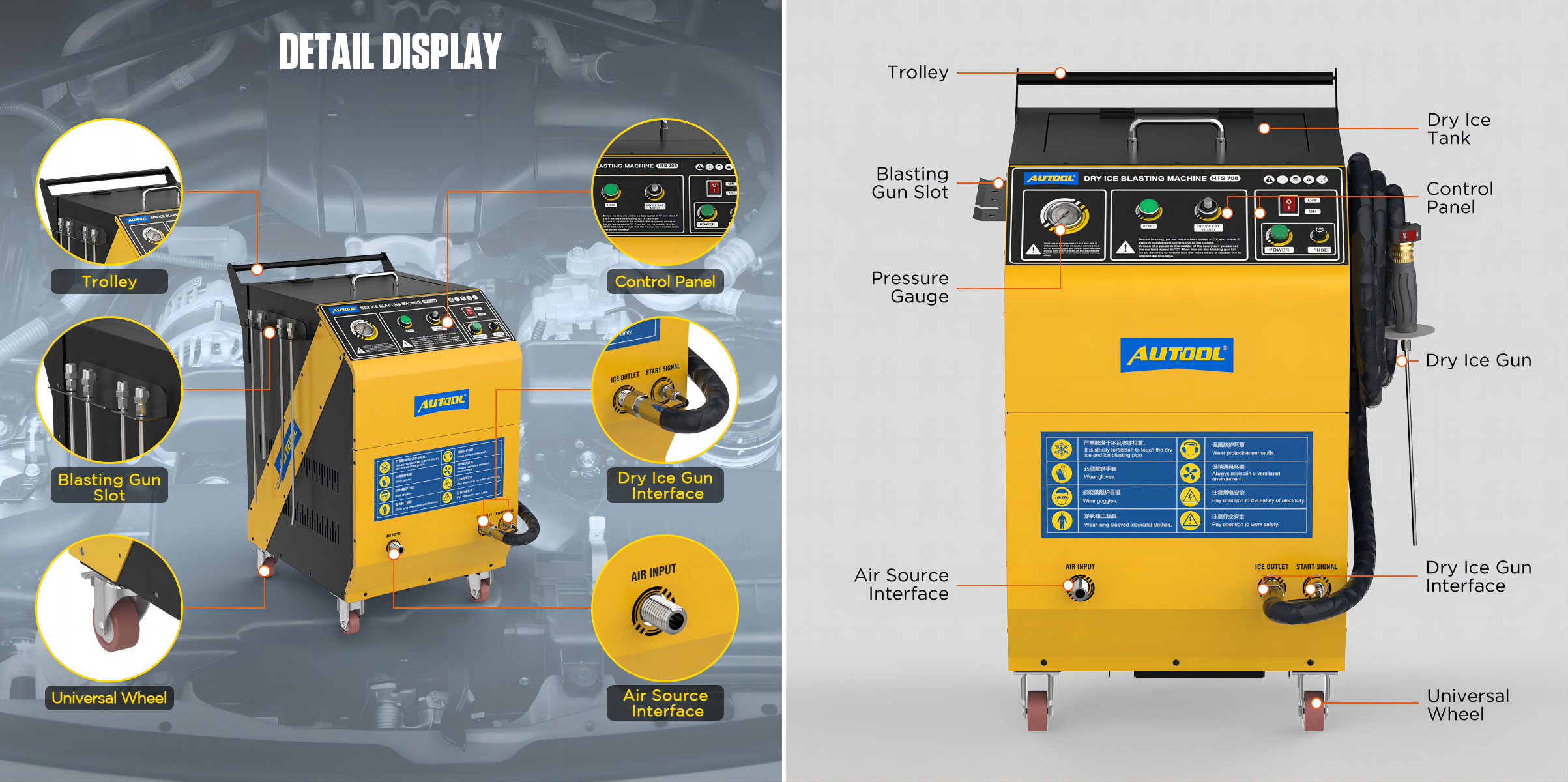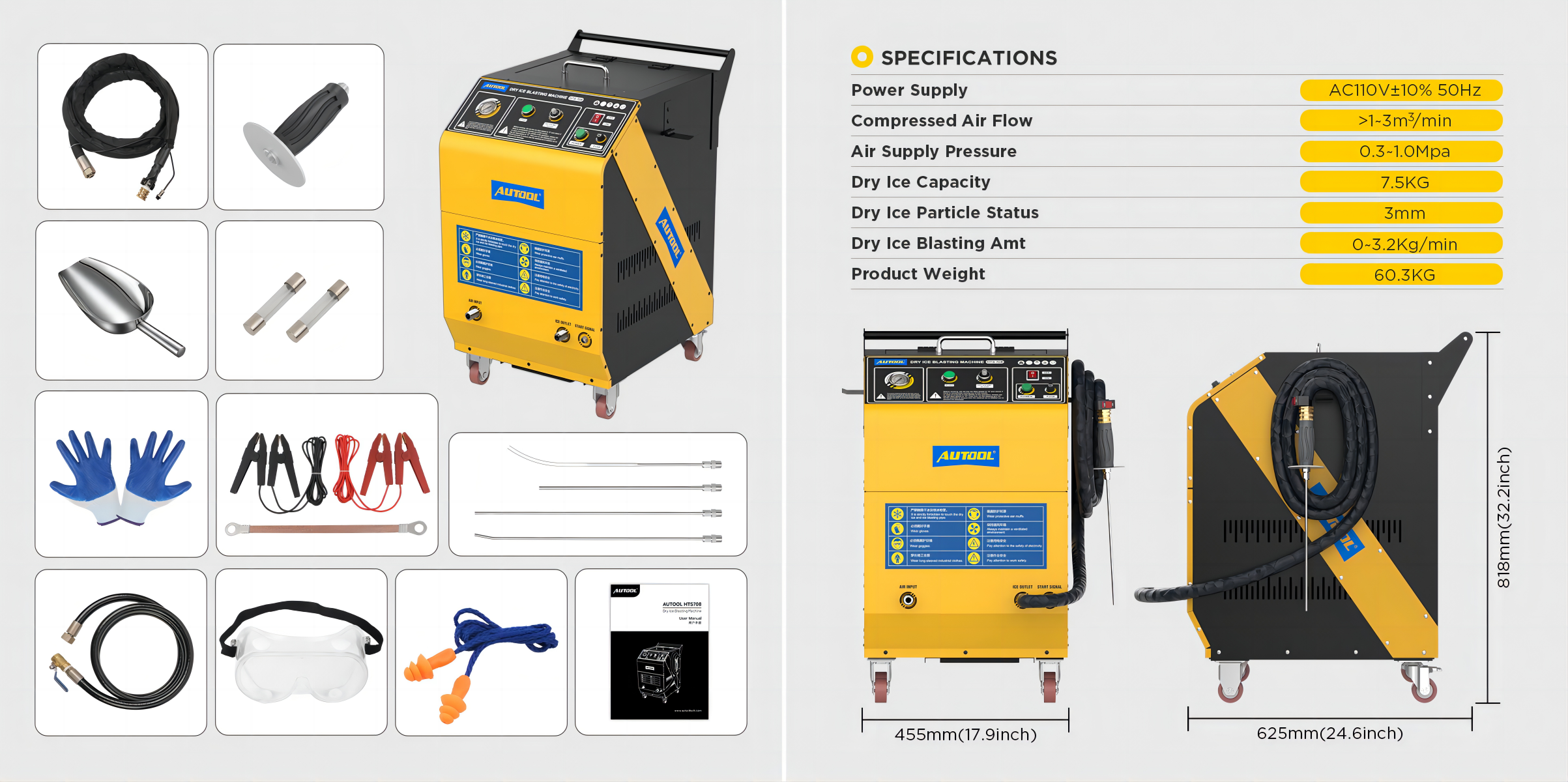 Packing List:
1pc * AUTOOL HTS708 Dry Ice Cleaning machine main unit
1pc * Shovel
1pc * A pair of gloves
1pc * Manual
1pc * Goggles
1pc * Earplugs
1pc * Air hose
1pc * A set of fittings of blasting gun (Flathead pipe, 50cm bent pipe, 35cm bent pipe, 35cm straight pipe, 50cm straight pipe)
AUTOOL Dry Ice Blasting Machine Certificate of Compliance: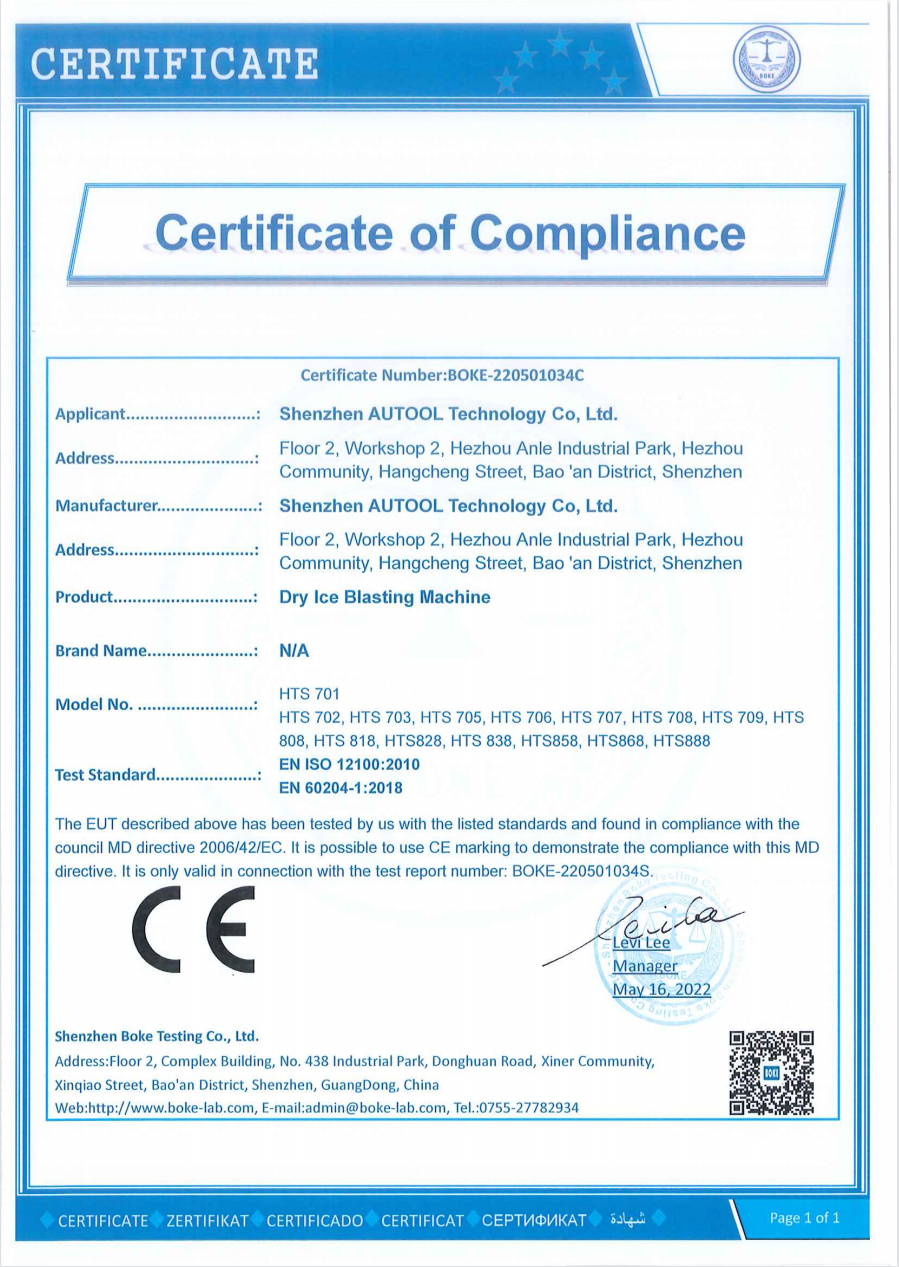 FAQ – DRY ICE BLASTING:
What is dry ice blasting?
Dry ice blasting or dry ice cleaning is an environmentally sustainable cleaning and surface preparation technique.
It is similar to sandblasting, grit blasting and soda blasting in that it uses a medium accelerated in a pressurized air stream to prepare and clean surfaces. The difference is that dry ice cleaning uses recycled solid carbon dioxide (CO 2 ) pellets or particles that are blasted at supersonic speeds and sublimate on impact to remove dirt and contaminants from the substrate beneath.
The process is non-abrasive, non-conductive, non-flammable and non-toxic. It is also chemical-free, water-free and does not create a secondary waste stream. When dry ice hits the surface being cleaned, it sublimates or changes from a solid CO 2 phase to a gaseous CO 2.
How does dry ice blasting work?
There are three main factors that affect the dry ice cleaning process. These factors are the kinetic energy of the particles, the thermal shock effect and the thermodynamic effect. To explain the process more easily, we have created the following acronym (ICE).
Impact – The impact of the particles creates a kinetic effect. Compressed air accelerates the soft dry ice at supersonic speed through specially designed nozzles.
Cold – The low temperature of the dry ice pellets creates a thermal effect. The temperature of the dry ice (-109°F / -78.9°C) causes the contaminant to become brittle. This helps to break the bond between the substrate and the contaminant.
Expansion – The expansion of dry ice pellets. Dry ice pellets sublimate on impact, expanding in volume and removing contaminants.
What are the benefits of dry ice blasting?
Because of its unique properties, dry ice has many advantages that make it a more attractive cleaning solution than alternatives. Benefits include.
Cleaning equipment in place with little or no disassembly
Dry cleaning without the use of water or chemicals
Reduced downtime associated with cleaning
Cleaning without secondary waste
Improved product quality and reduced scrap
Eliminate equipment wear and tear
An environmentally sustainable cleaning method
What do I need to start dry ice blasting?
Dry ice blasting requires a simple setup. Along with your dry ice blasting machine, the system will be equipped with the blasting and air hoses, applicators and nozzles that are best suited for your application.
The only other items required for the operating system are:
Compressed air source (plant air or air compressor)
Power supply
Dry ice supply
If you are using a portable diesel compressor as your air source, an aftercooler may be useful. The aftercooler removes most of the moisture from the system and cools the air to within 15°F (-9.4°C) of the ambient air. This depends largely on the humidity level.
Where can I buy dry ice?
Most of our customers purchase dry ice pellets or blocks from industrial gas suppliers, welding supply companies and other regional or local suppliers. Dry ice can be purchased on an as-needed basis, or regular deliveries can be arranged to your facility. Regular delivery trucks covering a 100-mile radius are available in most major metropolitan areas. Dry ice can also be shipped using common carriers and delivered in insulated containers.
For manufacturers who regularly require large quantities of dry ice or work in remote areas, we recommend considering a dry ice production machine to meet the high demand.
How much does dry ice cost?
Dry ice is a commodity, and prices vary by region.
Are there safety precautions for dry ice blasting?
When working with CO 2, precautions must always be taken to ensure that the area is adequately ventilated and that the proper PPE is used when handling CO 2 in liquid or solid form (dry ice).
Wear appropriate protective devices such as earplugs, glasses, gloves and open-toed shoes when operating a dry ice blaster
Can dry ice blasting remove paint?
While dry ice blasting is effective in removing failing paint and weakly bonded paint, dry ice is a mild-medium, and in some applications, the use of dry ice alone is not always successful. There are many variables that determine the success of dry ice blasting, such as the adhesion of the paint and the type of paint and primer. Depending on the application, even high-pressure dry ice blasting can be too slow, too mild or ineffective.
Will dry ice blasting remove rust?
Dry ice blasting alone will remove any loosely adhered rust, surface rust, oxidation and salt (SP 6), but it will not remove deeply adhered or pitting oxidation. Due to the non-abrasive nature of dry ice, it is not sufficient to create contoured or white metal finishes.
Will dry ice blasting kill mold?
When following IAQA standards, dry ice blasting removes 99.9% of mold spores faster than traditional cleaning methods. The process eliminates timely manual cleaning without secondary waste, resulting in reduced mold remediation time, lower total labor costs and project time. The dry ice blasting process uses no chemicals and is able to deodorize the affected area.
Does dry ice blasting leave a residue?
Dry ice blasting leaves no residue or waste. Dry ice sublimates on impact with the surface being cleaned, creating no secondary waste, residue or moisture. This eliminates additional cleanup, disposal of secondary waste streams and additional cleaning preparation, such as masking delicate sensors or wrapping electronic components prior to cleaning. This significantly reduces the duration of cleaning projects and the resulting downtime.
Eliminating secondary waste also allows the equipment to be cleaned both in-line and while still in operation.
FAQ – AUTOOL HTS708 Dry Ice Cleaning Machine:
Q1.What size and form of dry ice required to use on the machine?
A: We recommend using preferably 3 mm dry ice pellets and up to 8 mm dry ice pellets.
Q2.How many PSI does the machine need to run properly?
A: Above 90PSI
Q3: Any suggestion for the compressor?
A:We suggest you use a 1.5m³/min compressor which with a 300L air tank to supply the air pressure and store air pressure in the air tank.
Q4: Does the machine run on single phase?
A: No,it doesn't run on single phase.The socket must to connect with earth wire.
Q5: How long is the blasting hose?
A: 3.3 meter.
Q6: What cfm the machie run on?
A: Above 1.5m³/min.
Q7: What is the connection of air inlet?
A: 15mm.
Q8: What sizes are the blast nozzles?
A: They are 5mm and 6mm.
Q9: Can you customize a longer blast hose?
A: Yes,we can customize a longer hose for you if need it,the longgest hose is 5m.You need to pay extra fees for it.Please contact us for more details.
Q10: Will there be tariffs?
A: The tariff policy varies from country to country, and some countries do not have tariffs while others do.
Good news:
The tariffs of HTS708 shipped from China to the US can be free, tariffs for shipping to other countries can also be reduced.
Q11: How much does shipping cost?
A: Different countries will have different shipping costs, you can see the shipping costs by filling in the shipping address at checkout.
Q12: Is it true that there is a three year warranty? How do you do it?
A: All AUTOOL products are guaranteed for three years. Within three years, AUTOOL can replace the damaged parts for free if there is a problem with the quality of the product.
Q13: How long does it take to receive the product?
A: You can receive the package of AUTOOL HTS708 in about 2-3 weeks.
Q14: What is the difference between HTS708 and HTS705?
A: HTS708 and HTS705 have the same performance, but HTS705 optimizes the internal structure and has a smaller size.
Q15: Can I return the AUTOOL HTS708?
A: Because AUTOOL HTS708 has a relatively high shipping cost and also needs to pay certain customs duty, so it does not support return. Please be sure to contact us if there is any problem with the HTS708 or if you have any question. We will make sure that your problems are well solved, and that you receive the best customer service and are 100 percent happy with your purchase. Thanks 🙂