AUTOOL BT260 Electric Circuit Tester Power Probe Automotive Scanner Auto LED Display Voltage Digital Diagnostic Tool
AUTOOL BT260 electric circuit tester is suitable for diagnostic in all 12V to 24V vehicle electrical systems. With a simple hook-up of the tool to the vehicle's battery, AC voltage detection, DC voltage detection, Resistance Detection, Diode Test, and Current overload protection will be available to test.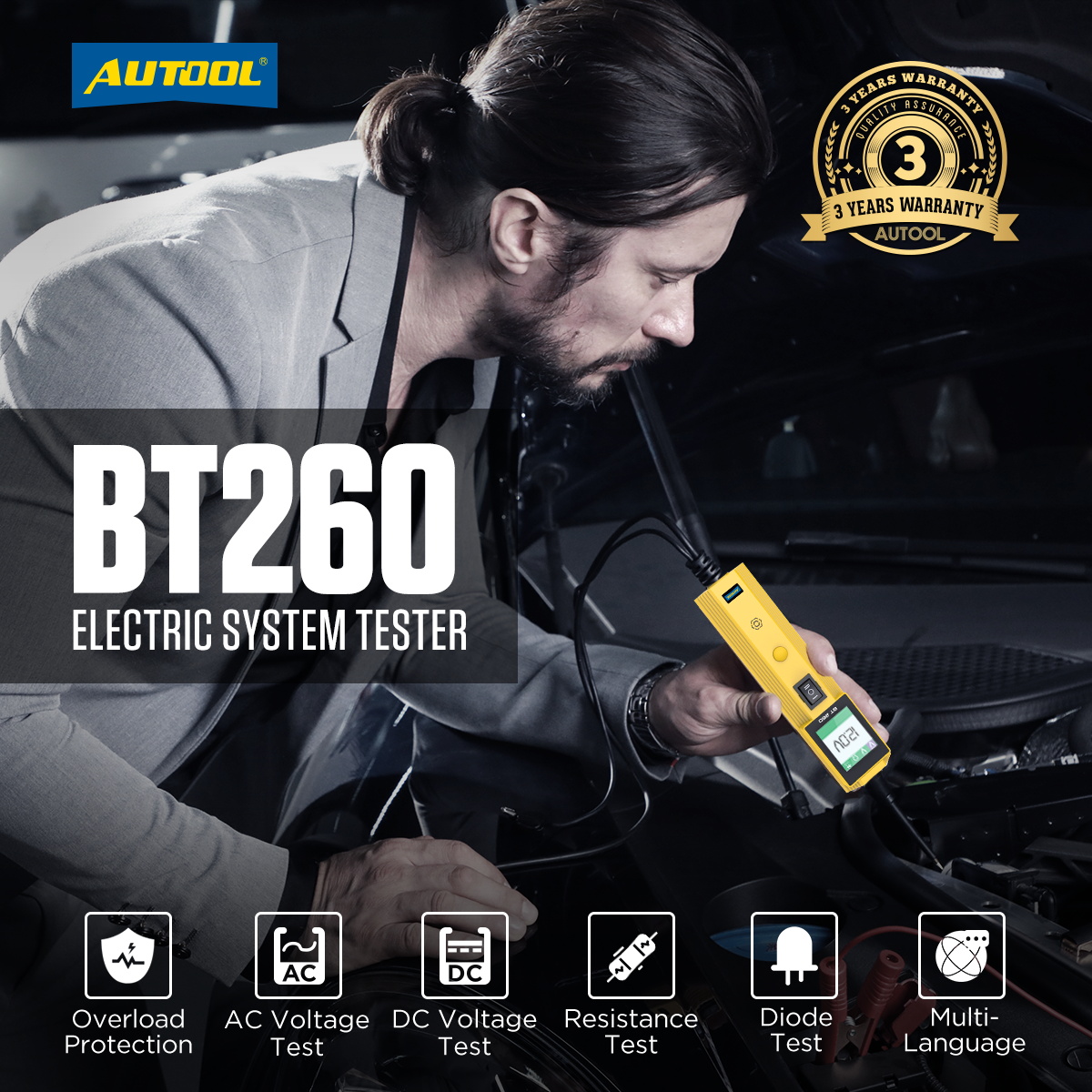 BT260 Electrical Circuit Tester Features:
AC & DC Voltage Detection Mode: AC detects the maximum and minimum voltage, supply frequency and duty cycle of the circuit under test. While DC volt. detection detects the voltage value of the circuit under test.
Resistance Test & Diode Test Mode: It detects the resistance between the circuit probe under test and the auxiliary ground; While Diode Test can quickly test the operation of the diode assembly and determines if it is conducting.
Ultra Extension Inspection Cable 10m: Covering from the front to the rear of the vehicle, you can easily inspect the entire electrical circuit system.
Current Overload Protection: When the current overloads, the AUTOOL BT260 Automotive Circuit Tester will automatically disconnect the protection circuit to reduce unnecessary losses.
Multilanguage Options: Choose from 9 languages: English, German, Spanish, French, Italian, Russian, Portuguese, Chinese, Polish.
3-YEAR WARRANTY: For damages caused by non-human factors, AUTOOL promise to resend parts for free within 3 years. For any needs, you are warmly welcomed to contact us and we will get back to you ASAP within 24 hours.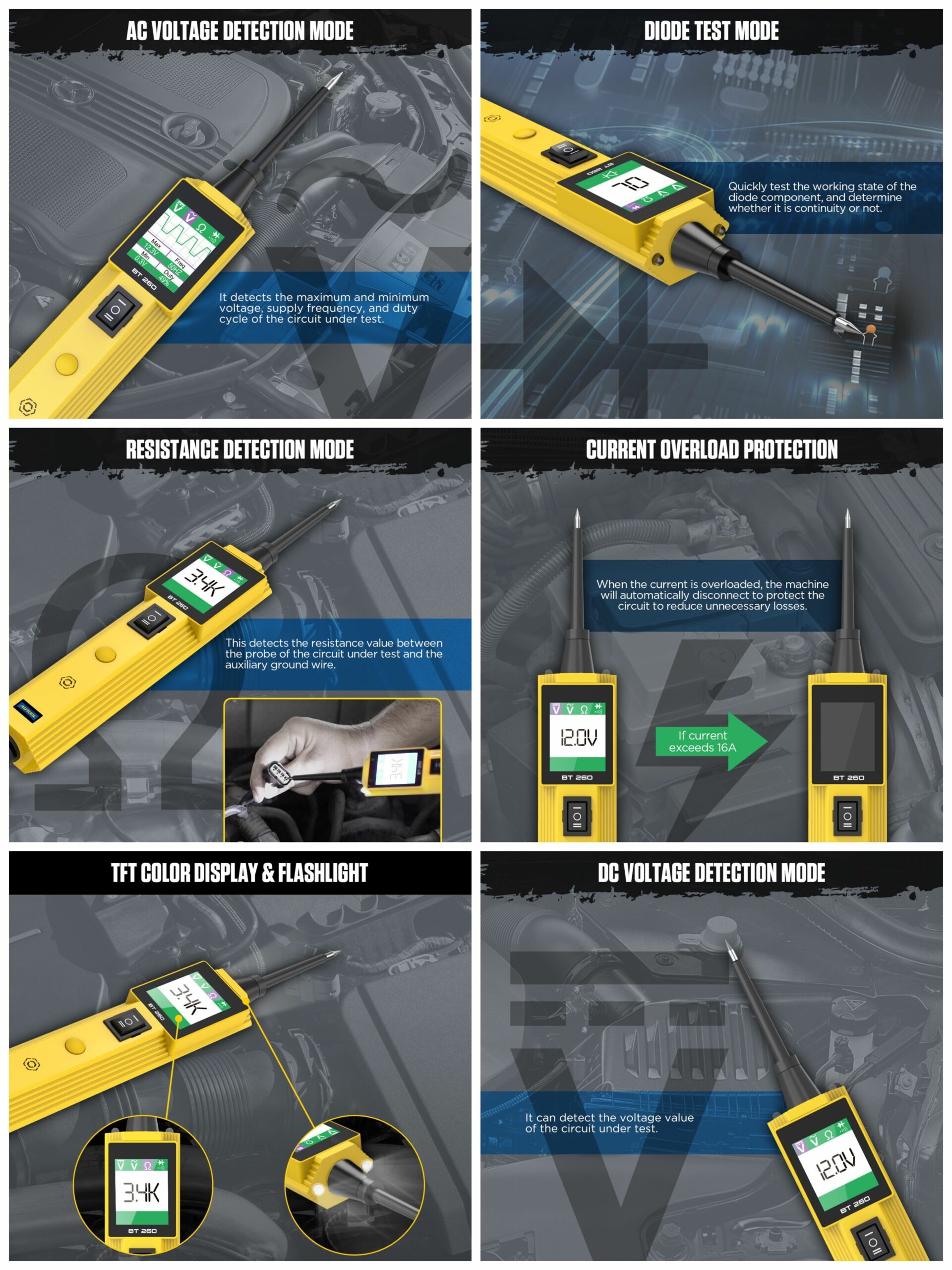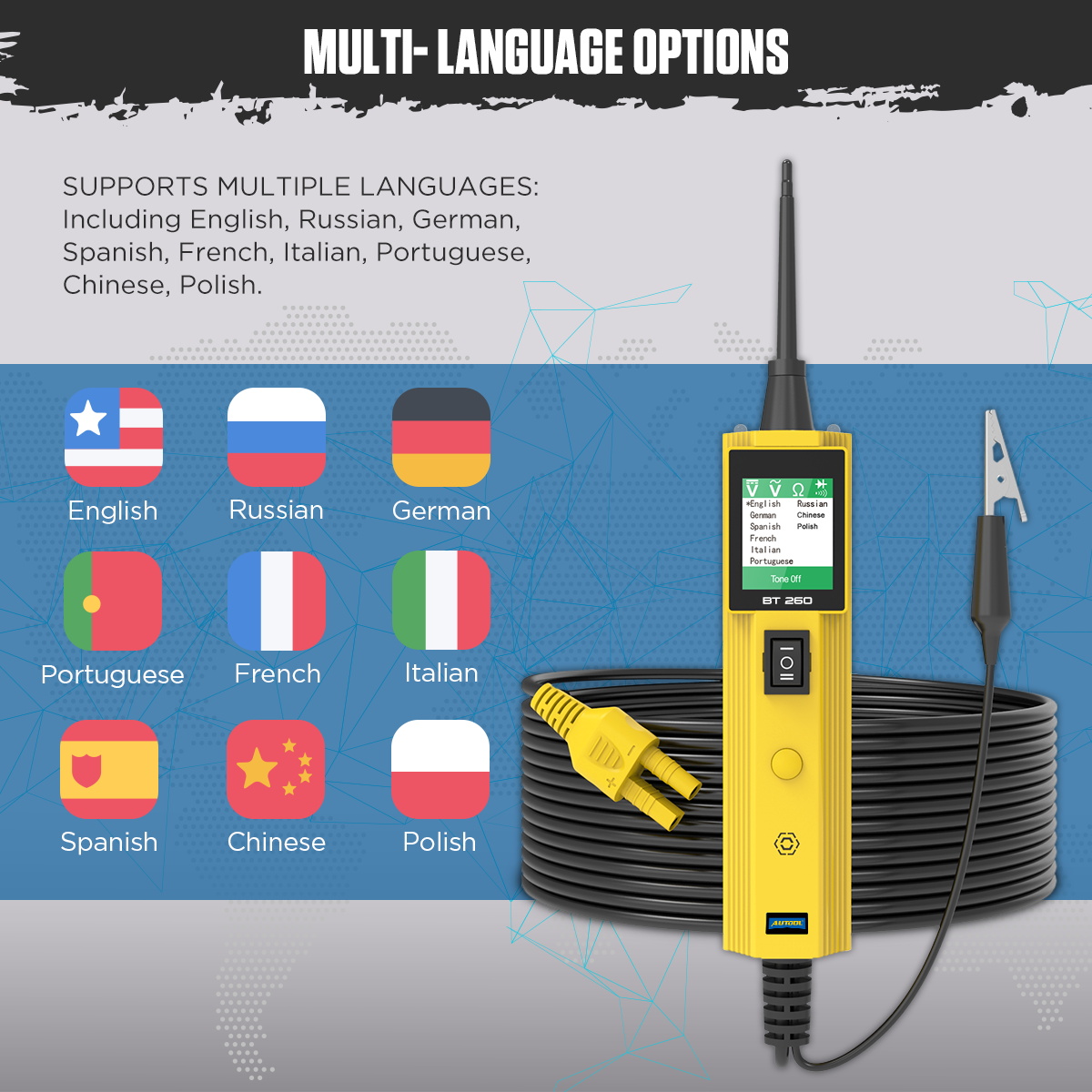 BT260 Electrical Circuit Tester Specification:
Display: TFT color display (160 x 128 dpi)
Operating Temperature: 0 to 60°C (32 to 140 F°)
Storage Temperature: -40 to 70°C (-40 to 185 F°)
External Power: 12.0 or 24.0 V power is provided via the vehicle battery
Dimensions: 126 mm (4.96")x46.5 mm (1.83")x35 mm (1.38") LWH
NW: 0.105kg (0.23lb), GW: 0.726 kg(1.6lb)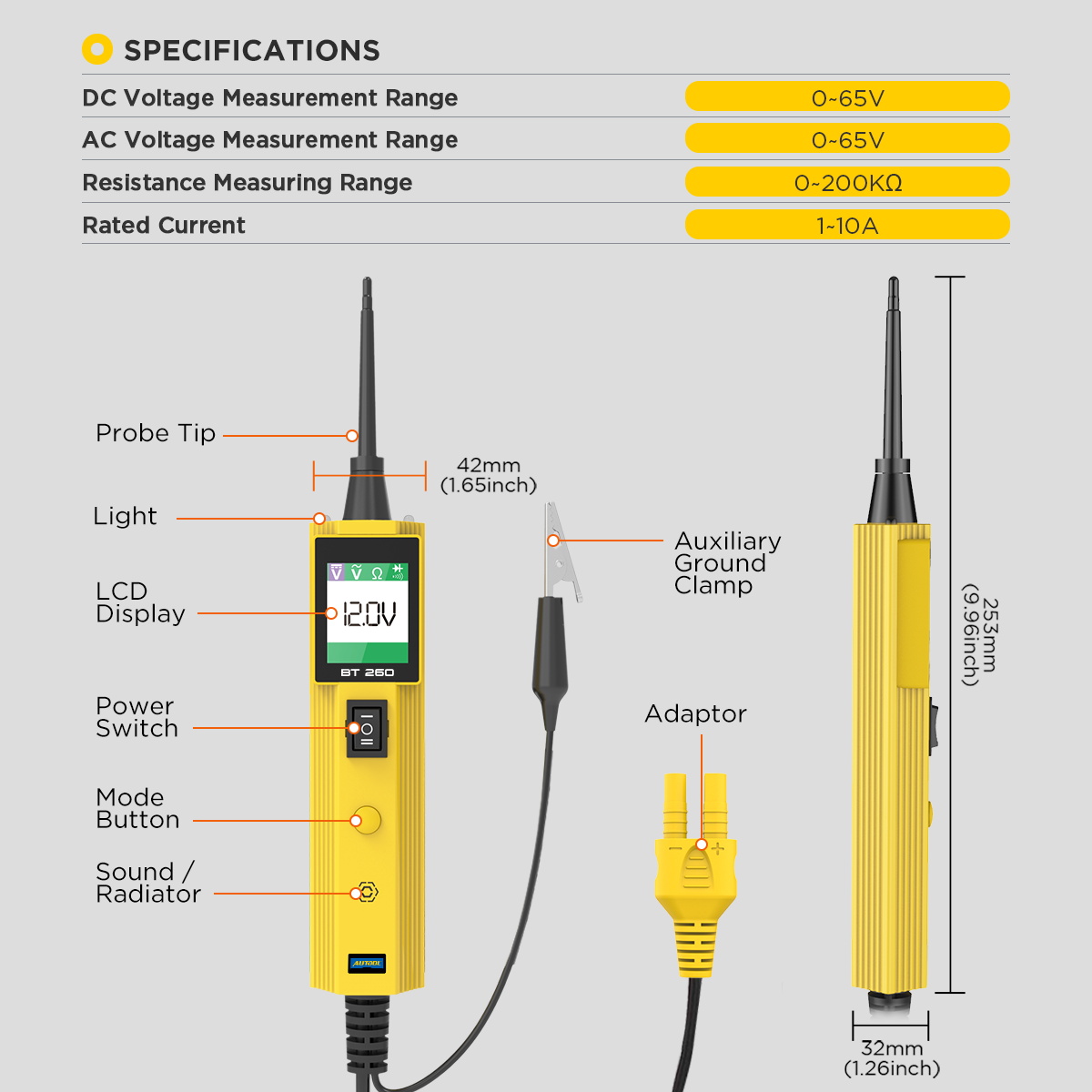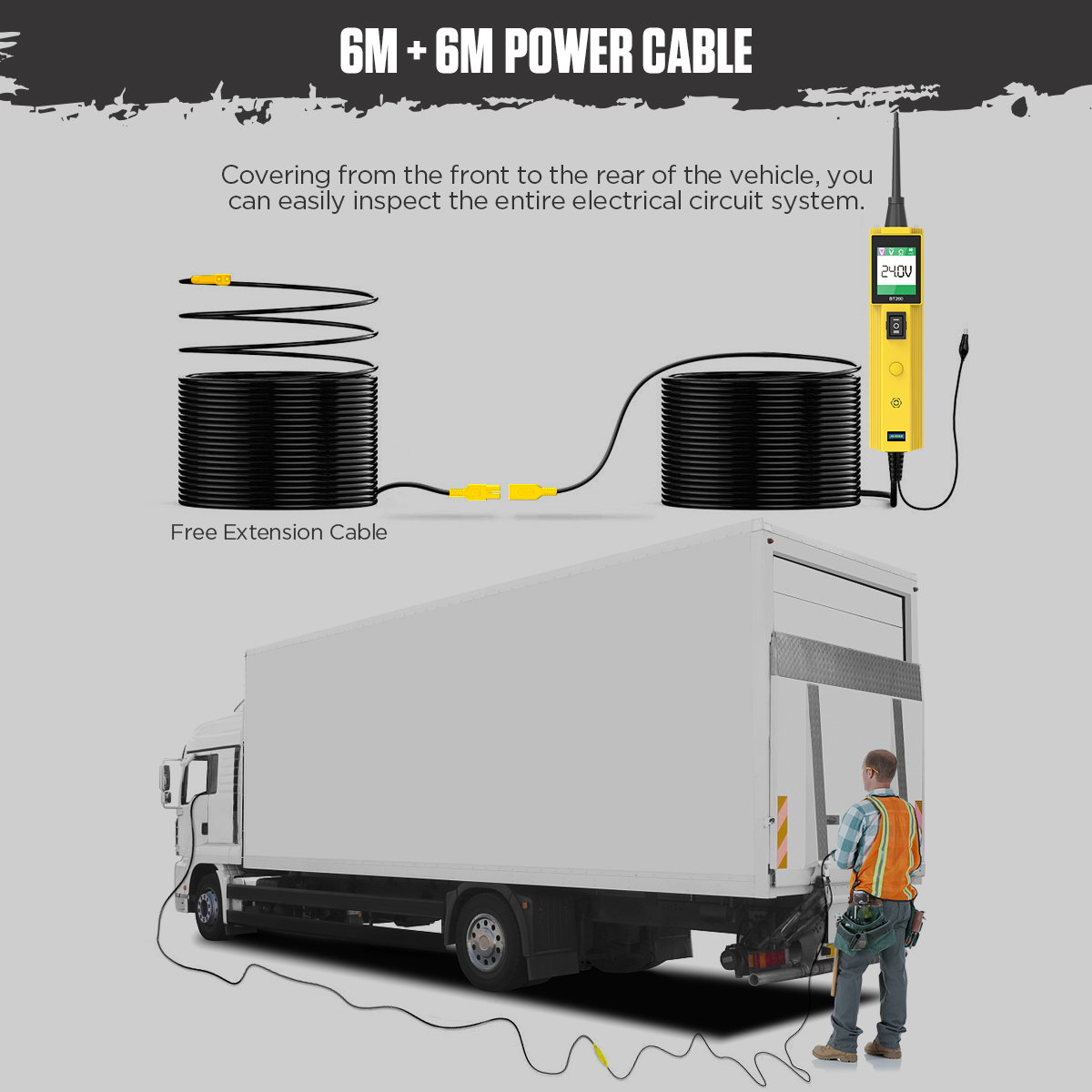 Packing List:
1pc * BT260 Unit
1pc * User's Manual
1pc * Battery clamps adaptor
1pc * Battery clamps
1pc * Probe tip
1pc * 10m( 393 inch) extension cable