The AUTOOL SVB305 has a steering detection function, and has a unique high-temperature alarm function, which makes it convenient for users to penetrate the small probe into the narrow space, and then transfer the vivid, clear and omnidirectional video and pictures to the 5 inch display to meet your various detection needs.
Feature
【Two way-210° STEERING LENS】: Turn the steering wheel, and the small probe can penetrate into the narrow and bending space that is difficult to enter,such as the auto evaporator.combustion chamber,three-way catalytic converter,ect.
【ONE CLICK PHOTO&VIDEO 】: The 1080P HD camera penetrate into the narrow space,and then clearly show the videos and pictures on the 5-inch display.
【LENS LIGHT CONTROL】:The camera is equipped with 6 high-intensity LED lights,with 3 levels of adjustable brightness,for inspection in different darkness.
【3000mAh LITHIUM BATTERY】: The NEW built-in 3000mAh rechargeable lithium battery, supporting up to 2-3 hours of use time. Supports recording JPEG images & MPEG-4 videos with sound.
【5INCH HD DISPLAY】 : It features a 5-inch IPS HD display to show photos and videos of complexinspection areas, and to view engine cylinders, valves, pistons, spark plugsdiesel engines, and electronic components in pistons at close range.
【IPG7 WATERPROOF]】: The waterproof grade of the camera is IP67, with waterproof andoil-resistant performance, which can work in wet pipes.
【MULTILINGUAL】 : Support multilingual settings: English, French, German,Italian, Spanish and Russian, Chinese, Japanese, etc.
【WIDELY USED]】: It is applicable to auto inspection, mechanical maintenance.construction industry, power facilities, chemicalpipelines, security monitoring, etc.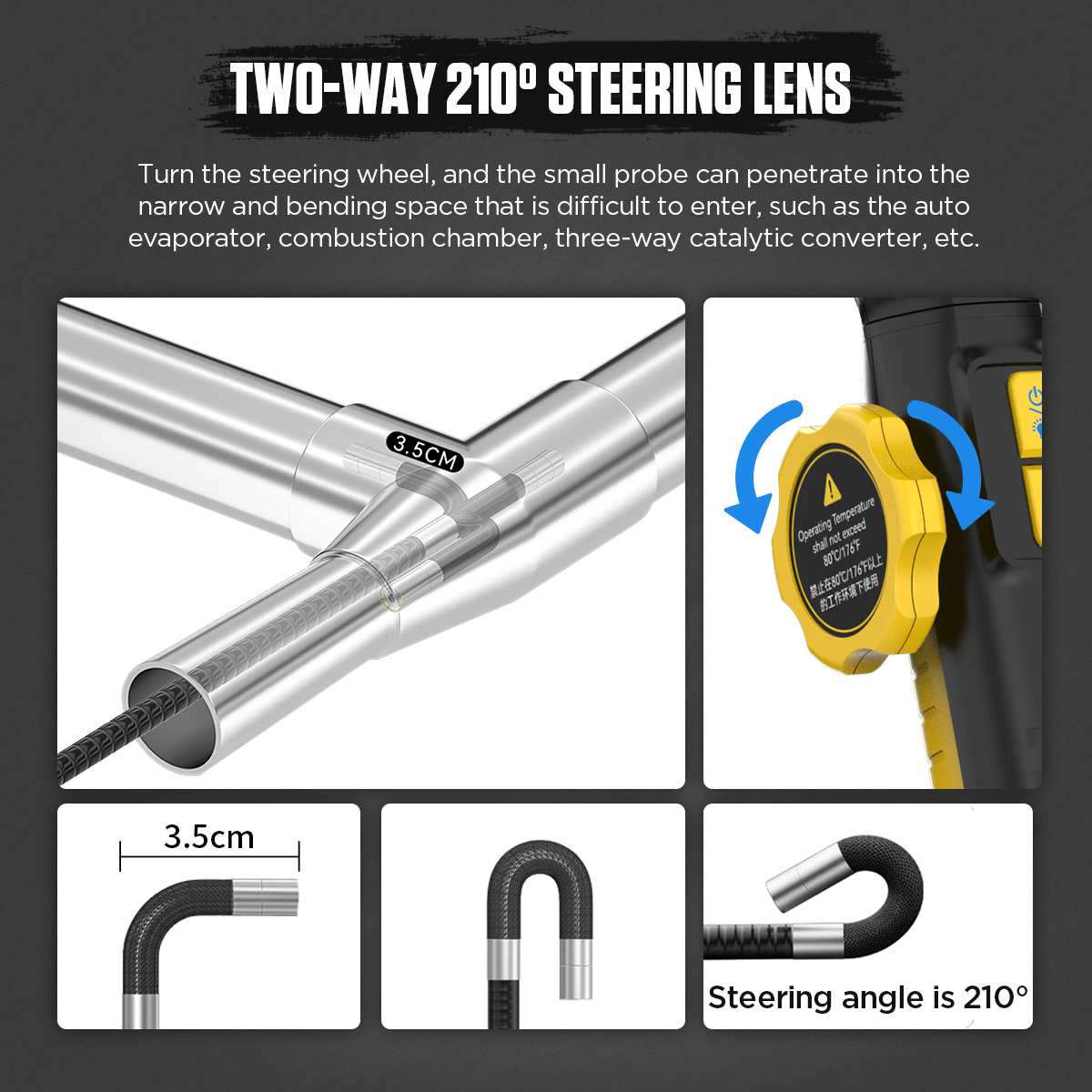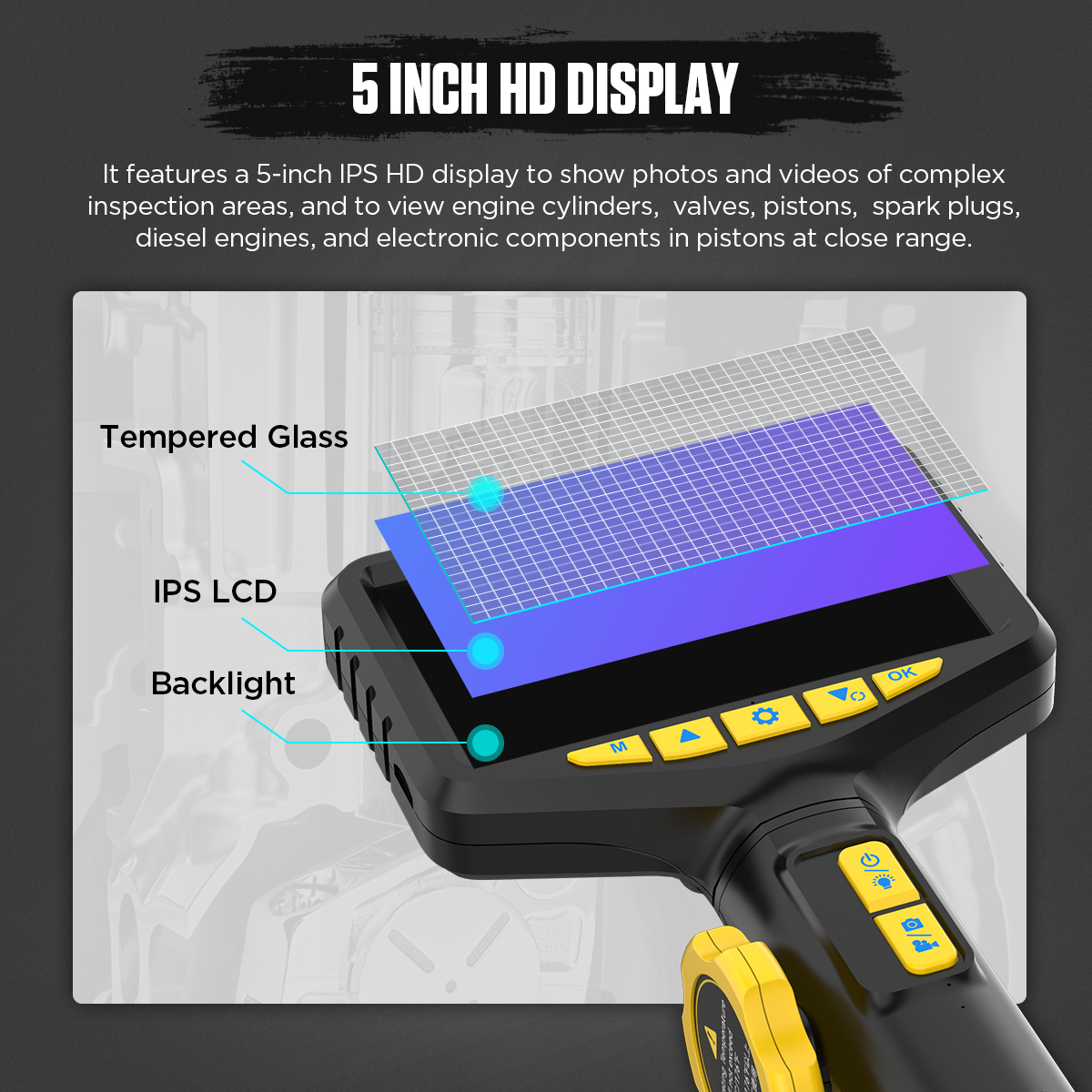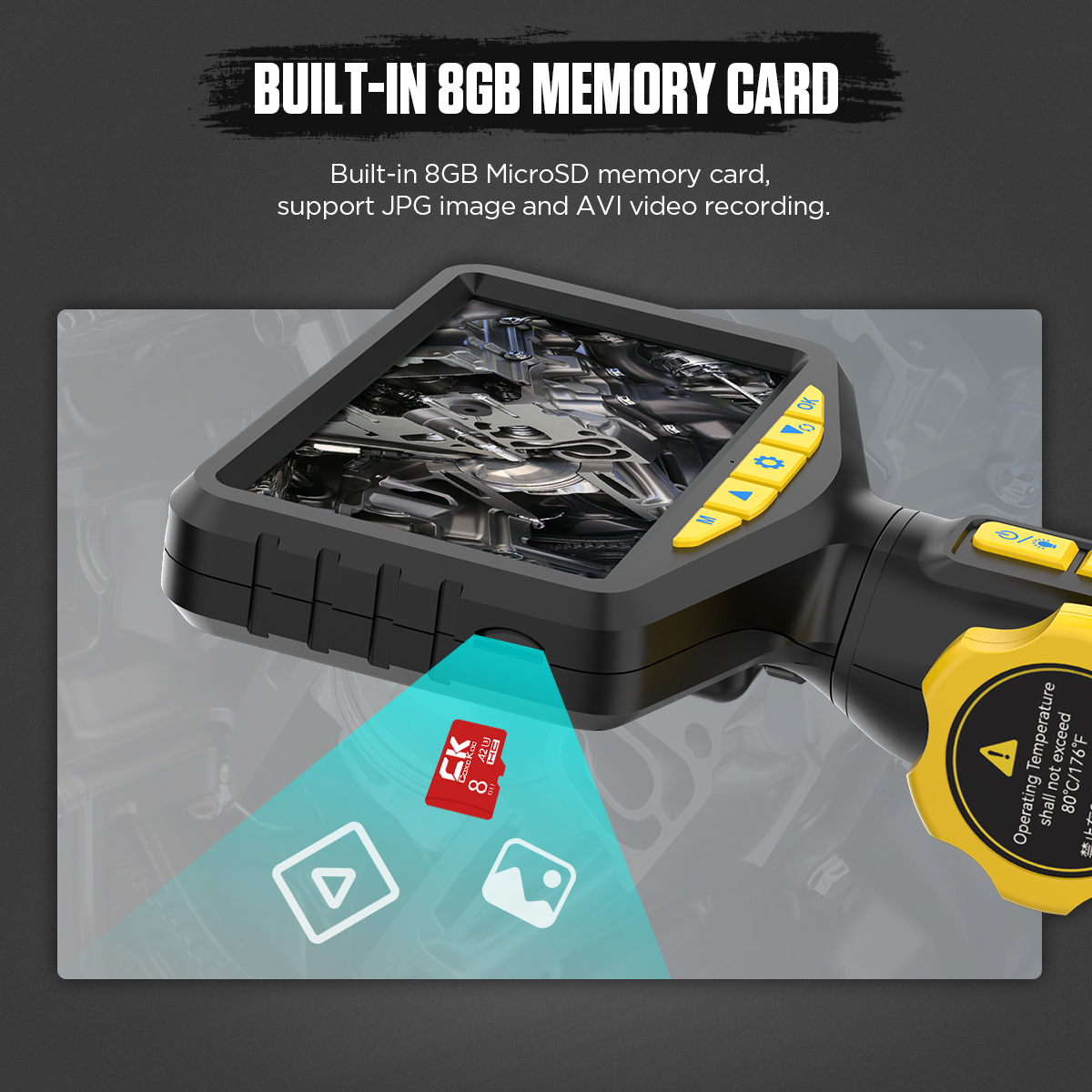 AUTOOL SVB305 Steering Endoscope Structure
Camera Diameter : 6.35mm
Pixel : 200W
Depth of Field : 20-100mm
Viewing Angle : 70°
Manual Dimming : Three-level dimming
Input Power : DC 5V
Service time : 3hr
Battery Capacity : 3000mAh
Camera Light Source:6 kinds of LED lights
Waterproof Level :IP67
Hose Material : Flexible metal hose
Hose Length : 1m
Steering Direction : Two-way
Steering Angle : Max.210°
Bending Radius : 35mm
Operating Environment Humidity : -10-80°C
Humidity : 15-90%
High Temperature Protection:Intelligent protection
Packing List:
1* USB borescope
1* User's Manual
1* Usb Cable
1* Carrying box