Description of AUTOOL CT400 GDI Fuel Injector Tester & Cleaner Machine:
AUTOOL CT400 GDI Fuel Injector Tester & Cleaner Machine is a great upgrade, which adapts to the latest GDI design. It not only can be used to clean and test the standard injectors, of note that it can carry out GDI injectors, including compatible for Benz, BMW, AUDI, Porsche. It comes with multi voltages available for GDI injectors, which enables to adapt for different types of injector testing. The machine is the necessary and preferred equipment for the automotive serving and maintenance, research, and teaching training departments.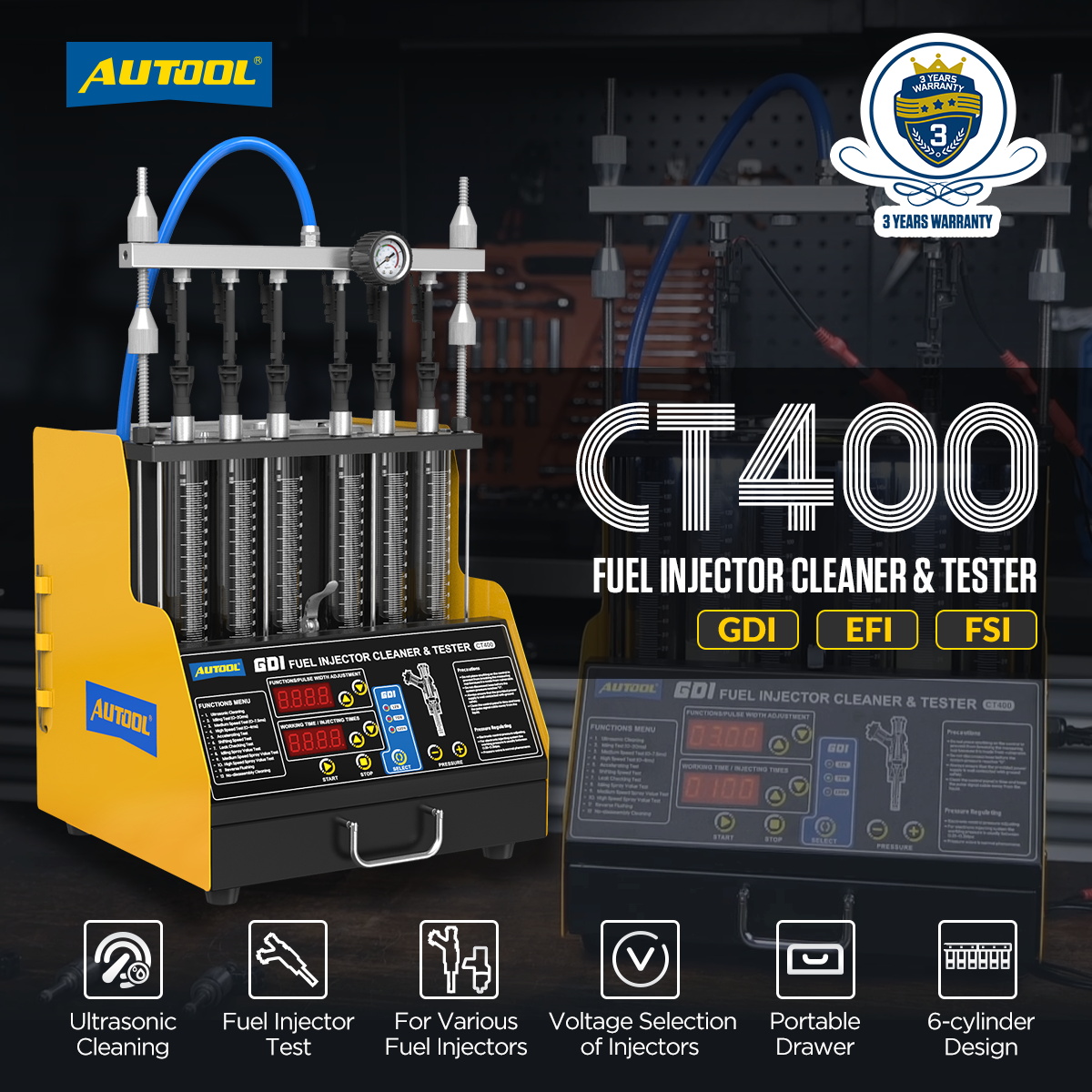 AUTOOL CT400 GDI Fuel Injector Tester & Cleaner Machine Support For 99% Cars & Motorcycles
Support for Audi, Benz, BMW, Brilliance, Chevrolet, Chevy, Chrysler, Citroen, Dacia, Dadi, Daewo, Daihatsu, Demo, Fiat, d, GM, Holden, Honda, Hyundai, Isuzu, Jaguar, Kia, Lancia, Land Rover, Mahindra, Maruti, Mazda, Mitsubish, Nissan, Opel, Peugeot, Porsche, Renault, Romeo, Rover, Saab, Seat, Skoda, Smart, Subaru, Suzuki, Tata, Toyota, Volvo, VW, Yamaha.
About CT series products:
Effectively cleans fuel injectors.

Helps restore power and fuel economy.

Helps improve idle and throttle response.

Helps eliminate stalling due to dirty fuel injectors.

Helps differentiate fuel injector working status.

Helps reduce the cost of injector replacement, especially for the expensive GDI injectors (CT400 only).
AUTOOL Fuel Injector Tester & Cleaner Machine Comparison Table: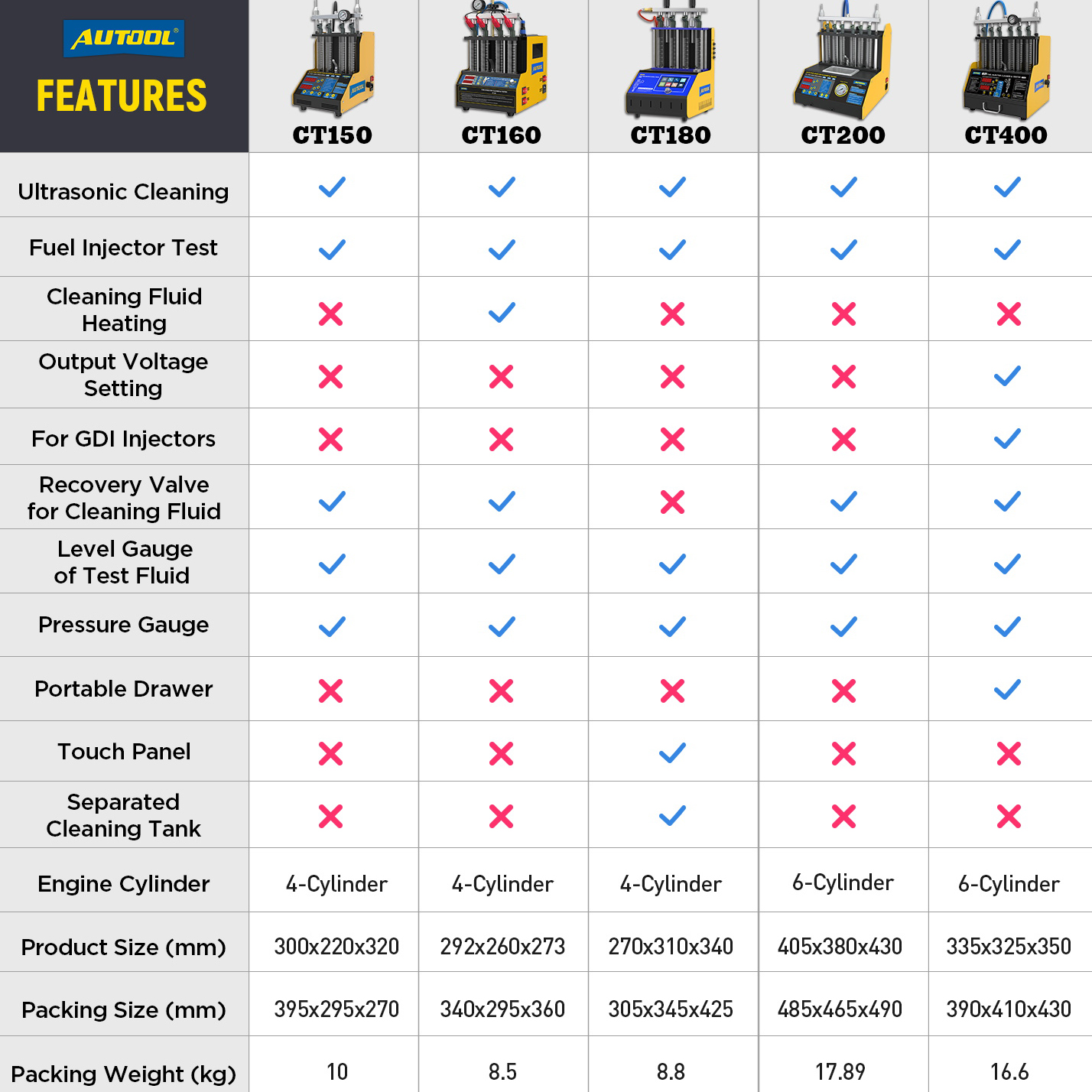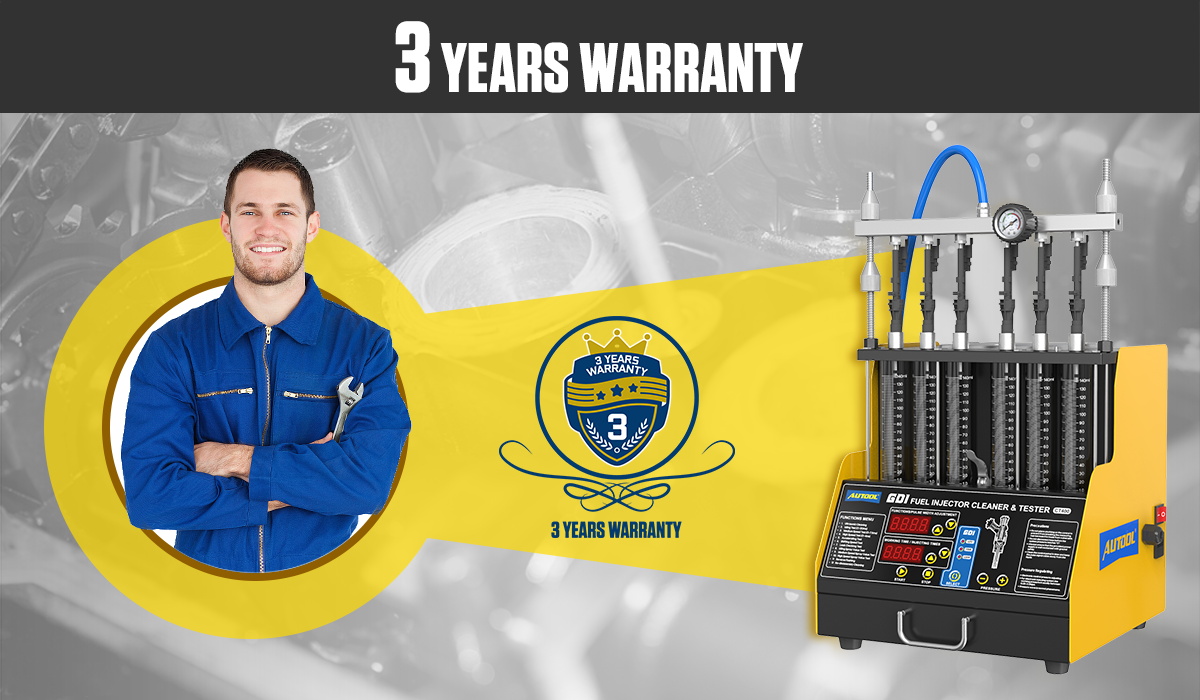 AUTOOL CT400 GDI Fuel Injector Cleaner & Tester Machine Feature
[For GDI Injector Cleaning&Test]: AUTOOL CT400 can clean and test not only standard injectors but also GDI injectors, such as for Mercedes-Benz, BMW, Audi, Porsche, Ford, and other direct injection engines.
[Multi Voltage Selection]: AUTOOL CT400 GDI Fuel Injector 6-cylinder Cleaner and Tester designs with various types of voltage output (12V, 70V & 120V) to be selected to adapt for different types of injector testing.
[Upgrade Ultrasonic Cleaning]: Different from other cleaner& tester machines, AUTOO CT400 comes with a cooling fan and thermal protection, and with a power of 60w, its ultrasonic cleaning capacity is significantly enhanced.
[Various Parts equipped&Portable Drawer]: It is equipped with a variety of injector accessories for different needs. A portable drawer at the bottom is designed to store a variety of parts and for easy access.
[6-Cylinder & 2 Draining Ports Design]: AUTOOL CT400 can test and clean 6 injectors at the same time for better efficiency; it also has both control valves for cleaning solution draining and test liquid recovery. Very easy and convenient to deal with and no worries about leaving a mess.
AUTOOL CT400 GDI Fuel Injector Tester & Cleaner Machine Parameter
● Power supply: AC 220V/110V±10%
● Frequency: 50-60HZ±0.5
● Relative humidity: <85%
● Ambient temperature: 0℃~+40℃
● External magnetic field strength: <400A/m
● No open flames are allowed around
Technical parameter:
● Fuel tank capacity: 1500 ml
● Test tube amount: 140 ml
● RPM range: 0~7500 r/min
● Time range: 0~9900 times
● PWM pulse width: 0~20.0 ms
● System pressure: 0~0.55Mpa (adjustable)
● Timing: 0~20 minutes adjustable
● Ultrasonic cleaning power: 60W (intermittent work)
● Ultrasonic cleaning frequency: 28 KHZ±0.5 KHZ
● Dimensions: 390mm (length) × 410mm (width) × 430 mm (height)
● Weight: 16.6KG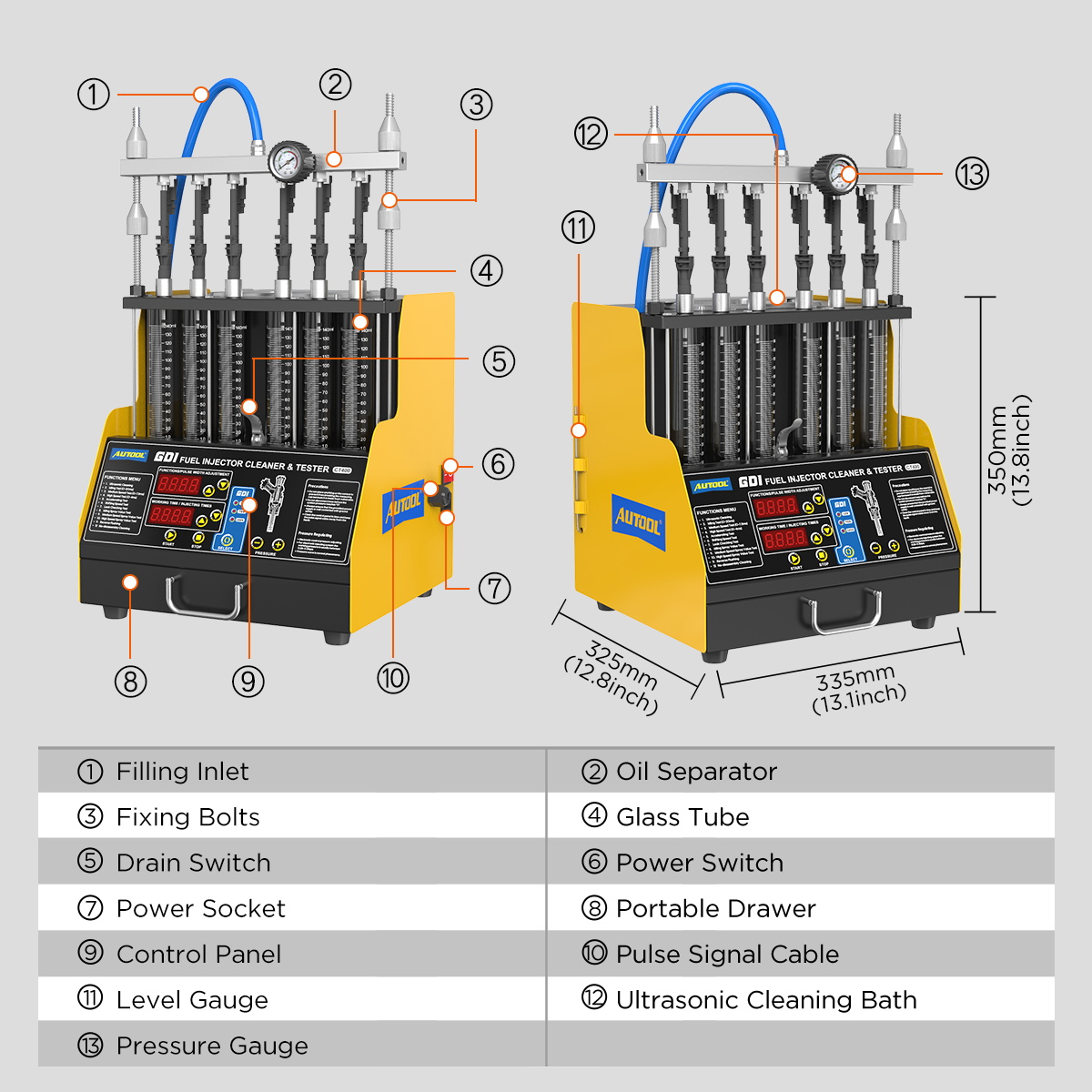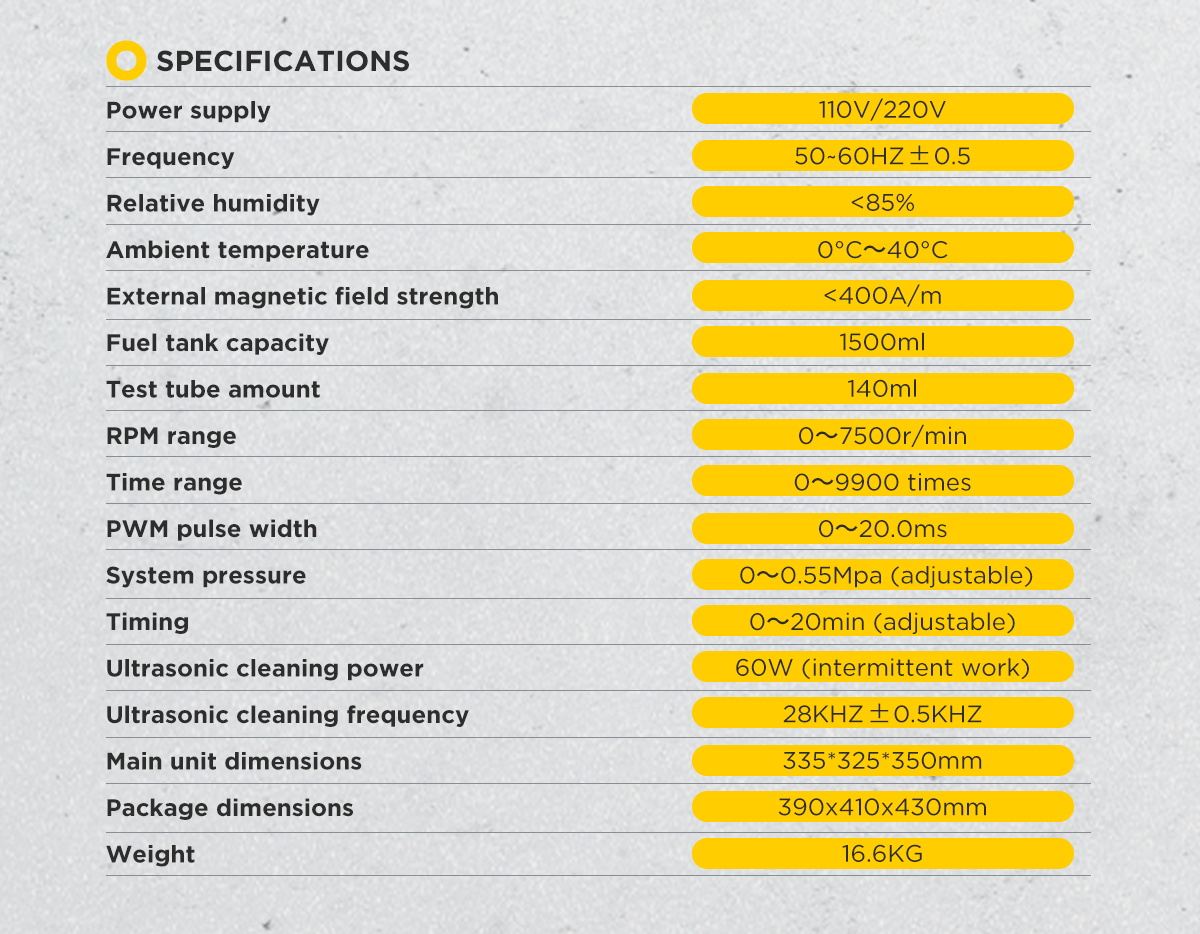 Q & A:
WILL THERE BE TARIFFS?
The tariff policy varies from country to country, and some countries do not have tariffs while others do. We can help you fill in a lower declaration value, resulting in fewer customs duties, if you want. You can contact us by email shop@autooltech.com or note the declared value you would like us to fill in when purchasing.
HOW MUCH DOES SHIPPING COST?
AUTOOL CT400 is shipped free of charge to all countries globally from China, so there are no shipping costs.
IS IT TRUE THAT THERE IS A THREE-YEAR WARRANTY? HOW DO YOU DO IT?
All AUTOOL products are guaranteed for three years. Within three years, if there is a problem with the quality of the product, AUTOOL can replace the damaged parts for free.
WHAT TRANSPORTATION COMPANY WILL BE USED?AND HOW LONG DOES IT TAKE TO RECEIVE THE PRODUCT?
CT400 will generally be shipped by DHL or FEDEX, and you can receive the goods from China within 2 weeks, which is safe and fast.
HOW TO CHOOSE THE CORRECT VOLTAGE WHEN TESTING INJECTORS?
If you don't know what the voltage of the injector is when you are testing the injector. You can start testing at 12V and if it doesn't run, switch to 70V. If it doesn't run at 70V either, switch to 120V.
WILL THE WRONG VOLTAGE CAUSE DAMAGE TO THE INJECTORS?
Even if you choose the wrong voltage, it will not damage the injector nozzle in a short time. Just change to the right voltage in time.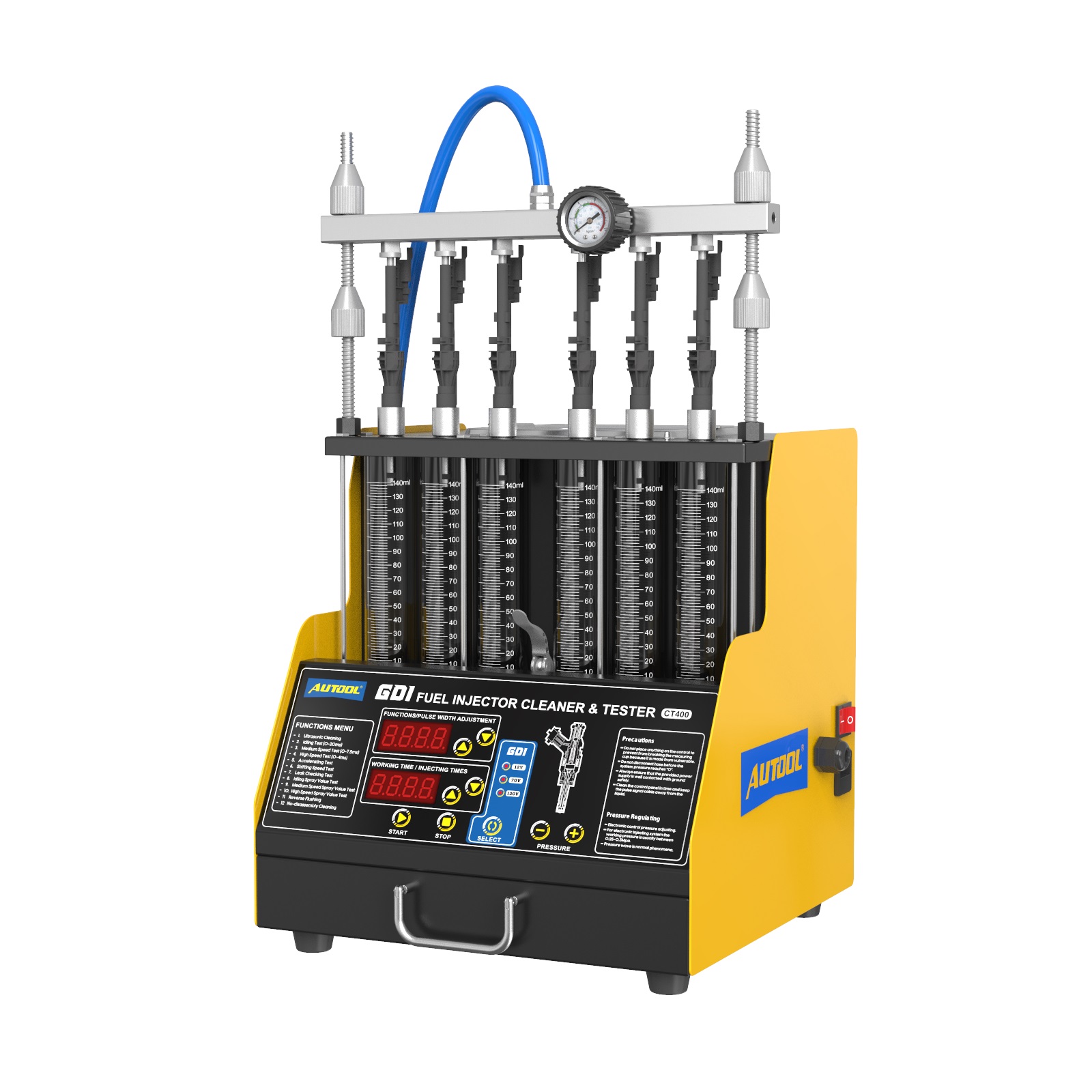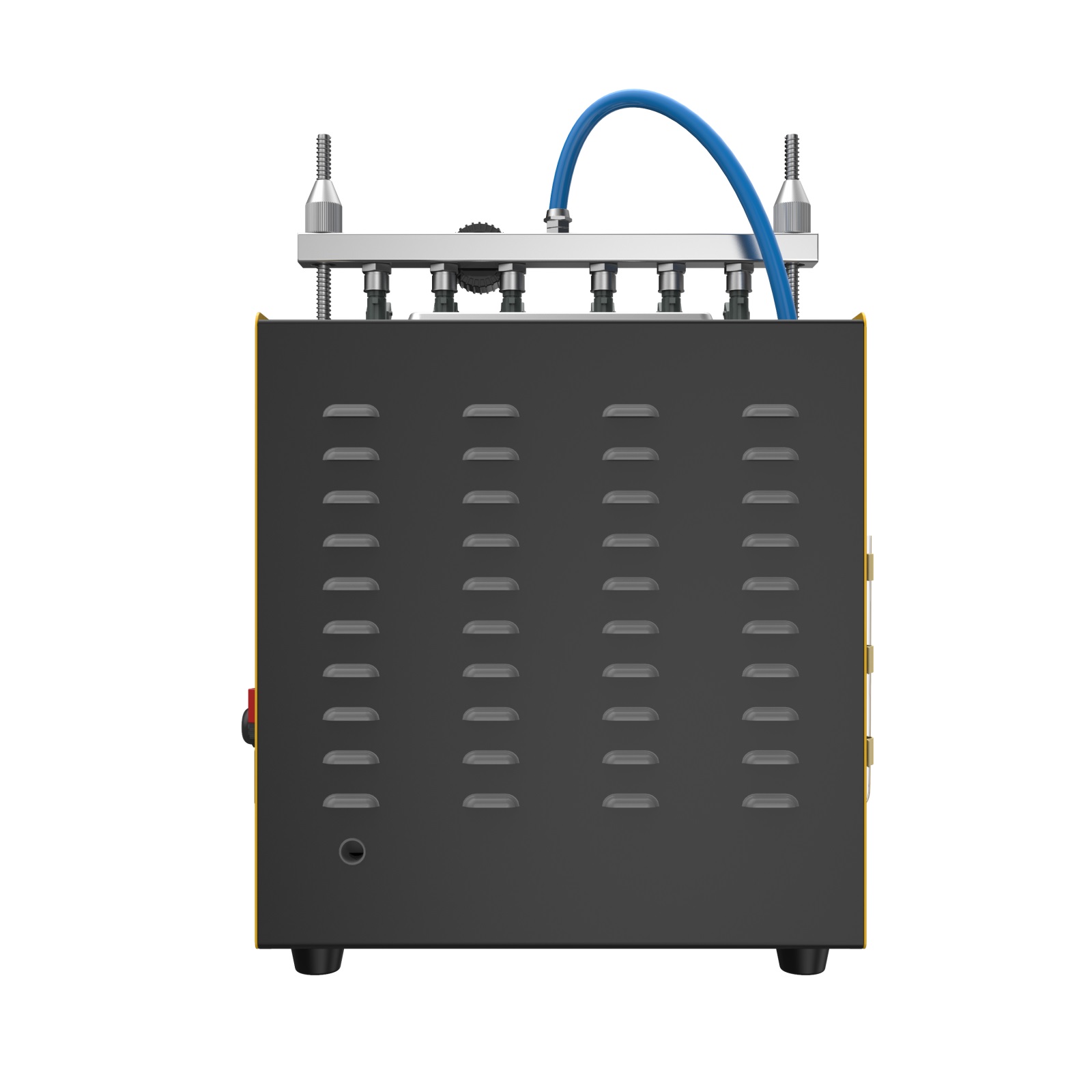 AUTOOL CT400 GDI Fuel Injector Tester & Cleaner Machine Packing List:
1pc * AUTOOL CT400 Main Unit
6pcs * Taper Adapter φ10.5-13.6φ
6pcs * BMW Special Adapters
1pc * Special Nozzle Pad
5pcs * Plugs For Oil Rail
1pc * Ultrasonic Bath Cover
6pcs * 16mm Adapters
6pcs * Nozzle Pads
1pc * Oil Rail
6pcs * Adapter Cables
1pc * Power Cable
4pcs * Fixed Screws For Oil Rail
4pcs * Fixed Nuts For Oil Rail
1pc * Ultrasonic Cleaning Bracket
1pc * Filling Funnel
1pc * Outlet Valve
6pcs * 11mm Adapters
6pcs * 12mm Adapters
6pcs * 12.5mm Adapters
6pcs * 13mm Adapters
6pcs * 14mm Adapters
6pcs * 15mm Adapters
1pc * User Manual