AUTOOL BT380 12V Car Battery Tester & Car Battery Charged Tool Automotive Battery Tester Analyzer Vehicle Power Bank CCA2400
BT380 is an instrument that supports both testing and recharging of vehicle batteries. It adopts the most advanced conductance measurement technology, which can easily, quickly and accurately test the vehicle starting system, vehicle charging system and vehicle battery as well as recharge the 12V vehicle battery.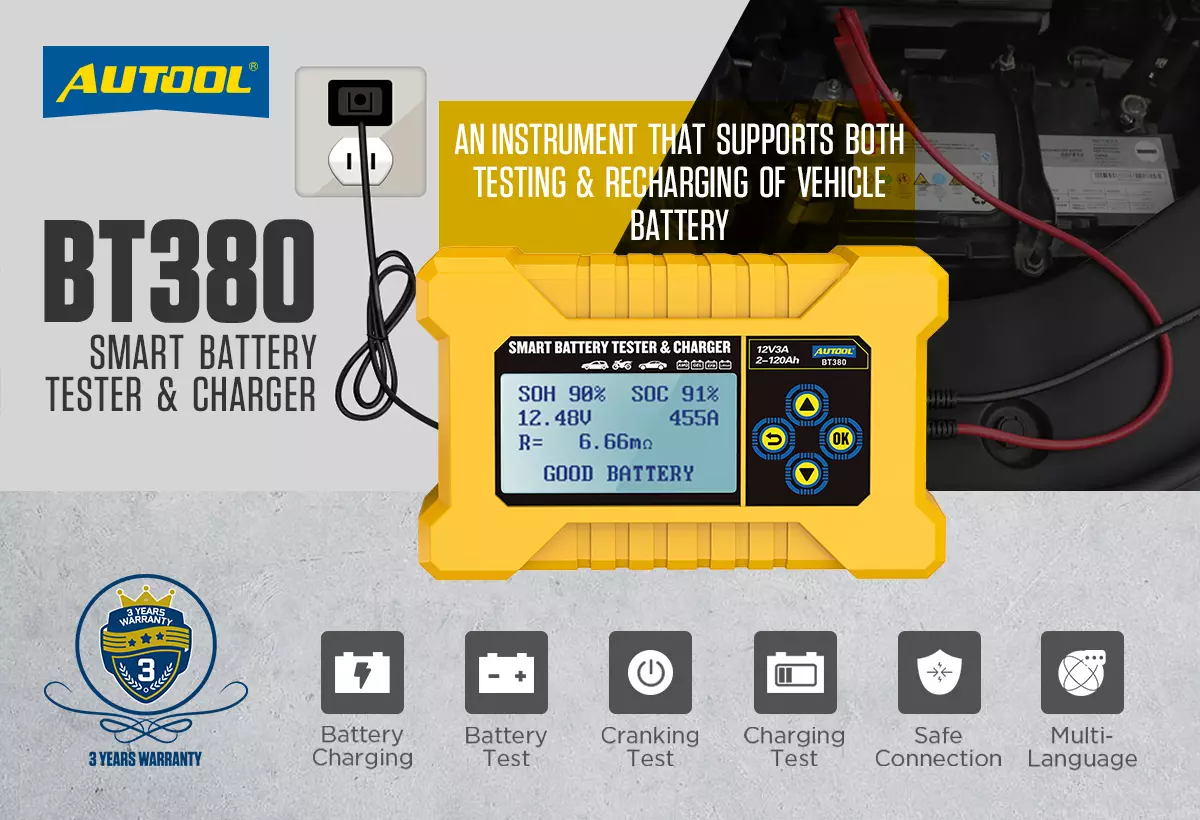 How to use?
1.It is necessary to connect the 220V power supply when charging the battery. When you test the battery, just use battery clip to connect vehicle batteries;
2.When using the battery test function,choose the battery type and the battery parameter;
3.When using the cranking test function, cranking the vehicle and wait a moment for the result;
4.When using the charging function,increase the speed to 2500 and hold for 5s, and press OK then wait a moment for the result;
5.Select the multi-languages function,this device supports 8 languages.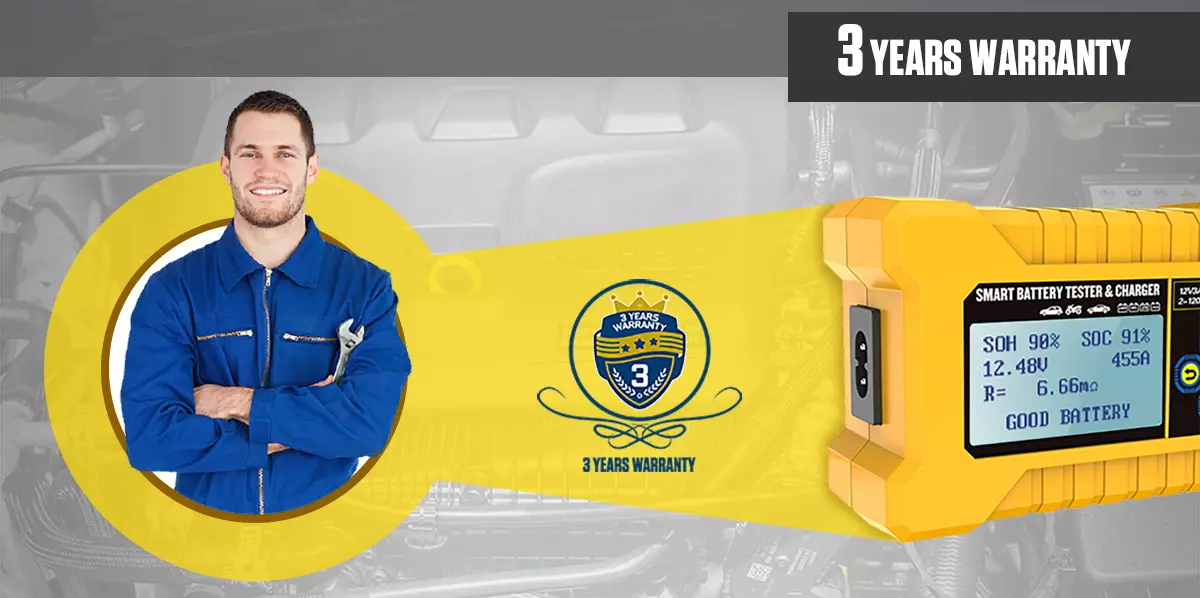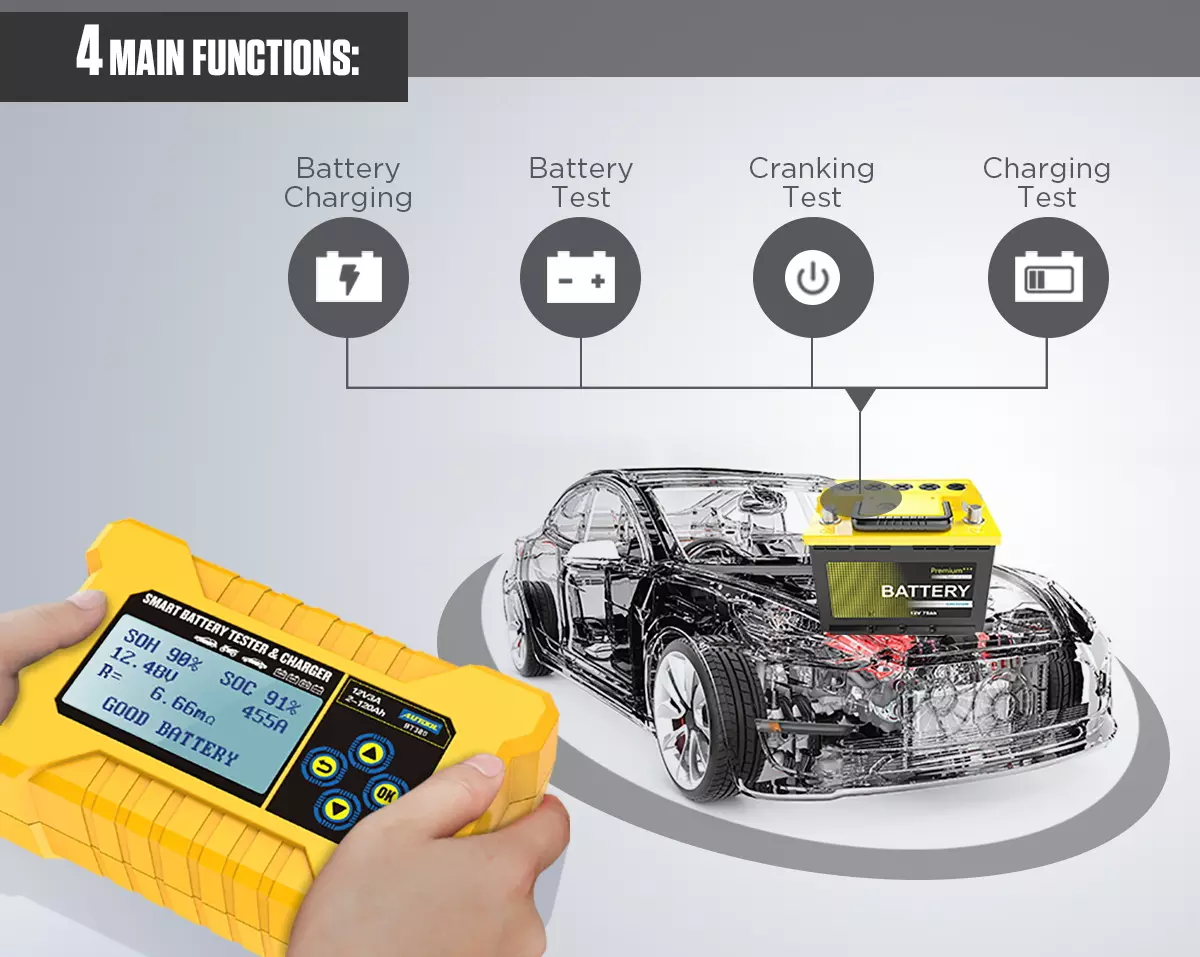 Multi-Language Options:
BT380 includes Japanese, English, Russian, German, Spanish, Polish, Portuguese, Korean version.Other languages can also be customized according to user needs.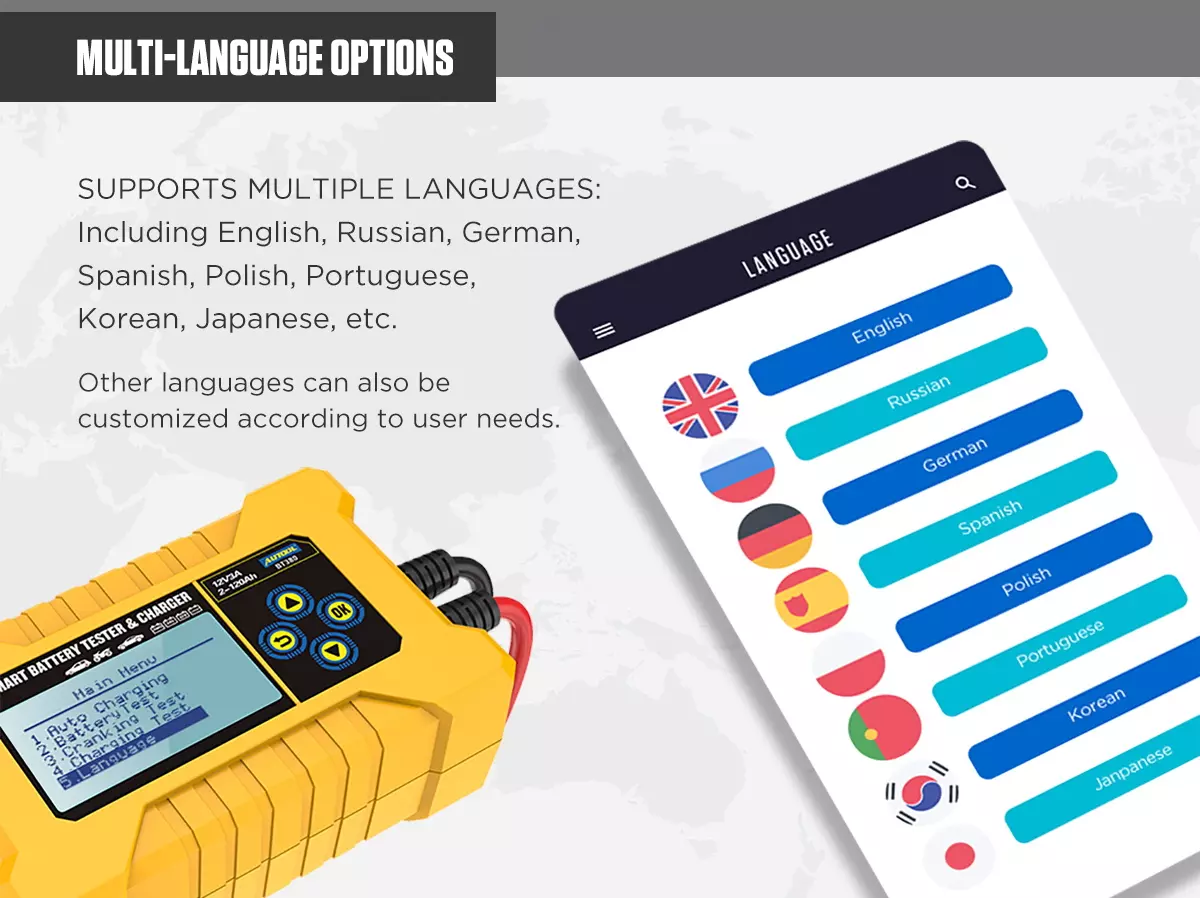 AUTOOL BT380 Car Battery Tester Features:
1.[Wide range of battery types] Tests the starting system, charging system and starting lead-acid batteries on all 12V vehicles, including common lead-acid batteries, AGM flat plate batteries, AGM spiral batteries and GEL batteries.
2.[Powerful and easy to operate ] The testing standards include CCA, JIS, DIN, IEC, EN, SAE and GB.After connecting the charging cable to the 220V power port,you can choose four functions with charging for vehicles battery , battery test, cranking test, charging test.While charging the vehicles battery, BT380 will display the charging status. Such as battery power, current, voltage and other data.
3.[Support multiple languages] BT380 includes Japanese, English, Russian, German, Spanish, Polish, Portuguese, Korean version.We can OEM for you,if you need.
4.[Reverse polarity protection] Reverse polarity will not damage the tester or affect the vehicle and battery.
5.[3 year warranty] For damage caused by non-human factors, we promise to resend parts for free within 3 years.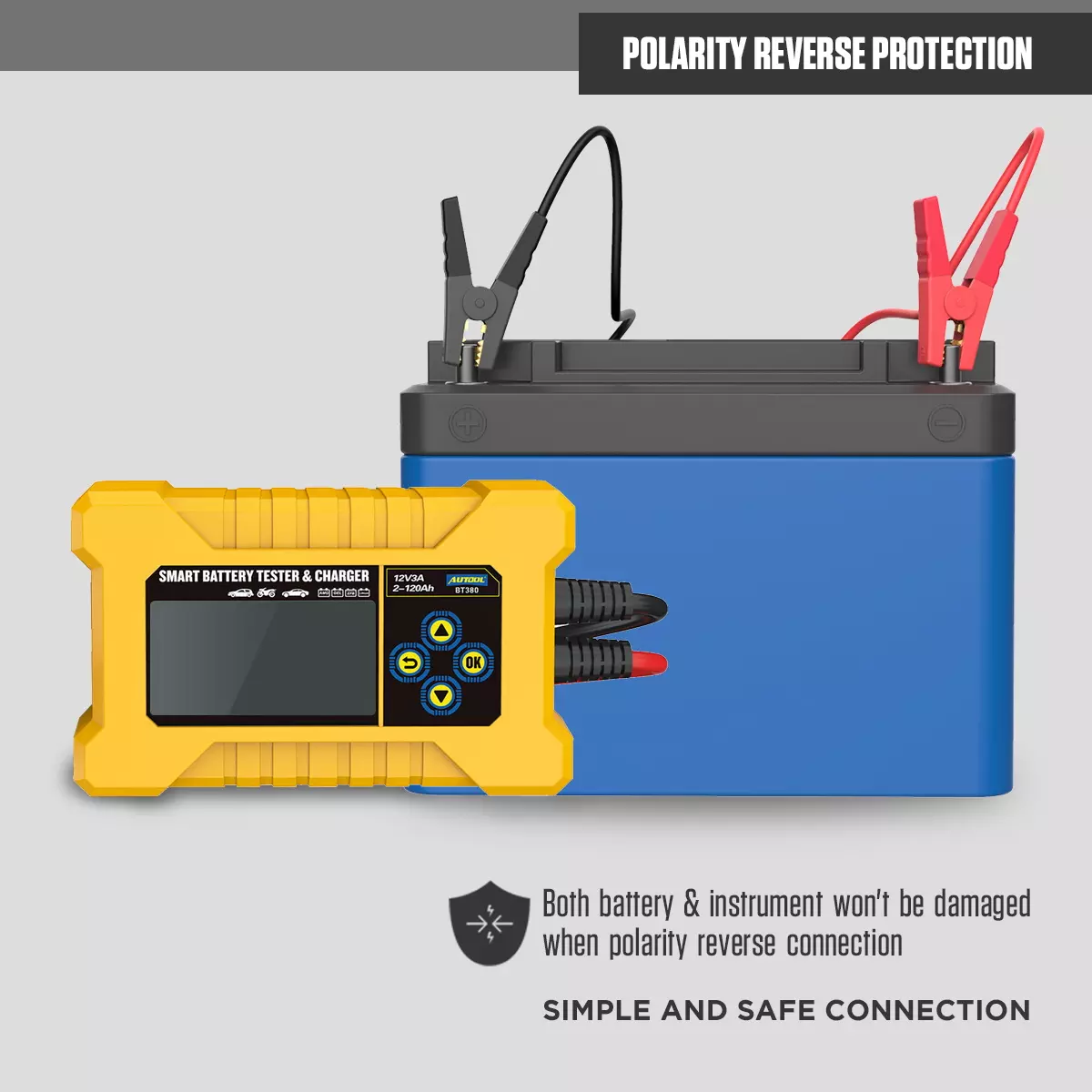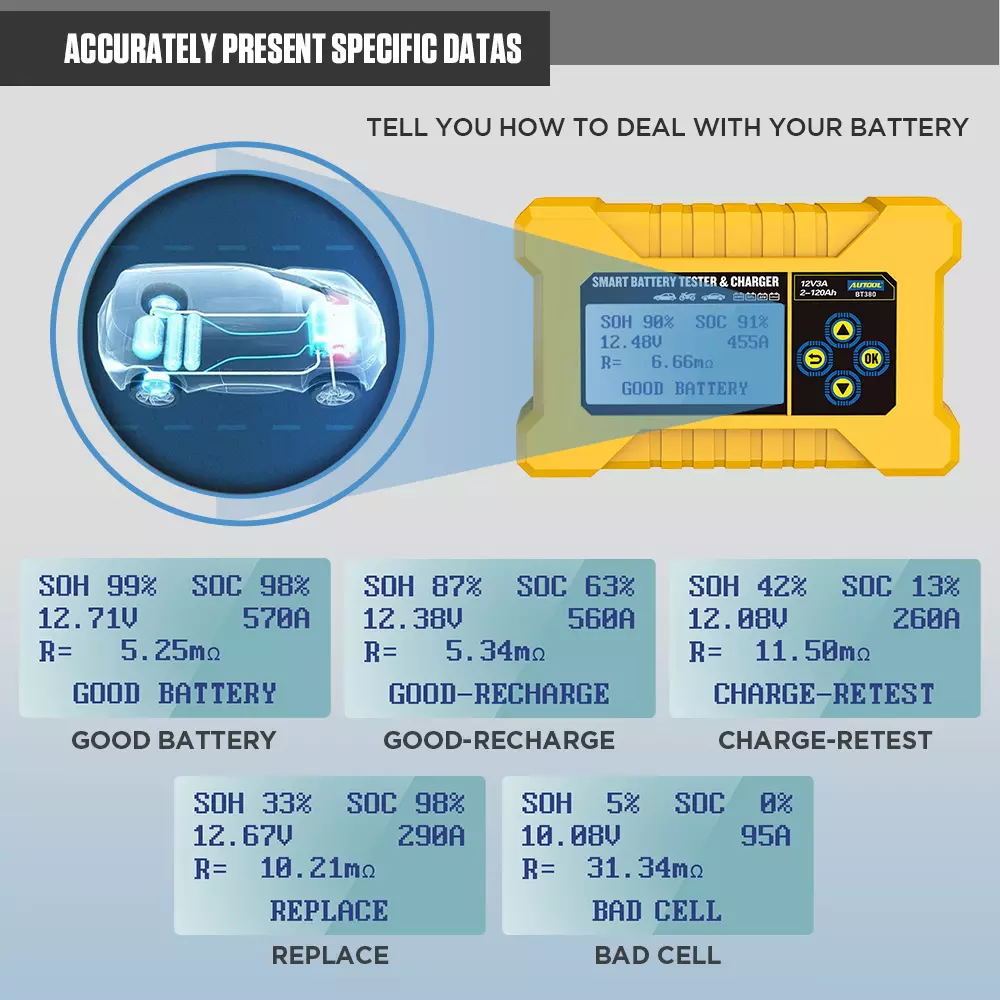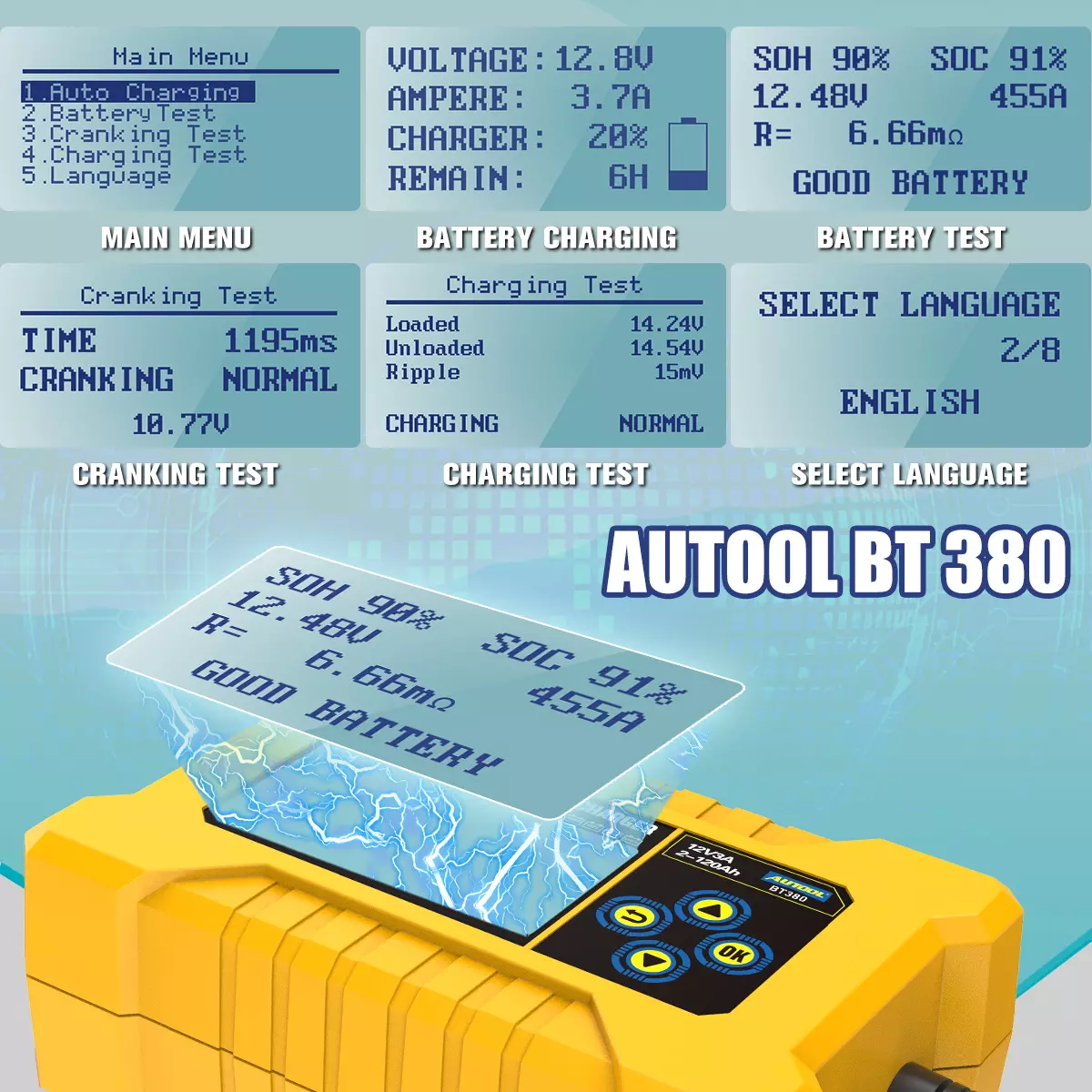 Operating parameters:
Input voltage: 100VAC-240VAC;
Charging voltage: 14.70V;
Maximum charging current: 3A;
Power requirements: No built-in battery is required. Lights up when connected during the test;
Testing: CCA100〜2400 , BCI100-2400,CA100-2400,MCA100-2400,JIS26A17-245H52,DIN100-2200,IEC100-2200,EN100-2400,SAE100-2400;
AH, range: 30-220AH;
Operating temperature: -20°C-50°C;
Note: CCA100-2400,30-220Ah, this is the highest CCA in the market.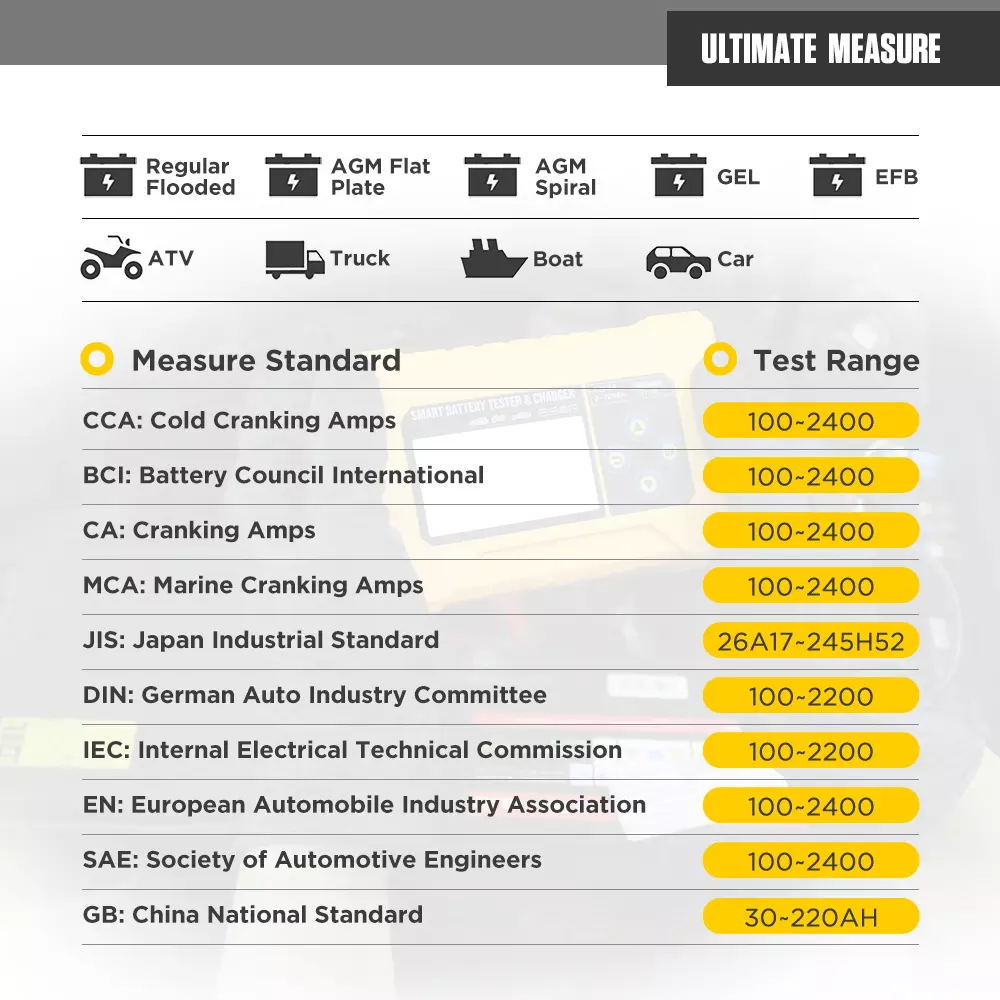 Packing:
1pc * BT380 Main Unit;
1pc * Battery Clamp Cable;
1pc * User Manual.