AUTOOL X91 Slope Meter GPS TPMS HUD 3 in 1 Head-Up Display Tire Pressure Monitor Inclinometer Car Speedometer
The X91 TPMS Smart Slope Meter perfectly combines the TPMS tire pressure monitoring system, GPS car head-up display, and the on-board slope meter, which greatly improves the safety escort level and provide a more convenient using experience for users, also widely favored by a large number of off-road enthusiasts.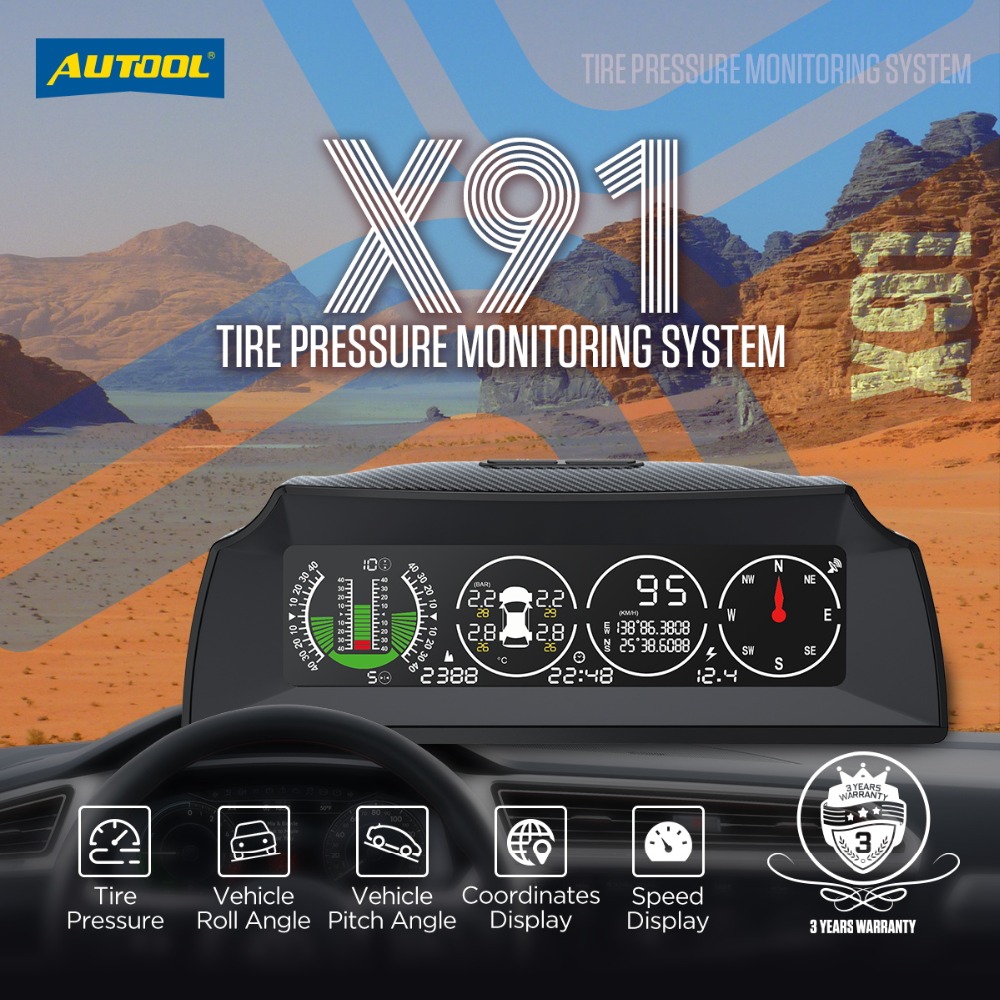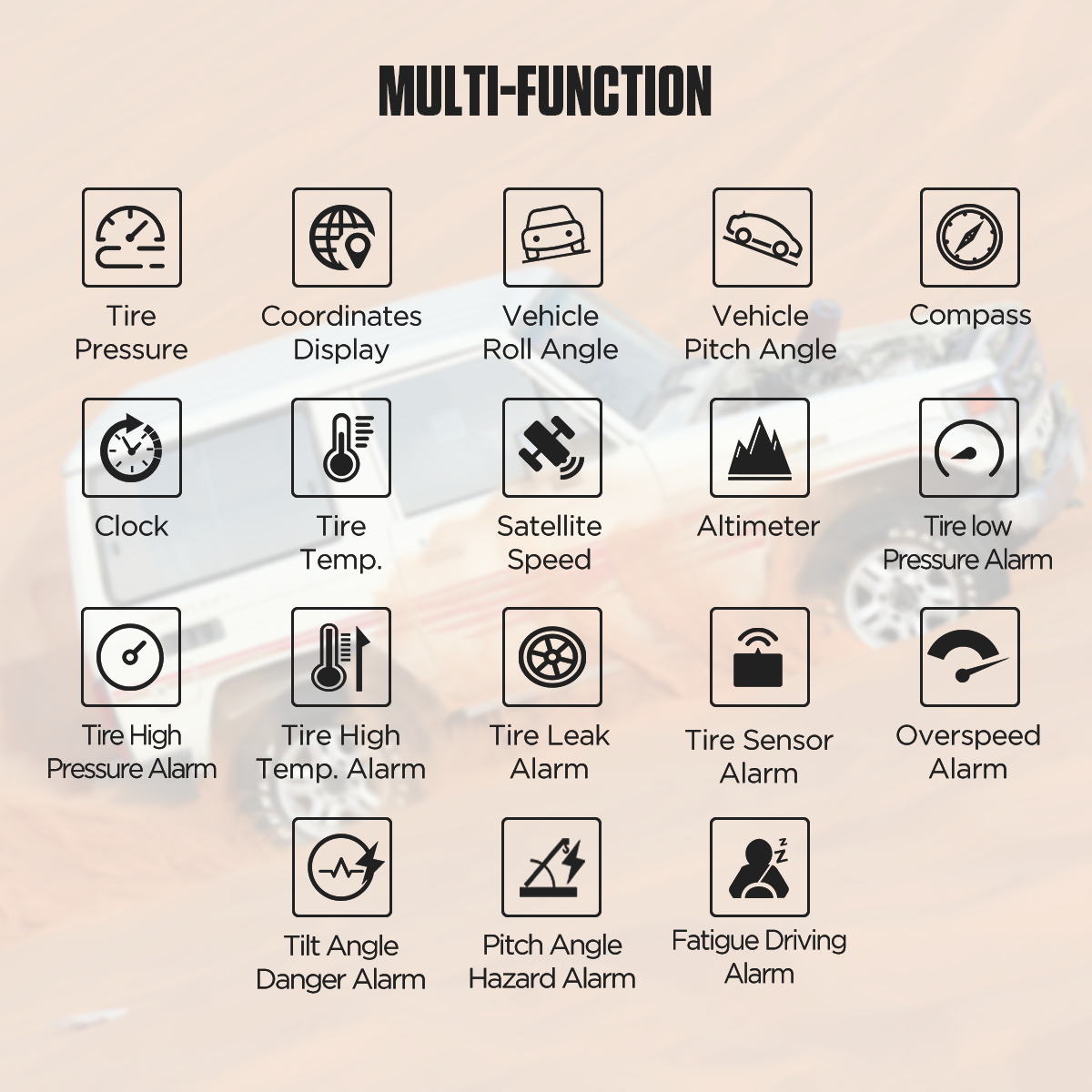 AUTOOL X91 Slope Meter Features :
1.[TPMS tire pressure monitoring function]: AUTOOL X91 is designed with TPMS tire pressure monitoring function, which allows to monitor various conditions of tires, like the pressure, temperature and abnormal alarm functions of four tires at the same time.
2.[Slope meter function]: Real-time measurement of vehicle rolling angle and pitch angle. Accurately display the downhill/uphill and left/right inclination value and equipped with over-slope alarm.
3.[Accuracy positioning system]: Equipped with a high-precision dual-channel satellite GPS signal module, which can locate the current position of the vehicle, provide latitude and longitude, vehicle speed, altitude and precise compass direction, and no longer get lost while driving.
4.[Color HD LCD Display]: Adjust the screen brightness through the light intensity sensed by the light source sensor. Color HD LCD screen design with high resolution. Day and night, can be displayed in high definition.
5.[3-YEAR WARRANTY]: For damage caused by non-human factors, AUTOOL promise to resend parts for free within 3 years. For any needs, you are warmly welcomed to contact us and we will get back to you ASAP within 24 hours.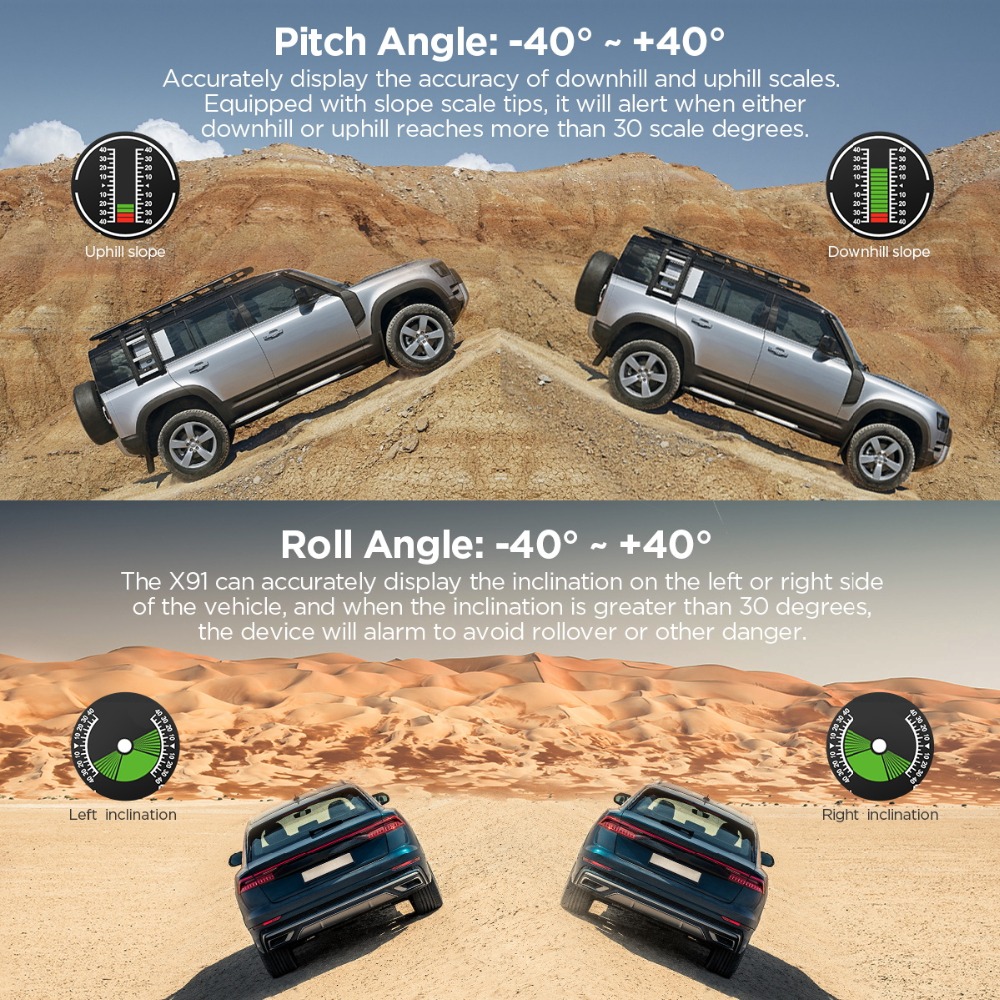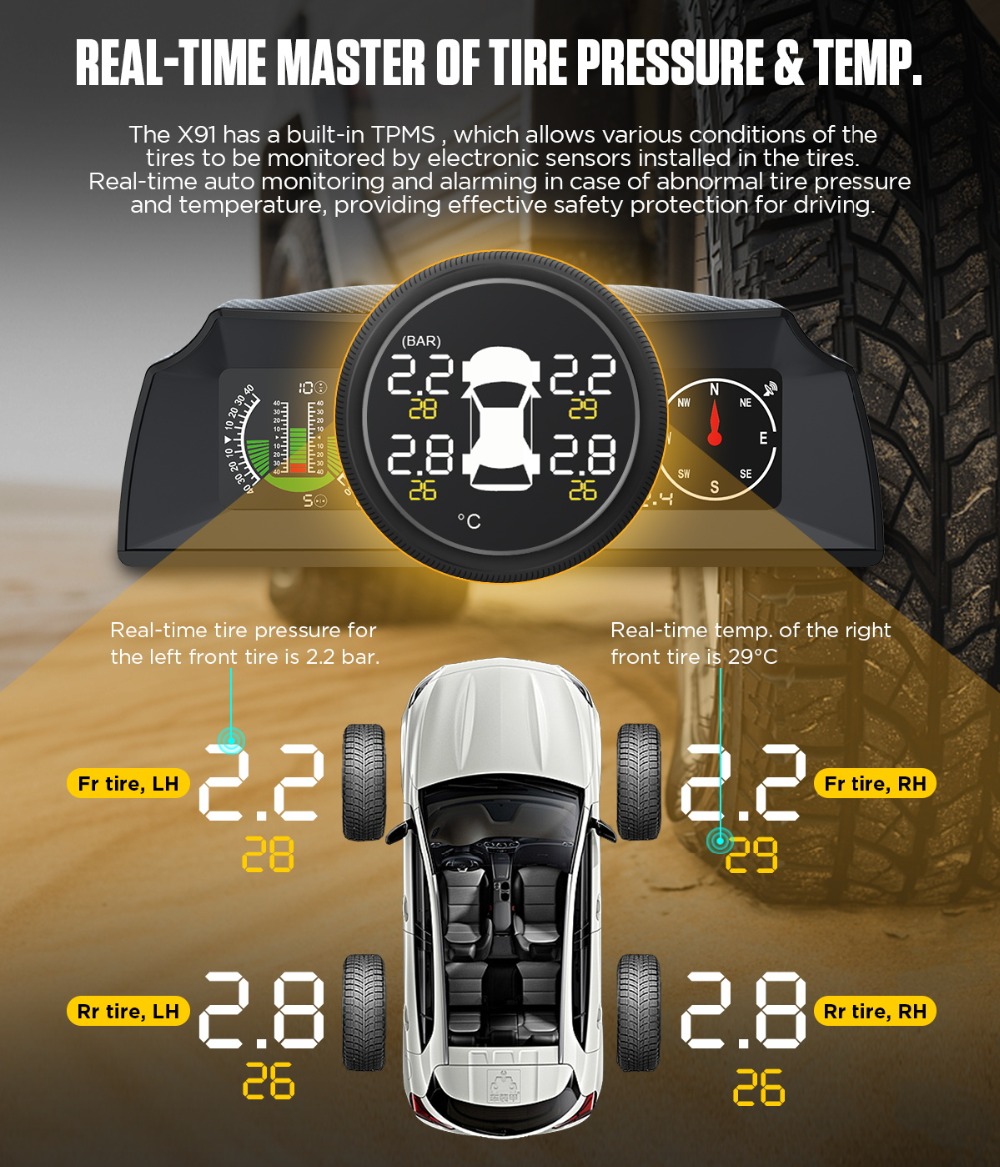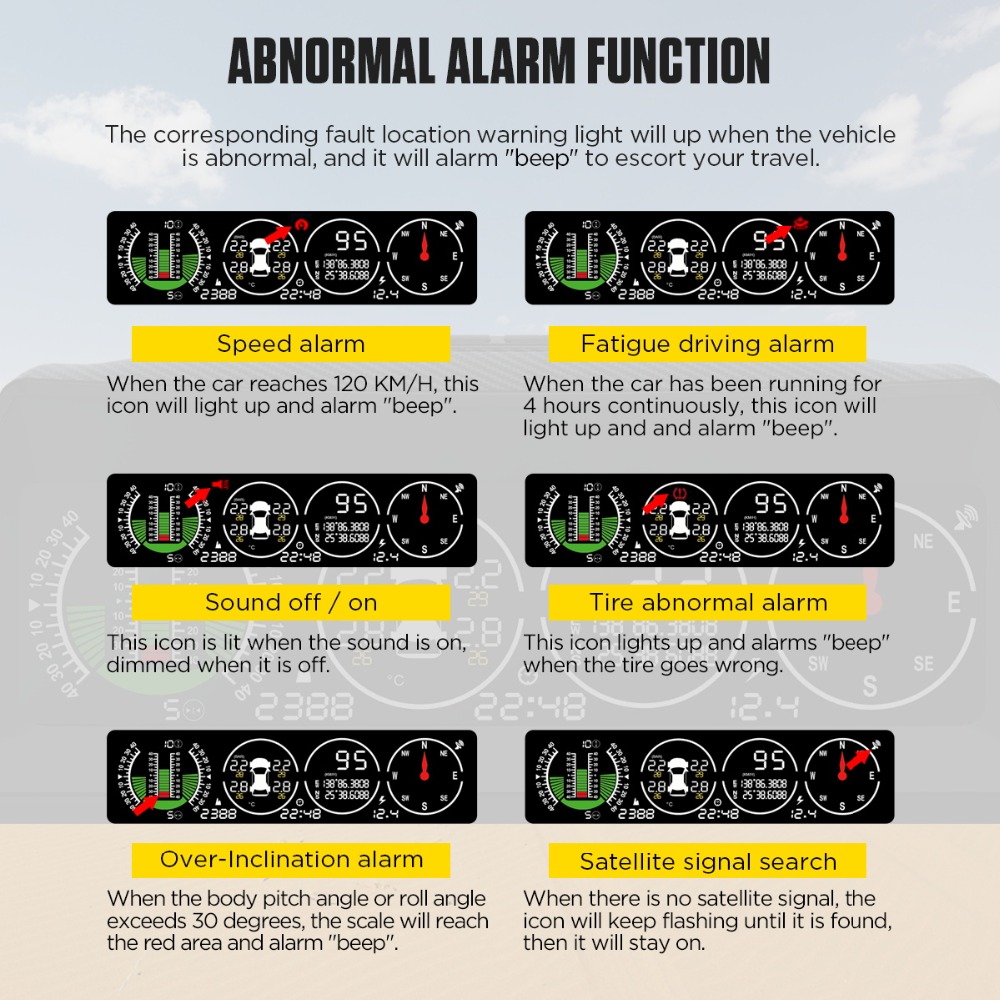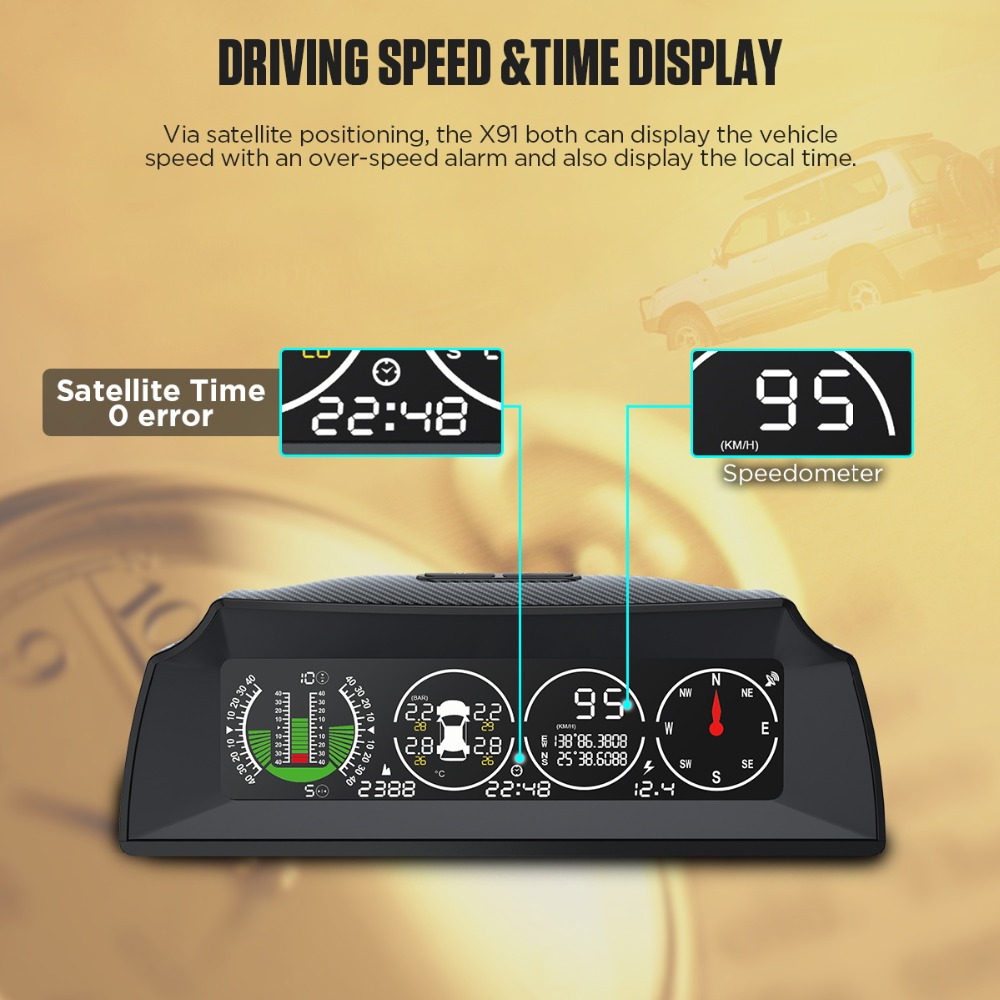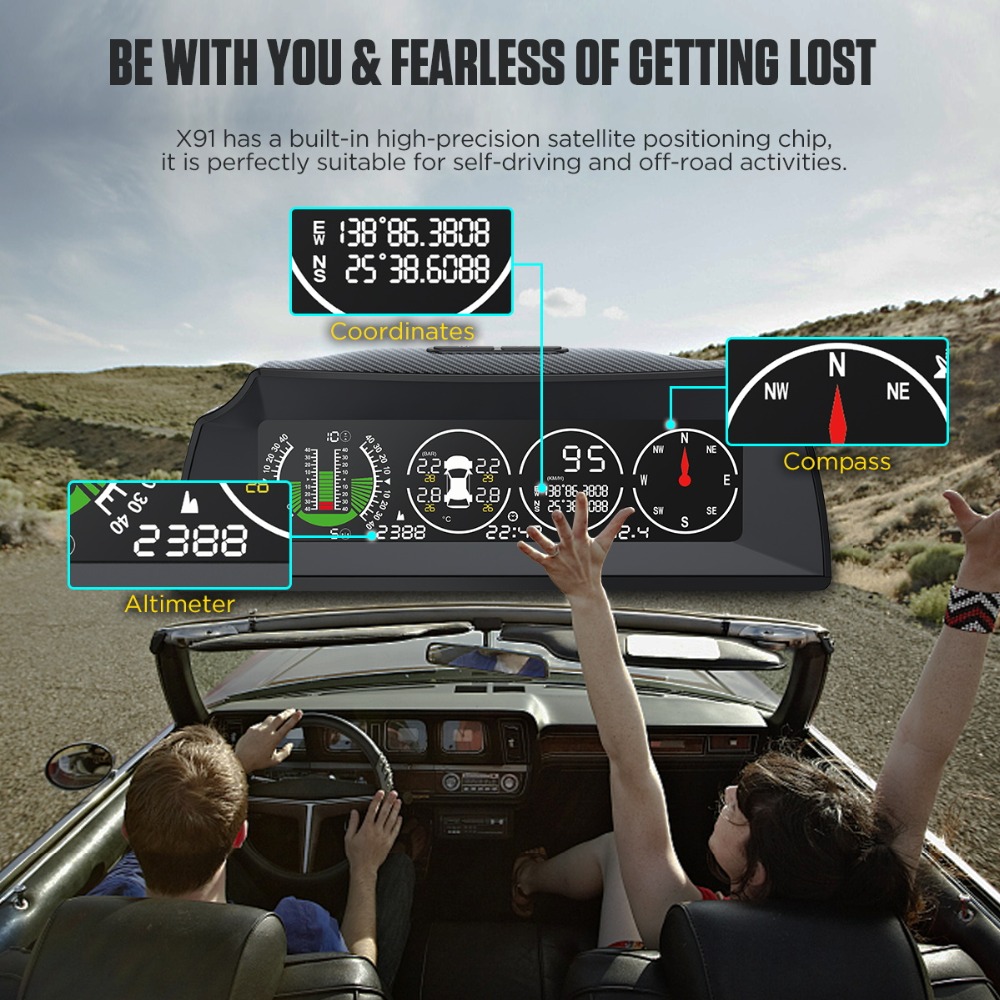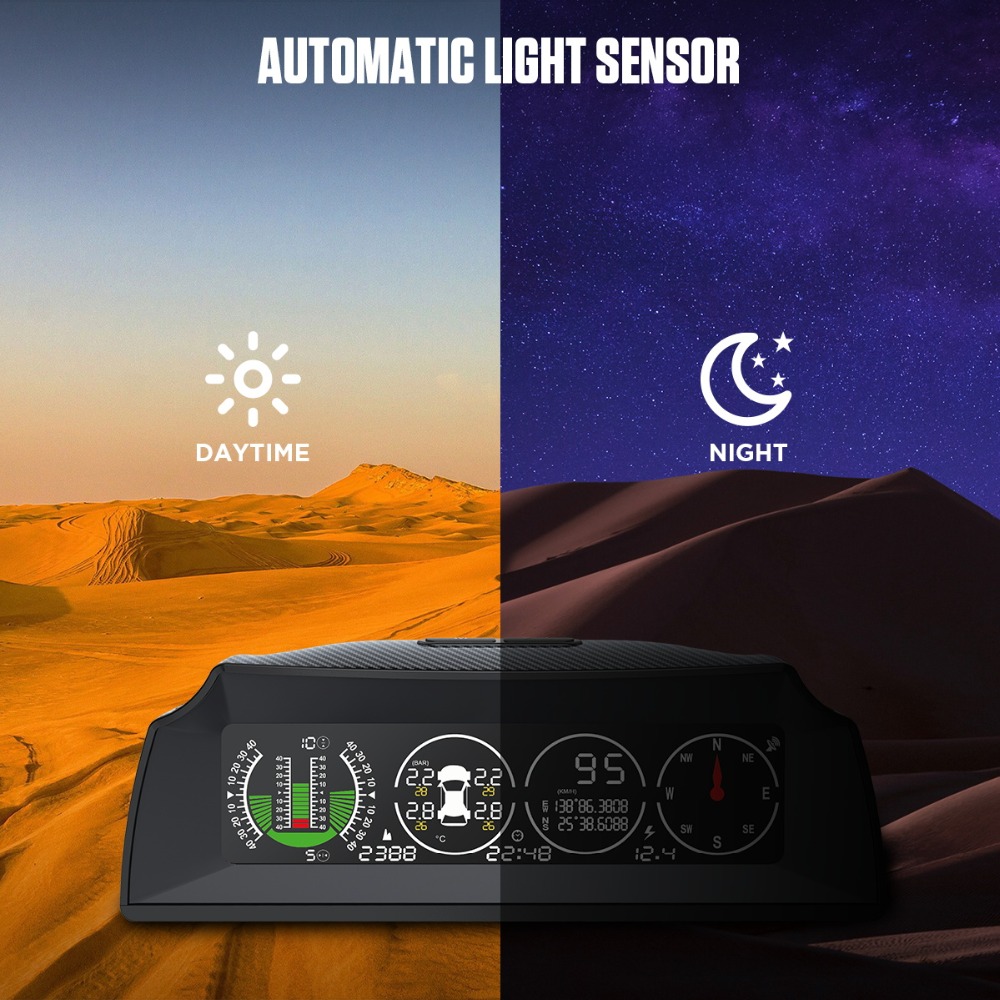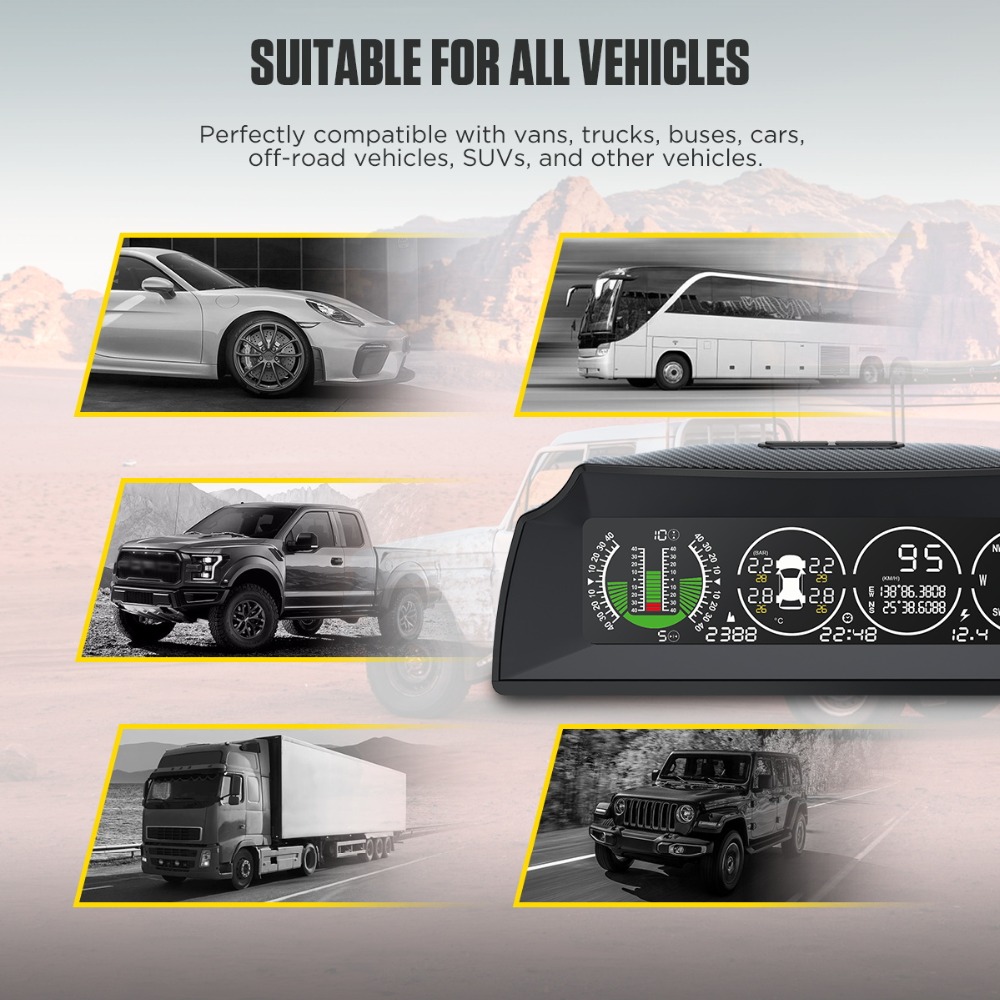 Installation Steps:
Park the car on a level surface and stick the back adhesive to fix it somewhere with easy vision, and manually adjust it to the horizontal level. Then connect the power supply to receive the satellite GPS signal until each data display is normal before driving. Exterior Sensor Installation(See pictures).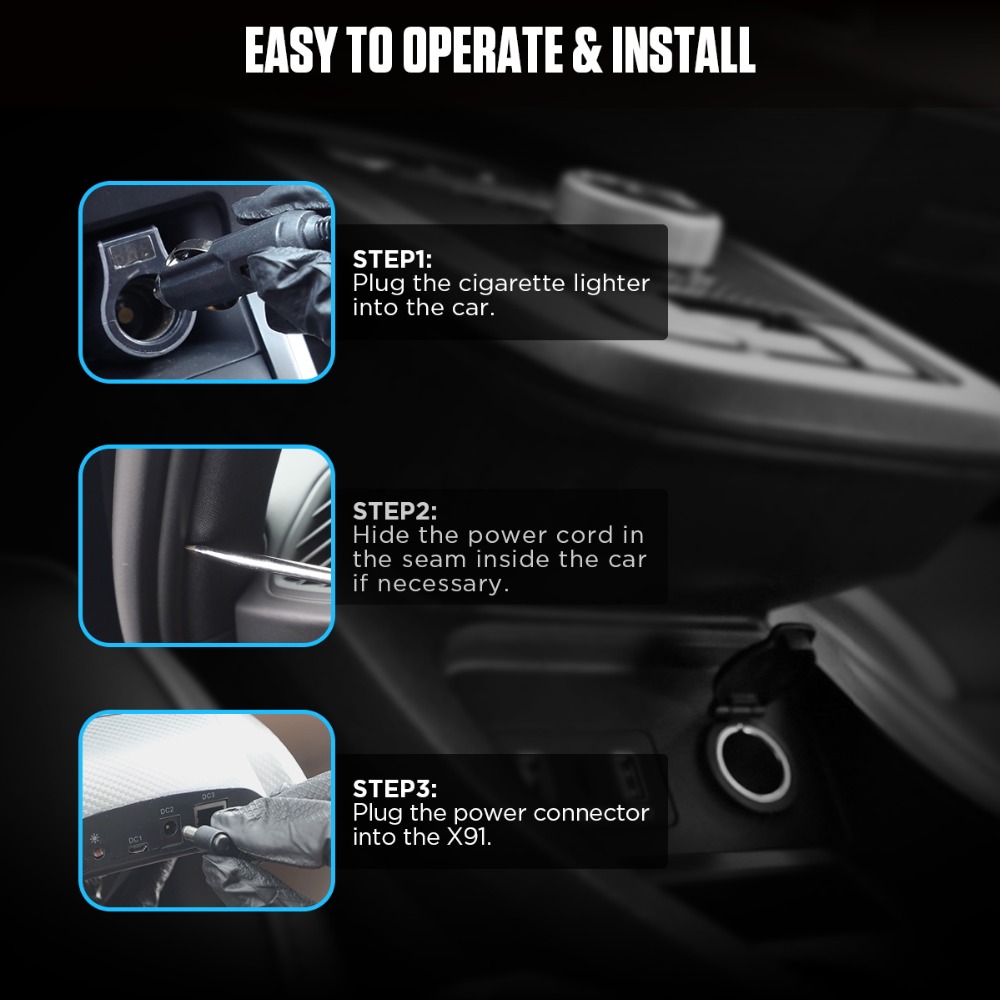 Specifications:
Power Supply: DC 10 V ~ 30 V
Pitch Angle: -40°~ +40°
Time Error: < 1 minute
Voltage Precision: 0.5 V
GPS Cold Start Duration: 32 s( Average)
GPS Update Rate: 1 S
Dimension: 705959 (mm)
Working Temperature: -40℃ +80℃
Roll Angle: -40°~ +40°
Voltage Range: DC 5 V ~ 30 V
Speed Precision: < 0.36 Km/h
GPS Hot Start Duration: 1 s(Average)
Wireless Transmission Frequency: 2.4 GHz
Weight: 603 g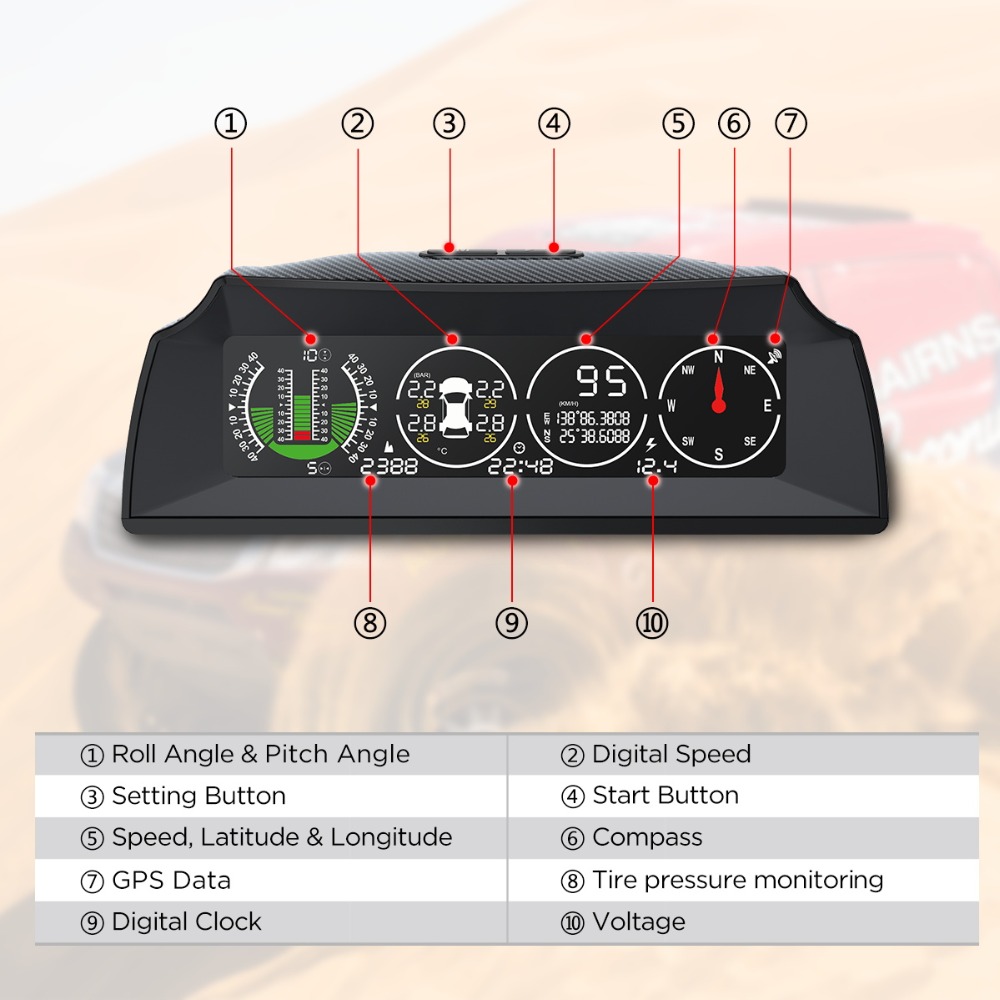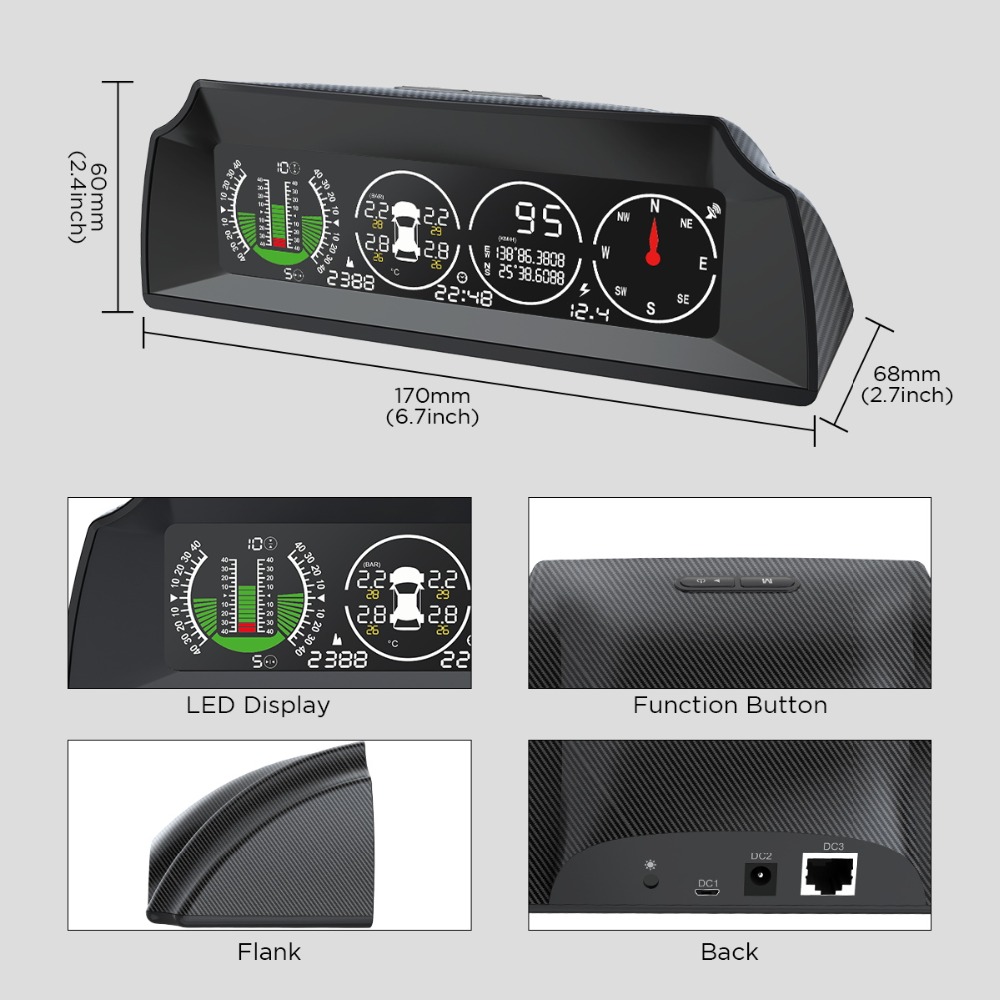 Packing List:
1pcs * X91 TPMS Smart Slope Meter Main unit
1pcs * Cigarette Lighter
4pcs * External Tire Pressure Sensor
1set * Screw Tool
1pcs * Manual