Description:
AUTOOL CT180 is an intelligent injector cleaning & testing machine with intelligent control. The whole process can be operated by the touch screen or rotary knob to complete. Equipped with an ultrasonic cleaning tank, AUTOOL CT180 Fuel injector cleaner and Tester can generate an oscillating signal to the injectors to remove the stubborn carbon deposits from the injectors. It is possible to test injectors under different conditions, such as Sprayability test, Leakage test, Injecting flow test, etc. A comprehensive and powerful injector cleaner and tester machine most auto technicians always crave for.Support for more cars and motorcycles.Can only be used to clean diesel fuel injectors.The cleaning fluid is 3M car injector cleaning fluid, and the test fluid is industrial alcohol.Its working voltage range is 110-230V.
Support For 99% Cars & Motorcycles
Support for Audi, Australia d, Benz, BMW, Brilliance, Chevrolet, Chevy, Chrysler, Citroen, Dacia, Dadi, Daewo, Daihatsu, Demo, Fiat, d, GM, Holden, Honda, Hyundai, Isuzu, Jaguar, Kia, Lancia, Land Rover, Mahindra, Maruti, Mazda, Mitsubish, Nissan, Opel, Peugeot, Porsche, Renault, Romeo, Rover, Saab, Seat, Skoda, Smart, Subaru, Suzuki, Tata, Toyota, Volvo, VW, Yamaha.
CT180 Car Fuel Injector Tester Cleaner Features:
1.[Intelligent Control Panel Design]: To deliver premium user experiences and make it more efficient to use, AUTOOL CT180 Fuel injector cleaner and Tester is designed with Touch Screen and Rotary Knob. With large 4.4-inch screen display, it is easy to observe various working parameters.
2.[Ultrasonic Cleaning Tech]: The AUTOOL CT180 intelligent injector cleaner and tester is equipped with a separate ultrasonic cleaning tank. The vibration signal generated by ultrasonic waves is applied to powerfully clean the surface and interior of the fuel injectors, so as to completely removing stubborn carbon buildup from the fuel injectors.
3.[Multiple Test Functions]: It can carry out Sprayability test, Leakage test, Injecting Flow test, Automatic test and many other testing functions. A variety of test parameters can be set to simulate injector testing under various operating conditions.
4.[Backlight Design & Level Gauge]:The glass tube can be observed through the level gauge during the test, so that the injector flow can be determined whether the flow is normal. At the same time, the backlight can assist in making the observation more carefully.
5.[Three Years Warranty, Lifetime Maintenance]: For damage caused by non-human factors, AUTOOL promises to resend parts for free within 3 years. For any needs, you are warmly welcomed to contact us and we will get back to you ASAP within 24 hours.
About CT series products:
Effectively cleans fuel injectors.
Helps restore power and fuel economy.
Helps improve idle and throttle response.
Helps eliminate stalling and hesitation due to dirty fuel injectors.
Helps differentiate fuel injector working status.
Helps reduce the cost of injector replacement, especially for the expensive GDI injectors (CT400 only).
AUTOOL Fuel Injector Cleaner Comparison Table: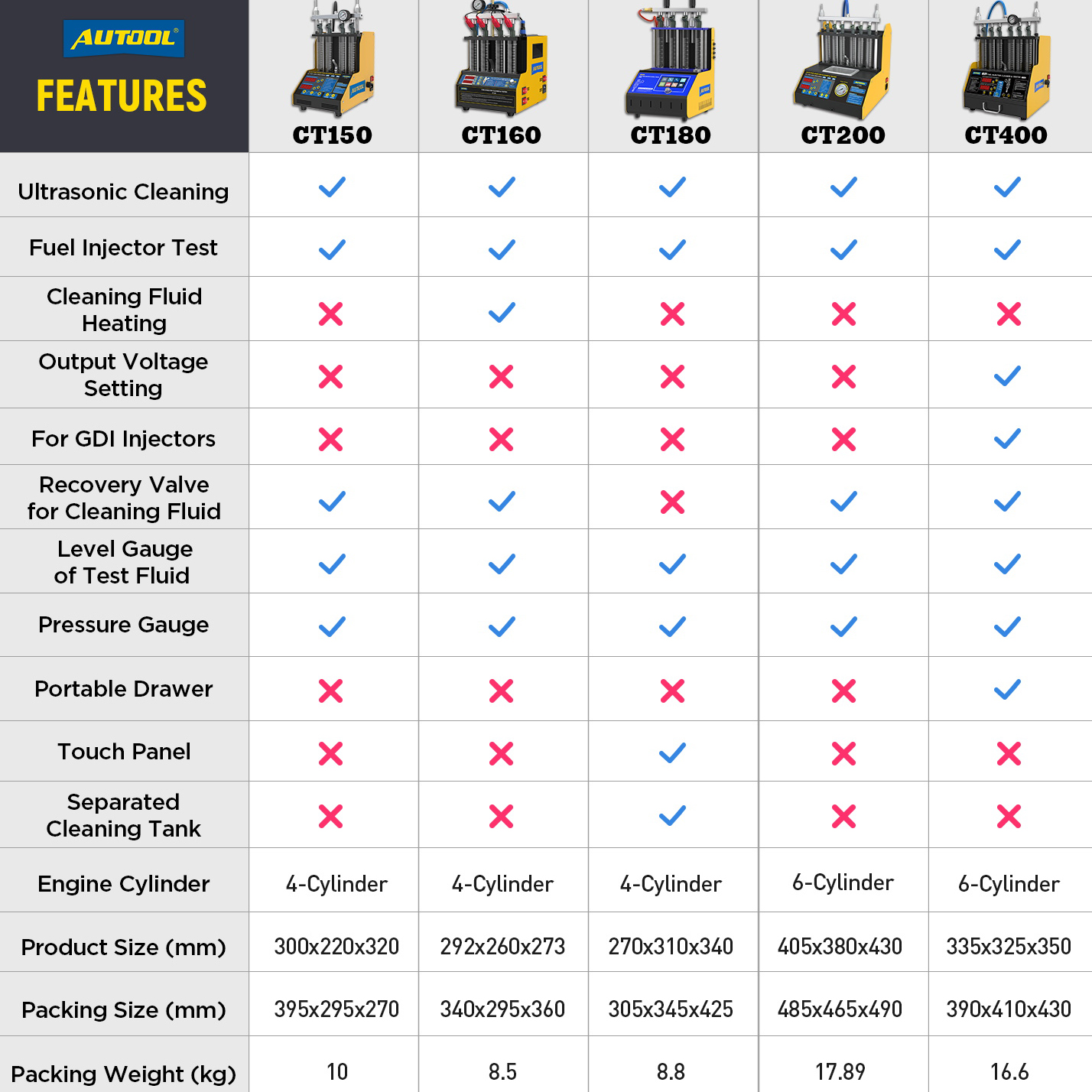 CT180 Car Fuel Injector Tester Cleaner Specifications :
Working conditions:
Temperature: -10~+40℃;
Relative humidity: <85%;
Intensity of outer magnetic field: <400A/m;
No flame within 2 meters.
Specifications:
Main unit power supply: AC220V±10%, 50/60Hz; or AC110V±10%, 50/60Hz.
Main unit power: 150W
Dimension of main unit: 27cm x 31 cm x 34cm
Ultrasonic cleaner power: 60W;
Fuel pressure:0-10bar
Simulated RPM range: 20~10000rpm;
Pulse width: 0.5~25ms; step 0.1 ms;
Uniformity/Sprayability test duration: 1~20min
Leakage test duration: 1~30min
Injecting flow test duration: 3~120s
Automatic drain: 60s
Pressure unit: Bar, Psi, Kpa, mmHg, Kg/cm2
Dimension: 305x310x340mm
Weight: 8.8kg (Varies according to configuration)
Main Function:
Ultrasonic cleaning;
Uniformity/Spray-ability test;
Leakage test;
Injecting flow test;
Automatic test;
On-vehicle cleaning;
Test liquid discharge;
Parameter settings;
Packing list:
1pc * AUTOOL CT180 Intelligent Fuel injector cleaner and Tester Main unit
1pc * Ultrasonic cleaning tank
1pc * Testing pad
1pc * Ultrasonic leaning stand
4pcs * Connector 1 (H1925*10.5)
4pcs * Connector 2 (H1925*13.5)
4pcs *Fine-tooth joint(H1925*M12)
4pcs *Coarse joint(H1925*G1/4-19)
3pcs *Plug (2540*16.2)
4pcs *Reverse joint(2540*16.2)
2pcs *Adjusting stud (M1078)
2pcs *Compression screw(18100*M10)
2pcs *Knurled nut(1830*M10)
1pc * 4-oil separator(2816*213)
1pc *Funnel (5850*8.0)
1pc * Wrench for Oil draining(2456*5)
20pcs * Sealing ring 72.65
4pcs *Seal ring 15.62.65
2pcs * power cables (EU US standard)
2pcs * Pulse signal lines
Q&A:
No response at boot
Check whether the fuse on the bottom of the right side of the machine is damaged. If it is damaged, please replace the fuse (AC 250V/5A).

Oil leakage at the oil separator assembly
Oil leakage at the oil separator, please check whether the installed "O" ring is matched, and check whether it is deformed or damaged. If it is not matched or damaged, please replace it;The two black adjusting screws should not be too tight, too tight will also cause oil leakage of the oil separator.

The oil pressure drops slowly
The oil pressure cannot drop to zero within 1 to 2 minutes, and you can use the hex wrench to adjust the relief valve counterclockwise.

The buzzer sounds long without oil pressure
The machine has a lack of oil alarm function. When the liquid level in the oil tank is insufficient, a sound will be emitted, and the oil pump and fuel injection nozzle will be automatically turned off and returned to stop later.In the state, the prompt sound will be closed automatically after adding enough cleaning fluid. At this time, you must press the [Run] key to restart the oil pump.

Must be pressed 'Drain key' twice to drain test solution completely
The solenoid valve of the machine has an automatic shut-off function within 15 seconds; more liquid in the glass tube may require multiple drains.

The amount of cleaning and test solution added
When adding cleaning fluid, the cleaning fluid in the ultrasonic box should not exceed the connection port of the fuel injection nozzle; when adding test fluid, the testing fluid should not exceed two-thirds of the glass tube level display.

Problems with cleaning and testing 4 injectors
there is a short circuit of the machine, which causes the protection of the machine to restart.It may be that the resistance value of the fuel injector is too low or there is a problem with the fuel injector. You need to find the problematic nozzle and replace it with another normal nozzle for cleaning. If there is no problem with the fuel injector, one of the pulse lines is damaged. There are 6pcs impulse lines, and each impulse line needs to be tested separately. If all 6pcs pulse lines can be used normally, this is the problem of the fuel nozzle.